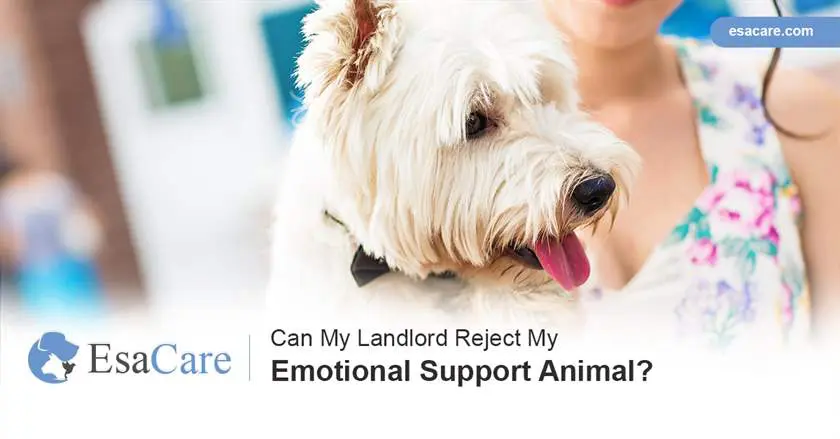 Anyone who has searched for an apartment knows finding a pet-friendly landlord isn't an easy task. Because of potential damage, decreased property value, or insurance requirements many landlords err on the side of having a strict no-pet policy. While this may be discouraging for many tenants,  remember that these policies may not be applicable to individuals with disabilities who rely on emotional support animals (ESAs) for assistance.
ESAs are Protected Under Federal Housing Laws
While landlords have every right to prohibit pets on their property, ESAs are not considered pets, at least when it comes to the federal law. According to the Fair Housing Act, assistance animals, which include animals that provide emotional support to people with disabilities, are not pets. The act also states that landlords must make reasonable accommodations to allow a person with a disability the chance to use or enjoy a dwelling.
The request to keep an ESA by an individual with a disability may require a landlord to make a "reasonable accommodation" to existing pet policy. However, this is only true if certain conditions are met:
A formal request must be submitted to the landlord by or for a disabled individual.
The disabled individual must include reliable "disability-related information" such as a certified ESA letter to support the request.
The landlord does not provide evidence that the ESA would cause:

Significant financial or administrative burden
Alter the essential nature of the landlord's operations
A threat to the health and safety of others (only if the threat cannot be eliminated through additional reasonable accommodations).
Damage to the property (only if the damage cannot be limited through additional reasonable accommodations).
How to Request Permission to Keep an Emotional Support Animal
If you need to keep an ESA in an apartment or rental property, the first step is to ask your landlord for permission. You should never assume that you have permission to keep your ESA on the property. The Federal Housing Act states that a formal request must be made to the landlord. This request should be in writing. Additionally, you will need to supply the landlord with evidence of your disability. This can either be a statement from your doctor or an ESA certificate.
Remember that the act of making the request alone does not automatically grant you permission to keep your ESA on the property. Your landlord can deny the request if he or she is able to prove the ESA would cause a significant financial burden, threaten operations, or pose a health or safety threat.
What to do if Your Landlord Denies Your ESA
If you're disabled and believe you have been unlawfully denied a reasonable accommodation for an ESA, you can submit a formal complaint with the Office of Fair Housing and Equal Opportunity (FHEO) online. You can also speak with an FHEO intake specialist by calling 1-800-669-9777. The intake specialists may be able to provide you with advice on the next steps.
How To Receive an ESA Letter from ESA Care
Remember, in order to receive permission for reasonable accommodation, federal law requires that you provide your landlord with "reliable disability-related information." This should be official documentation from a doctor or licensed mental health professional.
ESA Care can help provide you with a certified ESA letter to accompany your reasonable accommodation request.  ESA Care's staff has several qualified, licensed mental health professionals that can provide you with proper documentation. After filling out a comprehensive ESA questionnaire, a mental health professional will review your assessment and determine if you qualify. Certified ESA letters are sent to qualified individuals within 2-5 days.
Schedule Your ESA Letter Appointment Now!