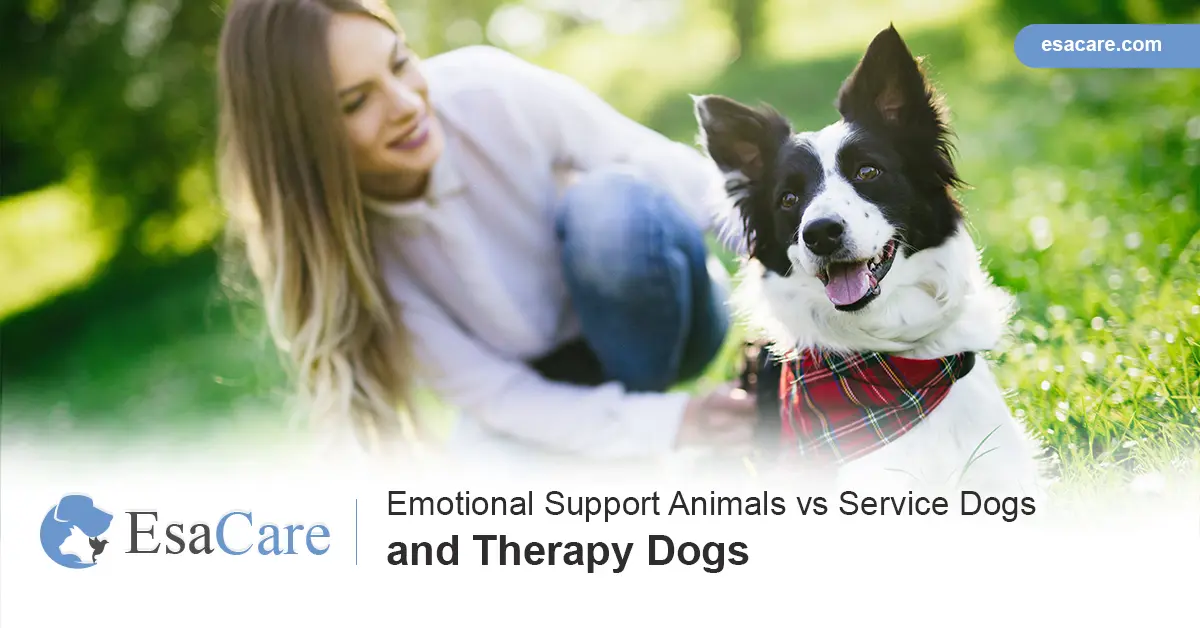 Dogs have always played a significant role in the lives of humans: comfort, alert, hunt, helpers, and aides- name it! However, that role has narrowed down in recent history. These four-legged pets now provide emotional and physical assistance in more ways than one.
Stay mentally fit with your ESA pet! – Click the button below.
Are you currently using the terms Emotional Support Dogs, Therapy Dogs, and Service Dogs interchangeably?
Did you know there's a considerable difference between them? In this blog, we highlight the designations that make each of these dogs unique.
What is the Key Difference between Emotional Support Animals, Therapy Dogs, and Service Dogs?
Emotional Support Animals
Emotional support dogs provide you with a calming presence and companionship. They legally lack access to all public areas but boast of two remarkable protections through ADA law. One, you can fly with the pet if you ail from a medically-diagnosed psychological, intellectual, or emotional disorder. Two, it can easily qualify for no-pet housing. You would have to secure a letter from a physician just in case airlines or housing authorities request it.
Dogs under this category do not have any specialized training. Thus, you must ensure they behave properly. True to their tags, support pets help disabled persons function better. Their presence is what matters most. These pets don't have to be dogs, so you have the freedom to choose according to your preferences.
Service Dogs
The Americans with Disabilities Act describes service dogs as "dogs that are individually trained to work or perform tasks for people with disabilities." Unlike support dogs, service dogs can accompany the owner to whichever destination. If you suffer from any impairment, trained service dogs will undoubtedly streamline your day-to-day tasks.
Service dogs' responsibilities vary from one handler to another. They include:
Bracing to provide balance
Retrieving to provide balance
Pushing drawers
Closing cabinets
Alerting an owner to a variation in insulin levels
Interrupting panic attacks
While owning a trained service dog is a big plus, getting one that can thrive in all types of circumstances is tricky. You know why? Yes, you guessed right- service dogs must always remain keen, quiet, unfazed with any crazy situations, and fully submit to the handler.
Improve your mental health by keeping your ESA pet close by – Get your ESA letter today!
Therapy Dogs
An authorized therapy dog is a canine who provides a friendly, calming presence to the owner. Compared to service dogs, they receive training to adjust to various social settings. Therapy dogs work best in places such as hospitals, nursing homes, and schools. There's currently no certifying board in the US for therapy pets, so you can pick depending on your requirements and the kind of skills the dog owns.
For you to handle a competent therapy dog, it has to pass the AKC Good Citizen Test or an exam by the certifying body. They need excellent temperament to behave well around strangers, too. Do you want to know the fun bit? Well, spending time with therapy pets lowers anxiety and high blood pressure while boosting oxytocin and endorphins.
Yes, therapy dogs can take up a part-time volunteer job, but they are strictly pets. Although they provide owners with invaluable support, such dogs lack exclusive rights under the ADA.
The Bone of Contention around Emotional Support Animals
As mentioned, Emotional Support Animals (ESA) purely serve therapeutic purposes to the handler. Compared to both therapy and service dogs, ESA pets require zero training. As long as you have medical certification, you can get a designated ESA at your convenience.
Here are some less known facts about support animals:
While it's true that cats and dogs are the most renowned ESA, other pets can serve these duties well too. Next time you go hunting for a companion, think about a horse, rabbit, or even a turtle!
You can receive a medical letter that grants dog ownership from a variety of professionals. They include a psychologist, psychiatrist, therapist, and any other licensed health worker.
A support animal must always be under the owner's watch and shouldn't cause any disturbances.
A support animal is not task-trained and, therefore, cannot help in any vital function tasks or behaviors.
Get Your Letter with EsaCare
Are you on the lookout for an ESA letter? EsaCare boasts of licensed mental health professionals that will not only screen but also help you earn a legitimate ESA letter. Our ESA service is easy-to-use, reliable, and friendly. Once you finalize the screening, you can choose from any of our exclusive package options.
If you want to live and fly with your pet worry-free, why don't you contact us today?