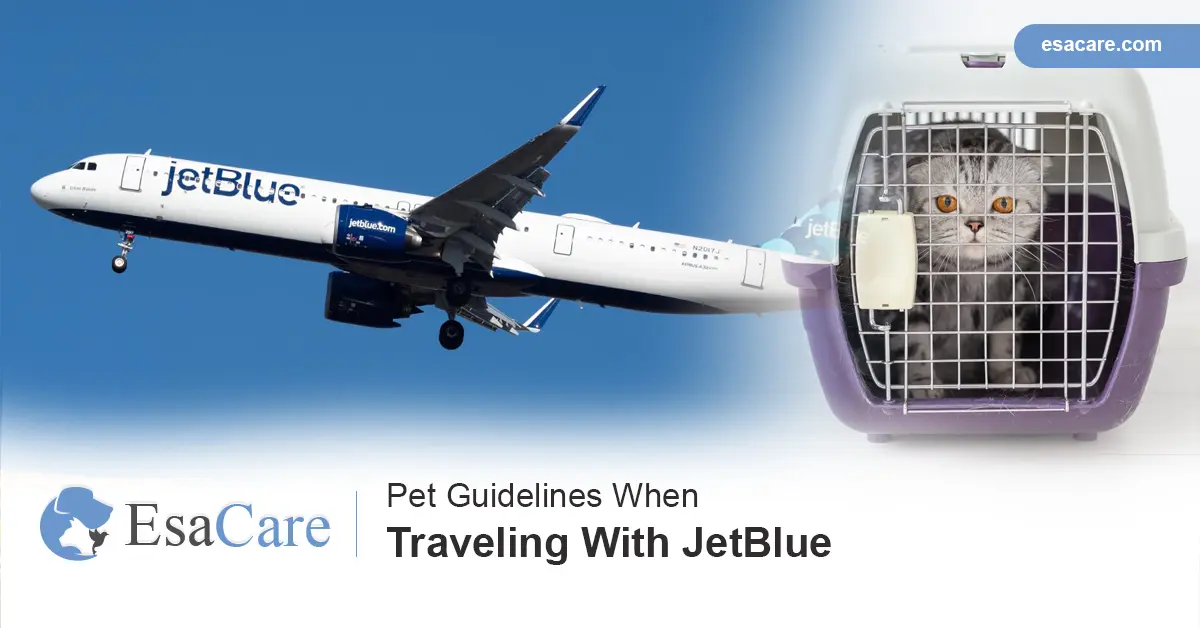 According to the North American Airline Satisfaction Study, JetBlue ranked the highest in customer service, making this the 13th time the airline has topped the list. Also, it had the highest score in terms of aircraft, flight crew, in-flight services, and reservations. The loyalty program also ranked top in the J.D. Power 2018 Airline Loyalty Program Satisfaction Study, making it the second consecutive year.
Traveling with your ESA has never been easier – Experience it through our services.
Servicing over 42 million customers annually, 1000 daily flights in nearly 100 destinations, the 6th largest airline in the U.S. makes your traveling as smooth as it can be. In past years, JetBlue earned top J.D. Power honors for its mobile app and customer service. And with their significant investment in its customer experience, you are sure to enjoy the best of their services.
For many people who'd want to travel with their pet, things are not always as straightforward. Not long ago, no airlines allowed pets in the cabin. But, the rules have changed, and with a few guidelines, you can carry your furry friends with you while traveling. And here, Jetline lists among the most pet-friendly airlines.
1. Who Needs a Pet for Traveling?
Traveling to a new town or country bears its share of stress and anxiety. You are moving away from friends, family, and home. To calm the nerves, some people opt to carry their pets.
And in some cases, the emotional support animal (ESA) comes as a prescription. According to the Americans with Disability Association, ADA's title II and title III, you can use an emotional support or service animal if you have physical, sensory, psychiatric, intellectual, or other mental challenges.
In compliance, transport authorities created the Air Carrier Access Act, ACAA,  that allows customers to travel with their Emotional Support Animals in the cabin.
JetBlue emotional support animal policy took the step further by making your experience of traveling with your pet more enjoyable.
pets traveling with JetBlue- What are the guidelines to follow?
There are separate policies for people traveling with pets. But at JetBlue, traveling with pets gets much comfortable. Below, you get to learn the guidelines you can follow to travel with your pet.
2. Documentation and Other Necessities Required Before Traveling On-Board
Traveling with your pet requires you to adhere to additional requirements specified by airline companies. And at the top of that list are the documents and other necessities for on-board traveling. At JetBlue, the process is made more comfortable for you with a list of documents and other materials you need before boarding your flight.
These include:
Documentation marks one of the essential aspects of traveling. You always carry your visa, flight ticket, and other crucial documents, And traveling with your pet is no different. And you know how you get a vaccination shot before leaving the country, well, the same goes for your pet.
So, when traveling:
When traveling with your pet, you must take the necessary measures to keep it safe and protected. One sure way to do is to have it vaccinated by a licensed vet.
Also, check out for any signs of anxiety from your pet. If there are signs of discomfort, you can distract your pet by playing with it, offering treats, a toy, or even a blanket.
Gather your pet's documents
Before boarding your flight, with your pet in hand, you need the following documents:
Identification document for your pet

Health certificate from the vet showing that your pet is free from Rabies

A tag with your pet's name and age

A pet carrier
Carry an authentic ESA letter to travel with your pet – Click the button below.
3. JetBlue's Policies Regarding Animals On-Board
JetBlue has 2 main policies regarding animals on-board during a flight. These are:
Animals not allowed to fly with JetBlue
Different people prefer different animals as their pets. While one might have a pet dog, another person could have an iguana. And while some of these exotic pets are well-trained, JetBlue prohibits some of them on board.
The passengers' safety comes first, and some people have previously abused their privilege of traveling with their pets. Due to some animal-related incidents in their flight, JetBlue banned some animals from traveling on the airline.
Animals allowed to fly with JetBlue
JetBlue only allows two kinds of pets on-board. These pets are cats and dogs and they must be small.
Policies regarding Assistance Animals
Assistance animals can either be:
Service Animals

Emotional Support Animals
The assistance animals are an integral part of the treatment offered to patients with mental and physical health issues. The emotional support animals undergo training to perform a specific task to assist the handler with their psychiatric disability.
And when you choose to travel with JetBlue, you stand to enjoy a significant benefit: You do not have to pay any extra fee for traveling with your assistance animal.
But if you think you can joyride the offer, you might as well stop there. The owners of service and emotional support animals must prove their eligibility for owning the pets. That means providing documents from your licensed physician or mental health professional, proving you need the assistance animal.
It would also be best to inform JetBlue that you intend to travel with your emotional support animal before flying. For this, you can reach them at 1-800-JETBLUE (538-2583).
Now, what assistance animals are accepted by JetBlue to fly on-board?
JetBlue allows dogs, cats, and miniature horses to fly. And, each passenger is limited to one assistance animal on the flight.
Documents required to travel with an assistance animal
To fly with an assistance animal, JetBlue requires the following documents:
A veterinarian details the animal's vaccination records and fitness to fly.
Medical/Mental Health Professional Form
The letter varies depending on the health condition of the owner. For instance, when diagnosed with anxiety, clinical depression, or another form of mental health condition, the pet owner provides an Emotional Support Animal Letter.
Only a Licensed Mental Health Professional (LMHP) can fill and issue a prescription for an emotional support animal.
Animal Behavior Confirmation Form
This form, signed by the pet owner, assures the airline that the assistance animal behaves well. Therefore, in case of an accident or injury resulting from the ESA, the owner bears full responsibility for their pet's actions.
These documents should be completed and submitted online 48 hours before boarding the plane. Also, you should carry them with you in case the JetBlue personnel need to review them. You can download these forms from here.
Book an appointment by clicking the banner below.
4. Rules Related to Pets That Can Fly
Age Restriction

– Pets allowed to fly are only cats and dogs that are at least 3-4 months' old

Breed Restrictions

– The pet that'll be traveling must belong to a smaller breed such as:
DOGS
Maltese

King Charles

Chihuahua

Pomeranian
CATS
American curl

Munchkin

Siamese

Russian Blue
Your pet should receive a Rabies vaccine before your departure. Traveling with older animals is relatively more comfortable because they can handle traveling on-board better than young animals.
Route Restrictions

– JetBlue does not allow pets to and from places such as Trinidad and Tobago, Jamaica, St. Lucia, Barbados, and The Cayman Islands.

Reservations

– JetBlue allows only 4 pets per flight. 3 of these are pre-booked online; the fourth booking is at the airport' ticket counter within 24 hours of departure. This service works on a first-come-first-served basis.
If you miss out on one flight, there is no reason to panic. As mentioned earlier, JetBlue has over 1000 flights daily, and you can always find a flight with an open pet booking.
Remember: You are only allowed to have one pet per flight.
Carrier requirements –

Pets cannot step out of their carriers at the airport, in the plane, or anywhere during the flight. That is why JetBlue pet policy is clear regarding the carriers.
For any carrier to be acceptable, it should meet the following requirements:
Must be leak-proof at the bottom

Can be hard or soft-sided surface

Should be comfortable for the animal and easy to move around

Must not be bigger than

17

L×12.5W×8.5

H

inches

Must be well-ventilated for the pet
Other important points to note about the carrier include:
The combined weight of the pet and the carrier should not exceed 20 pounds.

The carrier should allow your pet to stand and move around with ease.

Carriers that allow the possible escape of the pet are unacceptable for transportation

The carrier counts as your carry-on item.

Only one pet per carrier is allowed.

Animal carriers are not allowed in the lap or Mint seating during taxi, take-off, turbulence, and landing phases of flying.

No carriers in the isles or near exits

If you purchase an extra seat for your pet, you can put the carrier on the extra seat.
So, what happens when your pet carrier fails to meet the requirements above?
When you arrive at the airport, and your carrier does not match JetBlue's requirements, there is no reason to panic. You can get one comfortable soft-sided JetPaws­­TM carrier from the pet store at the airport.
These carriers are lightweight, designed to fit under the cabin seats. And if you want to buy one in advance, you can visit ShopBlue.
For more information about traveling with your assistance animal, contact JetBlue's customer care. And if you are a TrueBlue member, you stand a chance of getting 300 points that you can redeem anytime.
Overcome anxiety with your ESA pet  – Click the button below.
5. Policies Regarding Animal Booking Fee for Pets and Assistance Animals
And now for the most awaited part of the guide: the cost of booking your pet or assistance animal with JetBlue.
When booking a pet for travel, you part with $125 for each way. However, assistance animals on board attract no extra fees. To qualify for this privilege, the owners of the support animals should present documents proving their prescriptions.
Sometimes, you need to carry your pet remains back home after its passing. However, JetBlue does not accept pet remains, cremated or otherwise in the cabin or cargo hold.
6. Final Checkpoints
Traveling alone is relatively easier. However, when taking your pet with you, the waiting becomes a bit more complicated. Remember that pets find it hard to stay still for long hours.
So, before your flight, make a point of training your pet.
Keep in mind the following final checkpoints while traveling with your pet:
At the airport
For a smooth and problem-free flight, you need to adhere to the following guidelines at the airport.
Check-in your pet at the airport's full-service counter.

Ensure that your pet remains in an enclosure or zipped in the carrier at all times while at the airport.

Use the designated areas at each domestic airport in case your pet needs to relieve itself.
TSA Pet Security Screening
The TSA pet security screening is the final, most crucial step before boarding your flight. You must present your animal for inspection by the security officer at the checkpoint. The following guidelines apply for your pet security screening:
Airport security authorities must check your pet carriers.

You have to carry your pet across the metal detector while the carrier passes the X-Ray machine.

No security officer should ever place your pet under the X-Ray machine.
What are JetBlue's rules regarding pets during the flight?
If you are traveling with your pet, then the window or aisle seats are the best. JetBlue does not allow customers with pets to sit in an emergency exit row, the Mint seat, bulkhead seat, or any seat restricted for under-seat storage.
Also, there are strict guidelines you need to follow during the taxi, take-off, and landing phases of your flight. For instance, the carrier must be under the seats during any one of these phases. The flight crew recommends keeping your pet carrier under the seat in front of you for better tracking.
Finally, your pet should remain zipped or closed up in the carrier for the entire flight.
Get your ESA travel letter by clicking the button below
Traveling with Your Pet Internationally
When traveling internationally with your pet, remember that every country has different guidelines for pets. You are required to show your vaccination and documentation forms at your destination.
However, as a JetBlue customer, it is your responsibility to understand these different requirements and make sure you abide by them before carrying your pet on international travels.
You can review the country-specific requirements by visiting the International Air Transport Association, IATA's database.
Now, how do you book your service animal?
You can book your animal by adding it to the reservations when buying a ticket online. Alternatively, you can call JetBlue's customer care services and notify them.
And if you are traveling with a large animal that does not fit within the footprint of the seat purchased, you can buy an additional seat. Alternatively, you can wait for a flight with enough empty seats.
JetBlue takes reasonable measures to accommodate you and your pet on-board.
Traveling with your service animal:
JetBlue takes pride in being one of the pet-friendliest airlines globally and offering the best in-flight experience possible.
So, to accommodate both customers and pets, JetBlue recommends that all animals stay on the floor. So, unless your pet is small enough to fit in your lap without touching any part of the seat or adjacent customers, the carrier remains on the floor. Also, JetBlue prohibits animals from occupying seats.
Book an appointment by clicking the banner below.
7. Tips to Make Your Flights Commotion Free
Now that you know about the guidelines provided when you want to fly with your pet let's now look at what could make your journey commotion-free?
Although JetBlue is one of the pet-friendliest airlines, making preparations before-hand could go a long way in making your flight more comfortable and stress-free.
Below are some killer tips to make your trip and flight smooth:
Look for breed restrictions
Nothing could be as disappointing as arriving at the airport with your pet, only to turn back because the breed is restricted. So, before buying a ticket, do some research on the breeds allowed by the airline.
Also, check the breeds allowed by specific airlines since they vary.
Pre-book your plane ticket
JetBlue requires 48-hour prior notice before showing up with your assistance animal at the airport. And one way to avoid the hassle on the day of your flight is to book your plane ticket in advance.
Few airlines allow you to travel with your pet. And booking your ticket earlier allows you to choose the airline that best suits your needs.
The limitations allow for only 4 pets per flight in JetBlue. And since the booking works on a first-come, first-served basis, pre-booking your ticket secures you a spot.
Train your pet with the pet carrier
Confined spaces are a foreign phenomenon to pets. They like to move about, play, and run around. However, the pet carrier strips them of this freedom, and they have to sit in for long hours. This makes it hard for the pet to pop in the carrier and stay calm, hence the training.
Start by placing the pet carrier close to its sleeping spot. You can also toss some of your pet's favorite toys into the carrier. Once it gets it, you can offer a treat as encouragement for them to stay in longer.
Next, try closing the doors of the carrier and stay with them. Leaving the pet alone, locked in the carrier could result in anxiety. It would help if you trained your pet to sleep in the carrier, which would alleviate half of your stress.
Again, traveling alone is simple. However, traveling with your pet requires a whole new set of requirements. You have to go by the airline's customer service personnel for verification, the customs, your security check, the pet security check, and some more before you board the plane.
You can request to board early by arriving early so that you and your pet settle before the flight takes off.
Travel with ease – get your ESA letter now!
Imagine how tired and frustrated you become when taking a long flight. Now, imagine the same level of stress put on a free-spirited animal like your pet, especially when traveling in a carrier.
Rather than choosing connective flights that use up more time, find a direct flight to your destination. And if you have to connect flights, get the ones that have a shorter transit duration.
Let your pet relieve itself before the flight
Pets are a lot like humans, and so they deserve a smooth and stress-free flight. Before boarding the plane, you can find a pet relief area for your animal. Your pet might not hold onto the pee or poo for the entire journey.
The good thing is that airports have designated spots for pets to relieve themselves.
Avoid dosing your pet with sedatives
While it is ok for humans to take sedatives while flying, pets are at a higher risk of developing cardiovascular and respiratory problems.
With humans opting to sleep to avoid ears popping, animals can maintain their body equilibrium even at higher altitudes. And giving them sedatives throws off their balance, exposing them to fatal risks.
So, how do you help your pet deal with ears popping? The best you can do is toss in a chewy treat or toy in the carrier for your pet. When they start batting the ears or shaking the head, they can chew on the toy to drive the discomfort away.
Book an appointment by clicking the banner below.
8. Bonus
This is an exclusive in-cabin program designed to provide pet owners with information on the guidelines for traveling with a pet. The customers receive a pet travel guide and a pet travel checklist to make traveling with pets a smoother experience.
The airline intends to benefit human customers too. JetBlue does so by awarding two bonus awards for each flight through its customer loyalty program.
Once you access the program, you receive recommendations on some of the pet-friendly hotels, parks, and animal hospitals in some of JetBlue's top cities such as Boston, New York, Las Vegas, San Francisco, and Washington, D.C.
Mint is an exclusive premium airline product offered by JetBlue along with its coast-to-coast and Caribbean flights. JetBlue is the only airline in the U.S. to offer this product.
Some of the features included in the JetBlue Mint experience include:
Fully lie-flat beds up to 6*8."

Seats up to 22.3" wide-widest seats in the U.S. domestic market

Air cushions

A massage function

A curated menu from Saxon+Parole

Customized men's and women's amenity kits

Shoe storage

Pre-departure drinks

Dual 110 volts' power outlets
Well, you get the idea. JetBlue Mint also includes private suites with closing doors, which allow you to travel with your pet in privacy.
However, there are some guidelines:
You have to forfeit the lie-flat feature to accommodate your pet.

However, if the pet is small enough to fit in your lap without touching any part of the seat, you can use the lie-flat feature.

Animal carriers are not allowed in the Mint seating during taxi, take-off, turbulence, and landing. Instead, put the empty carrier in the overhead compartment.

Should your animal prevent an adjacent customer from using their Mint-availed amenities, you might have to relocate to another seat.
The Special Service Request
Booking your ticket to travel with JetBlue is easy. You can do so through their app or online. You can also add a special service request, or SSR, informing the airlines about particular things at no extra fee.
Get Your ESA certification by clicking the button below
The Take-Away Point
People often leave their pets behind when traveling due to a lack of airline information. And the rules governing the travel of pets are different from those guiding emotional support and assistance animals.
Knowing what to do saves you time and much hassle. Being a leading airline for its pet-friendliness, JetBlue makes sure that you have the least trouble when boarding your flight.
The guide above lists all requirements, necessities, and things to observe when traveling with your animal. And with the tips given, you can also improve the travel experience of your pet.
If you encounter any difficulty reserving a seat when traveling with a pet or assistance animal, you can always contact the JetBlue customer care personnel for assistance.
Do not hassle or waste time trying to get your pet on-board. Travel with JetBlue and experience the smoothest ride of your life.
Contact us to Book your Appointment for ESA Letter!