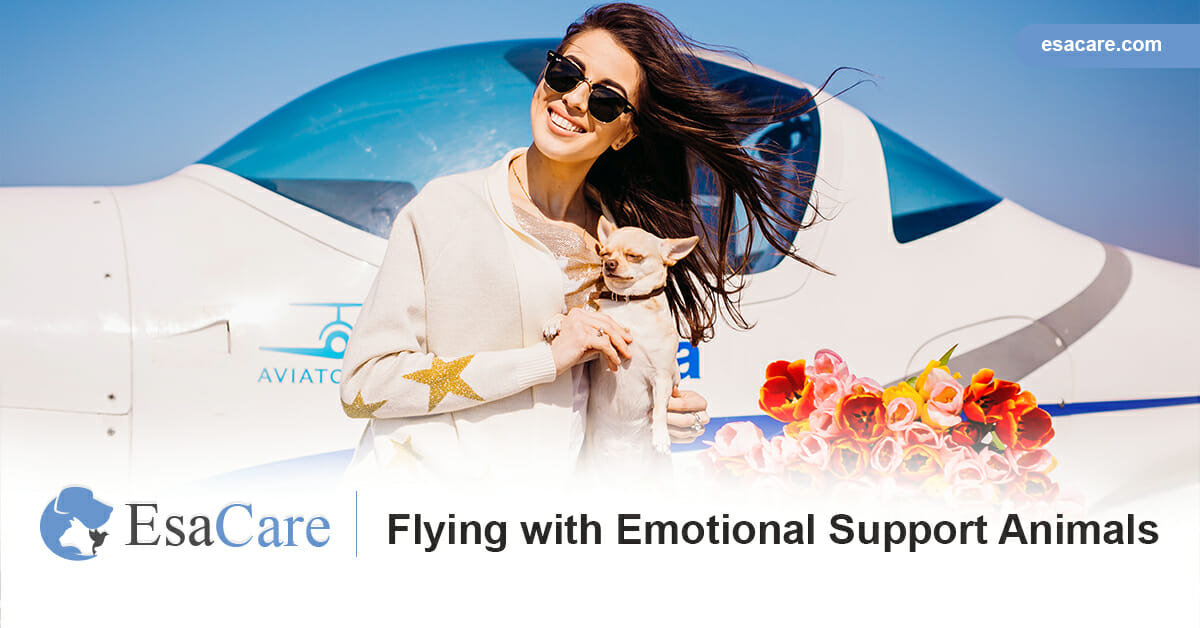 That agonizing time when a journey with your companion goes-bad and highlights the complications and confusion of flying with our four-legged friends for therapeutic reasons.
Traveling with your ESA has never been easier – Experience it through our services.
Though most airlines don't charge anything if you have an emotional support animal letter, you must comply with specific requirements.
Similarly, all carriers require your animal to behave well and be calm while on board. As such, before you come with your furry pal to the airport, make sure you train your dog.
Also, brush up on the type of animals that different airlines allow. To help you out, here is a comprehensive guide on Airline Rules and Emotional Support Animal Rights.
The Difference Between Emotional Support and Service Animals
Before you pack your bags and head to the airport, it's vital to first differentiate between a service animal and an emotional support animal as you are likely to encounter these terms on your way.
Unlike guide fidos for blind people, an emotional support pet is there to support individuals with psychological, psychiatric, and emotional needs.
This doesn't mean that you can show up with any dog or cat and claim it to be your support animal; official and verifiable documents from psychologists, doctors, and other mental health professionals are required.
Highlights from the Department of Transportation on Traveling with Emotional Support Animals
Documents required,
After DOT gave notice of proposed changes to traveling with animal guidelines in 2018, most airlines started requiring various forms to provide access for PSAs and ESAs, including the use of their company-specific forms.
Now, according to the notice, an airline may encourage or ask a PSA (psychiatric service animal) and ESA user to provide a medical form but cannot reject any documents submitted from a licensed health professional.
The rules also note; an airline is allowed to request any other additional data from the passenger about the animal. This information includes:
A written declaration from a mental health service provider confirming the need for an emotional support animal.
Veterinarian documents showing that the pet is up to date on shots and good health.
A signed statement from the patient stating that the pooch will behave well throughout the flight.
Authorization From a Qualified and Licensed Medical Professional
This is a formal note with a letterhead signed by a licensed clinical worker, psychiatrist, psychologist, or medical doctor treating the passenger's emotional or mental disability. The declaration must not be more than 365 days before the scheduled flight. It should include:
The professional's signature
Confirm that the passenger has an emotional or mental health condition recognized by the (DSM IV) (Diagnostic and Statistical Manual of Mental Disorders – 4th Edition). It is not a must for the note to include the details of the condition.
Affirm that having the pet with them will help them with their treatment or assist them during the journey or when they arrive at their destination.
The person providing the note is a licensed health professional
Carry an authentic ESA letter to travel with your pet – Click the button below.
Veterinary documentation for Emotional Support Animals
This document shows the breed or size of the pet and whether the shots are up to date. A veterinarian must sign and complete the following data;
Animal type
Anima weight
The dates the pet was vaccinated for distemper and rabies.
This document should also state whether it is safe for the dog or cat to travel in the cabin or what measure should be taken to travel with it in the passenger cabin safely.
Passenger's Guarantee for Emotional Support Animals
Most carriers require this form to be completed in full by the passenger. While there aren't any formal requirements for a particular format, it usually includes;
Evidence that your friend has been trained to behave well.
A written statement allowing the airline management to deny or eject the animal from the aircraft if it misbehaves.
Passenger's name, phone number, email address, and signature.
Here is more on individual airline requirements for ESA, their websites as well as telephone numbers.
Get your ESA travel letter by clicking the button below!
Bottom line
To have a smooth and comfortable flight, do your part; Maintain accountability for the animal, take it to the bathroom before the trip and ensure that all the required documents are in order. ESACare provides you with practical solutions on how to get your emotional support animal by first acquiring an ESA letter.