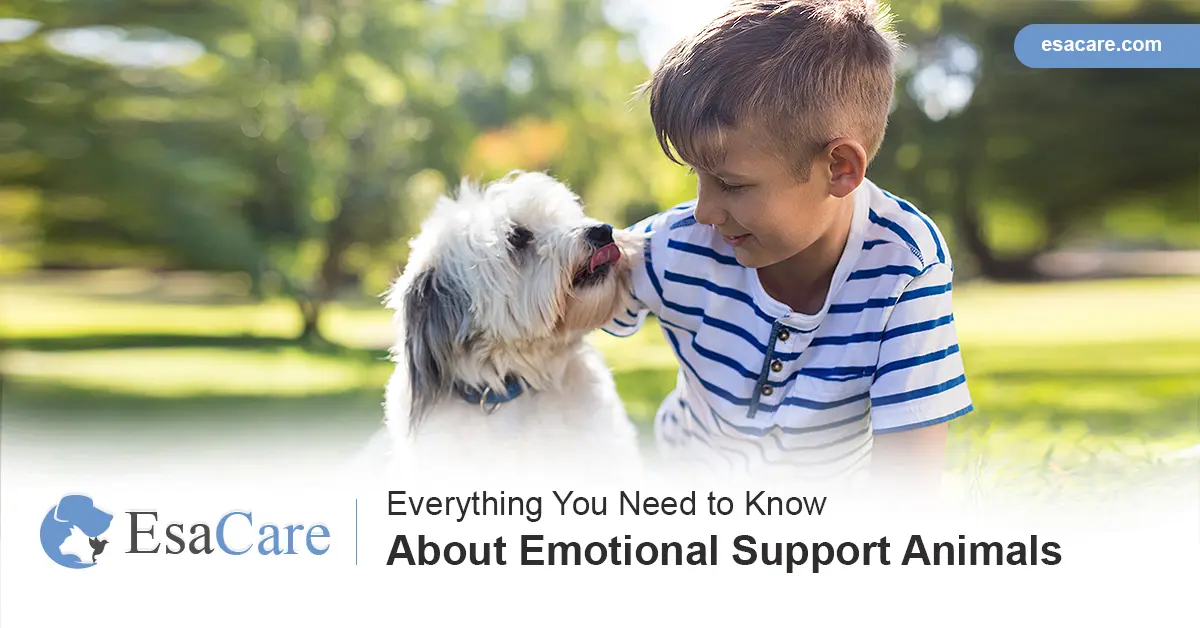 The popularity of emotional support animals (ESAs) is growing fast- and for a good reason. Whether you are a dog person or cat lover, we can all agree that caring for animals can be rewarding. Hanging around pets can be soothing and therapeutic. They provide comfort, health, and emotional support. At ESA Care, we cannot recommend ESAs enough.
Despite a rise in the popularity of emotional support animals, there are a lot of facts that are foggy to a majority of the population. Without a proper understanding of ESAs, it would be hard to make some decisions. What animals should you choose for emotional support? How are ESAs different from service animals? To address these questions, here is everything you need to know about emotional support animals.
What is an Emotional Support Animal?
As the name suggests, emotional support animals are pets that offer comfort and emotional support. Emotional support animals are therapeutic to people suffering from mental health disorders. These disorders include anxiety, depression, PTSD, and more. ESAs also complement the treatment of other ailments like chronic pain, panic attacks, and phobias. Suffering from any kind of mental health disability should qualify you for an ESA program.
How Are Emotional Support Animals Different from Service Animals?
While service animals serve those with physical disabilities, ESAs serve persons living with mental disorders. Unlike service animals, emotional support animals require no training.
For emotional support animals, you can choose from a wide selection of species. There is a limit to the kind of service animals that you can choose. Dogs are by far the most common service animals. Miniature horses also qualify as service animals.
What Rights do Emotional Support Animals Enjoy?
Emotional support animals may look like pets, but they enjoy more rights. Legally emotional support animals have the right of access to all homes. The Federal Fair Housing Amendment protects this right. Homes and apartments have the legal obligation to allow your ESA even if they prohibit pets. Landlords cannot charge you extra for your emotional support animals.
Courtesy of the Air Carrier Access Act, emotional support animals can board commercial planes. Unlike pets, emotional support, animals won't need cages while on the plane. Airlines cannot charge you extra for flying alongside your ESA. If your ESA is disruptive, the airline reserves the right to deny entry or demand for caging.
Registration of Emotional Support Animals
Contrary to popular belief, emotional support, animals do not require registration. However, for your ESA to enjoy the exclusive rights, you will need an emotional support animal letter.
An emotional support animal letter is a note from a mental health professional. This document should describe your ailment and recommend the benefits of an ESA to your well-being. Without this document, landlords and airline staff can deny entry for your pet.
Choosing the Right Emotional Support Animal
Choosing the right ESA is a crucial decision. All domesticated animals can qualify as emotional support animals. Nevertheless, you have to consider how you will interact with the ESA of your choice. You also have to consider your budget. Can you meet the nutritional and veterinary needs of your ESA?
You have to research extensively. Think beyond the first months of ownership. The ideal ESA should fit into your lifestyle.
How to Qualify for an ESA?
Emotional support animals are therapeutic. These animals can help you alleviate the symptoms of various mental health disorders and chronic ailments. For official approval for an ESA, you need a diagnosis from a mental health professional.
Where to Get a Legitimate ESA Letter?
Emotional support animals could be beneficial to your mental welfare. If you or anyone dear to you needs emotional support, contact ESA Care to discuss your options. We will help you process a legitimate ESA letter in the fastest way possible. Your mental health is our concern.