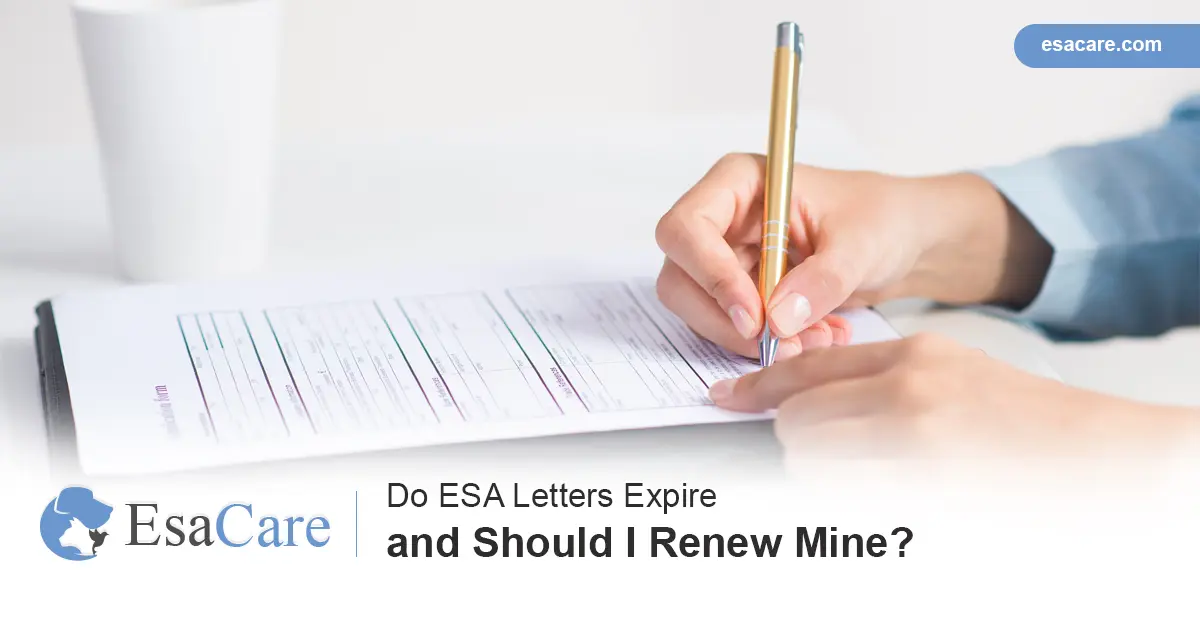 Many things come with expiry dates – foods, medicine, driver's licenses, trade licenses, travel documents, product subscriptions, and so on. Surely, no one likes to confidently present documents only to be told they are outdated. It's embarrassing, frustrating, and inconvenient.  So, do ESA letters expire? The simple answer is yes, but there is more to it. In the post below, we will look at emotional support letters and how to keep them up to date.
Renew your ESA Letter with us – Click the button below.
What is an Emotional Support Letter?
An ESA letter is a legal document that is approved and signed by a licensed medical professional certifying that you have a mental or emotional disability and that you are qualified to take your pet wherever you go. The letter is proof that your pet is accompanying you to provide emotional support and to alleviate symptoms of your condition.
The pet can be any animal such as a dog, cat, bunny, guinea pig, or even a bird. With the letter, you get to enjoy certain rights and privileges that regular pet owners can't get. You can enter any building, live in any place, and travel anywhere with your furry friend without facing discrimination or extra charges because of your pet. 
ESA Housing and Flight Benefits
Some residential places are clearly marked with a no pets sign. This means you can't enter with your pet and you can't live there. In other places, you have to pay a fee if you want to live with your pet there. Now, an ESA letter gives you the right to live in such places without facing barriers or paying extra charges. 
In normal circumstances, pets fly in the cargo compartment of the plane. If you have a mental disability, you will need your emotional animal to keep you company when flying, and it would be unfair to separate you from your furry friend. Fortunately, your ESA letter allows you to bring your pet in the plane cabin, without extra charges.
Enjoy Traveling with your ESA Pet – Click the Button Below!
How Long Is The Emotional Support Pet Letter Good For?
An ESA letter remains valid up to 12 months after it was first obtained. Unfortunately, not all people posing as doctors are honest, and some may lie to you that they can produce a letter that can be valid for a lifetime. Remember, an ESA letter is a prescription to help you get better; therefore, it won't last forever. Your doctor will need to evaluate your condition and decide whether you should continue with the prescription. After 12 months, you will need to get a new letter from your healthcare provider.
When Does an ESA Letter Expire for Flights?
Under the Air Carrier Access Act for ESA animals, airlines have the right to see your current documentation before being allowed to take the flight with your pet. Current documentation means it should have been issued by a licensed health care provider not more than 12 months from the flight date. Some airlines may also require your doctor to fill an additional form before you fly. 
Some ESA owners feel that since their therapist will complete the form, the airline won't have a problem if their ESA letter is outdated. However, your doctor may fail to submit the forms if they haven't evaluated your condition recently. In such a situation, you will be forced to pay extra for your pet to fly with you, or the airline can even refuse your pet to accompany you and place it in the luggage compartment. Therefore, it's safe to renew your ESA letter every year.
Do ESA Letters Expire For Housing?
Just like air carriers, landlords who don't permit pets in their property will require seeing a valid ESA letter that has been issued by a certified doctor. However, the Fair Housing Act and guidance from the U.S. Department of Housing doesn't say when a tenant's ESA letter expires. Although the law is unclear, it's recommended that you also renew your housing letter every year since some landlords won't accept a letter that is more than a year old.
If you already live on the property, you need to renew your letter to prove that the prescription is still valid. If you haven't talked to a therapist for a very long time, chances are that they may not validate your letter when the landlord contacts them to confirm your issue. It's wise to keep your letter up-to-date to avoid trouble with your housing provider.
Get an authentic ESA letter by clicking the button below!
Be Careful Where You Get Your ESA Letter  
Thanks to the immense benefits pets give us, we all desire their company whenever we go. Sadly, some dishonest individuals try to take advantage of people looking for an ESA letter. They claim to offer legitimate letters, but they provide fake documents and run away with your money. It's understandable to produce expired letters, but a fake one will land you in big trouble.  
To ensure you get a legitimate letter, you will need to see a qualified and certified physician who will help you determine if you qualify for a support animal as a medical treatment plan. At ESA Care, we can help you in this step, and if you qualify, we will process an ESA letter for you. Whether you want to get a new ESA letter or renew an outdated one.
Feel free to schedule an appointment with one of our doctors!