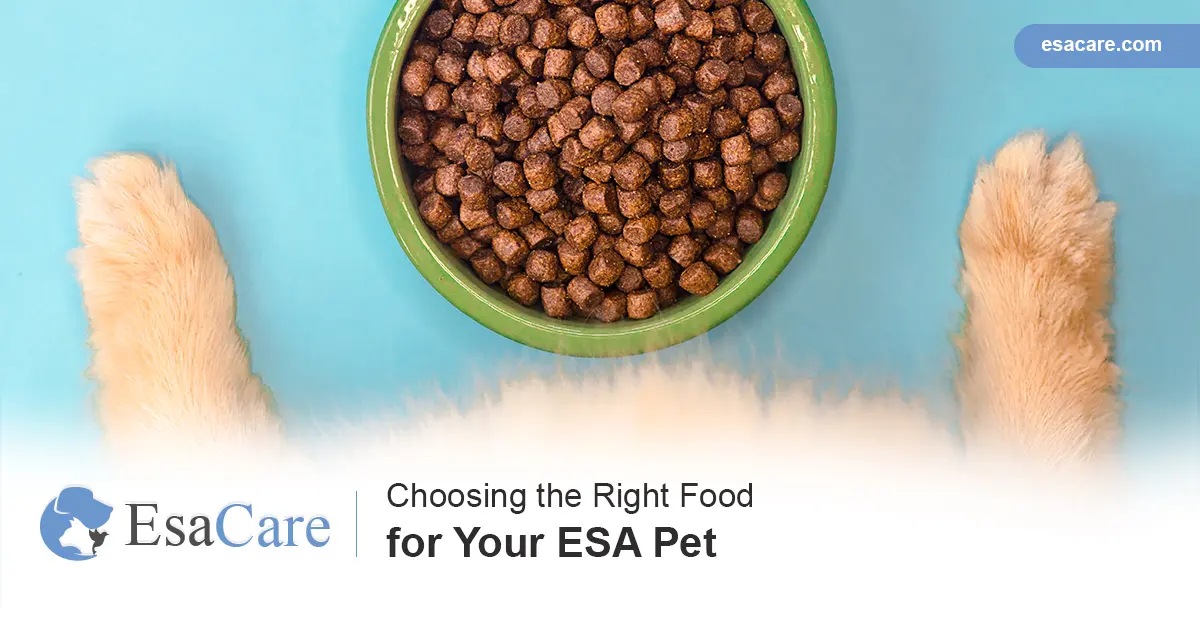 Emotional support animals not only help their owners manage their condition, but they also boost their quality of life. Sure, you can take your ESA pet anywhere without any problem, but no matter how much you love your animal, you can't feed it human food. 
Keep your Mental Health strong with ESA Pet!

Every animal, whether a dog, cat, rabbit, horse, or bird, has unique nutritional requirements, and it's your duty to provide a healthy diet for your comfort pet. Getting your pet nourishing meals means it will be healthy, strong, and lively, and will spend less time at the vet. In this post, we will focus on choosing the right food for an ESA dog. 
Steps to Follow
Here's the thing, the right food should help your ESA dog have better digestive health, healthy weight, a shinier and smoother coat, brighter and clear eyes, higher energy levels, and improved learning abilities. Yet, many dog diets fail to meet basic nutritional needs. Follow the steps below to ensure you are getting your dog healthy food. 
Consider Your Dog's Age
Is your ESA dog a puppy, adult, or senior? The age of your furry friend will determine the food you feed it. Puppies and young dogs definitely need foods that have high amounts of calcium and phosphorus, two important minerals that help in the development of strong bones.  Puppies should also get more proteins and higher calories to fuel growth and establish a healthy immune system.
If you have an adult dog, the level of calories and proteins should be reduced to prevent unhealthy weights. Ideally, the food should be packed with vitamins, calcium, minerals, fatty acids,  and a few proteins. For senior dogs, you may have to consider special nutrition to help the animal combat the health challenges that come with age. Aim for foods that have high levels of fiber, proteins, fatty acids, and minimal calories.
Consider the Breed Size
Although not every dog breed has special nutritional needs, some have unique requirements. Some breeds are prone to immune problems, skin conditions, and bone development issues. First, you will need to learn whether your dog breed requires special nourishment. For instance, small breeds have different food requirements from larger ones. Food for small breeds should have high-calorie levels, including lots of vitamins, minerals, and whole grains. 
Medium dogs weighing between 20- 60 pounds, provide a healthy supply of proteins, vitamins, minerals, and vitamins. Large breeds have huge nutritional requirements and need high proteins, fiber, vitamins, minerals, and carbohydrates. Regardless of the breed size, ensure you follow the feeding guidelines to keep conditions such as obesity, diabetes, and heart problems out of your pet's life.
Looking for an ESA Letter for your dog? Click the button below!

Read Dog Food Labels Carefully
Labels can be misleading if you don't know how to scrutinize them. Apart from just reading the main label, make sure you carefully go through the nutritional information on the packaging.  These details will help you learn all the components the food is made up of and help you decide whether it's good enough for your furry friend. 
It would be best if you were careful since some of the ingredient lists include undesirable components or fillers that lower the quality of the food. Another critical indicator you should look for is whether the food is AAFCO approved. If the food has this stamp, it means it has passed the minimum health requirements.
Decide Between Canned and Dry Dog Food
Whether you will feed your pet, canned or dry food will depend on your personal choice,  budget, dental condition of your animal, and what your pet favors. The main difference is that canned food is pricier and contains up to 75% water, while dry food contains up to 10-12% moisture.
Before you settle on one, make sure your dog is comfortable with it. Otherwise, your dog may refuse to eat or have a low appetite. Also, make sure canned food is properly stored and consumed within the recommended time after it's opened. If you prefer to cook for your pet, talk to a veterinarian to know whether it's a good idea and get direction on what the best nutrient combination is. 
Check For Food Allergies
Just like humans, dogs are also susceptible to food allergies. Therefore, you need to be extremely careful before introducing any new food to your furry comforter. Allergies affect different dogs differently, and some common signs include frequent scratching, licking, vomiting, diarrhea, bald skin patches, ear infection, lack of energy, and even aggression. If you notice some of these symptoms, you need to consult with your vet about the problem, and you will be advised on what ingredients you should drop or introduce in the dog's diet.
Click the button below to get your ESA letter today and keep your pet close!

Closing Thoughts
Apart from the factors above, there are other things you need to consider before settling on a single diet for your ESA dog. Consider the activity level, reproductive status, and pre-existing health complications of your therapy animal. With this information, you'll be able to develop a diet plan that ensures your comfort friend is always healthy, happy, energetic, and free of deficiencies.
If you would like to get an ESA letter so you can live and travel with your support pet anywhere without worrying about extra costs or frustrating obstacles, feel free to talk to ESA Care today! We are licensed physicians, and we can help you obtain a valid ESA letter.