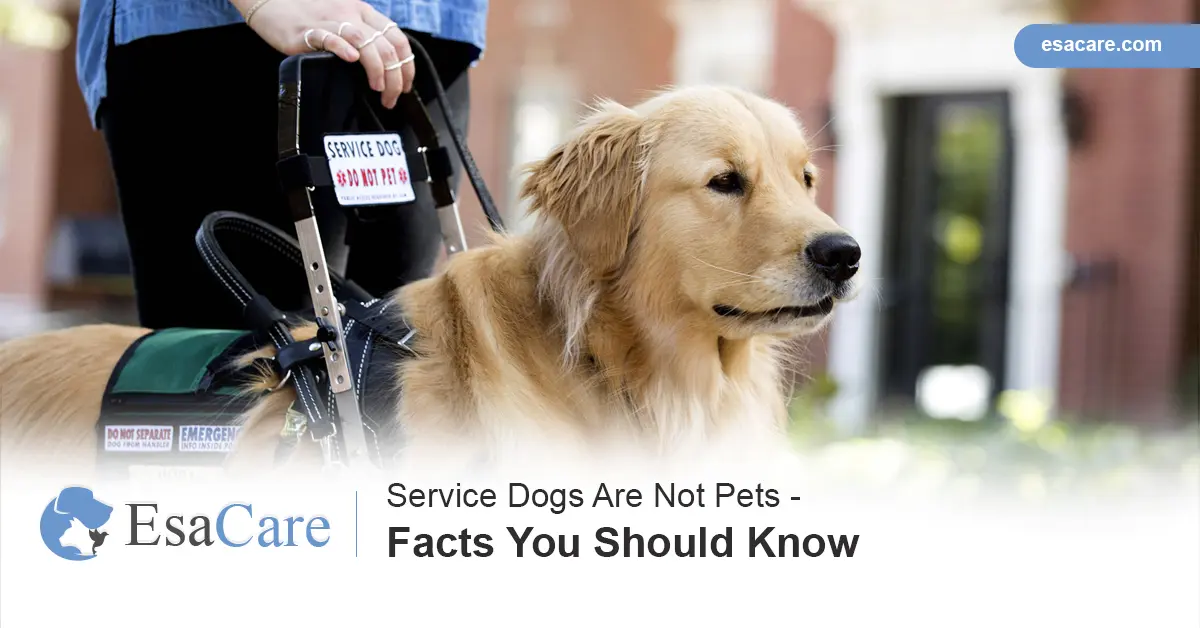 Regardless of breed, a service dog is a dog that has been trained to perform a specific set of skills for its handler. These dogs are not pets as they are trained animals necessary for their handlers to function in daily tasks.
Looking for an ESA Letter for your dog? Click the button below!

Just as a guide dog has been trained to guide its blind owner, a service dog is one trained to:
Help a hearing disabled person

Detect when its handler is going to have a seizures

Know when its handler will have problems associated with diabetics

Understand and help its handler through psychological issues and remind them when it is time for medications
Calm a person with PTSD when they have an anxiety attack

Pull a wheelchair

And many other mental and physical disabilities
These dogs are trained to sound an alert or perform tasks (such as preventing a deaf or hard of hearing person walking into danger) that their handlers cannot do for themselves. They can assist people with daily tasks so they can remain independent. If a dog's only function is to offer emotional support or comfort, they are not considered service dogs; these dogs are regarded as Emotional Support Pets or ESP.
Service Dogs are Not Pets and Do Not Require Certification Verification
A person who has a service dog is required to have it wear livery. There is no certification needed to show others, such as store employees or hotel managers, that they are service dogs. A person can ask what skills the dog has or can perform, but they cannot ask about the handler's disability.
If you bring a service dog into a public establishment, the management cannot request it to leave. The only time a service dog can be forced to leave a public place is to cause a disruption. This situation will only occur if the animal has not been appropriately trained. These scenarios are rare, as dog handlers with a service dog rely heavily on the animal's skills to get them through their day. It would be frustrating and dangerous for a service dog to behave reactively.
Stay Healthy with your ESA Pet!

Service Dogs are Working Animals- Not Pets
For most people, when they see a dog, they automatically assume it is a pet. Service dogs are not pets; they are working animals. Not only can dogs be trained to assist their handlers through daily routines.
These dogs are the same species as household pets and can even come from the same breeder, but they are not pets because they've been trained for specific skills. Many pet dogs are trained to perform particular tasks or tricks, but they are not considered working or service animals.
Why Service Dogs Are Not Pets and Should Not be Petted
Service dogs are trained to keep their handlers safe, and in some cases, prevent their death. If someone is petting a service dog because they find them cute and irresistible, it could put the dog's handler at serious risk of injury or death.
Typically service dogs wear a jacket telling others to "STOP" and not attempt to pet them, but this doesn't always deter a person. The only time someone other than the dog's handler should try interaction with a service dog is if the handler is unconscious or unable to respond.
If you distract a service dog away from its attention to its handler, you are putting that person's life at risk. In the case of a dog trained to detect if it's the handler will have a seizure, if the dog is focused on you, it will not detect and alert its handler in time to prevent injury from a fall during a seizure. These dogs are, in part, a disabled person's medical equipment. They are intended to keep their handlers safe and prevent the risk of injury.
If you ask a person if you can pet their service dog, and are denied, do not be offended. By not taking the dog's attention away from its handler could be saving that person's life. The most responsible thing to do when you encounter a service pet is to ignore it. Pretend as though you have not seen the animal, and you could be saving its handler's life.
Conditions ESA Pet Treats with their Presence –  Click the button below

If you are experiencing an emotional disorder, such as bipolar, anxiety, depression, or other phobias, it can make your life challenging. ESA Care understands how these emotional disabilities can make life difficult. Contact us if you feel having an emotional support pet with you during your travels and stays would decrease these emotional upsets.