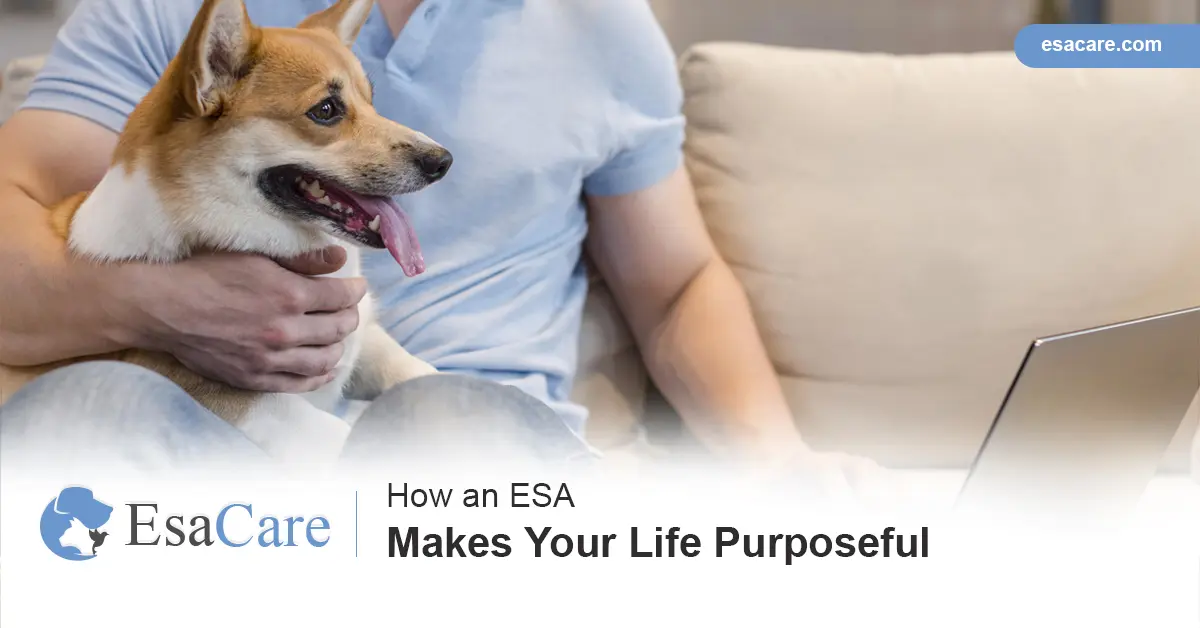 Lots of studies have concluded the same thing – pets contribute positively to our health and happiness. They are comforters, companions, and playmates.  ESA pets go further than this; they help relieve symptoms of various mental and emotional disorders. The utter devotion and support they give us light up our world and improves our quality of life. 
Keep your ESA pet legally – click the button below!

When you are struggling with a disability or illness, it's easy to get stuck in the same routine – waking up, eating, taking medication, and falling asleep. Sadly, following such a routine can easily make you feel meaningless and separate you from your desires, goals, and real purpose. Fortunately, sharing your life with an ESA pet, whether a dog, cat, bird, or bunny, can inspire you to pursue different things and give you a sense of achievement. Below are ways that an ESA makes your life more purposeful.
Giving You an Obligation
Having obligations and responsibilities for someone other than yourself can help you have a purpose. Since pets depend on us for food, shelter, grooming, medical care, and play, we have to look after their needs. The work that comes with taking care of a pet can help break the chain of negative thoughts and focus on something more productive. You'll have a sense of satisfaction when your pet is well fed, exercised, and groomed.
A Positive Routine 
Sometimes, a brain-based disorder can lead to a vicious cycle of negative emotions that are hard to break. You may continuously withdraw and feel the best place to be is inside the comfort of your bedroom walls, lights out, and curtains down. A pet can help you overcome such a habit as it provides you a reason to get up every morning and focus on its needs. The distraction these duties offer will eliminate any unhelpful thoughts, alleviate stress, and give us something to look forward to every day.
Help you Meet Friends
Establishing real-life social connections can go a long way towards giving you a sense of purpose. Thankfully, pets are pretty good at facilitating interactions with other people. Instead of letting us stay at home lonely, they nudge us to go outside to give them a walk or play with them. When we go outdoors, we meet other pet owners, and it becomes easier to make friendships. 
Non-pet owners may also get interested in your furry friend, say hello to you, and request to know some more about your adorable buddy. Some of these encounters can be life-changing, as they can lead to lasting friendships. The relationships build outside can help you go out more. You can call each other to walk your pets together, join local pet-related communities, participate in pet events, and so much more.
Increased Physical Activity
No doubt following a fitness routine can give you a sense of accomplishment. Apart from helping you stay in shape, motor activity lifts your mood and helps you feel good about yourself. Studies show that dog owners exercise more than non-pet owners. An ESA can give you the extra push you need to start going for those morning walks or jogs. You can even set fitness goals that you and your furry friend can work towards.
Lifting Your Self Esteem
Low self-esteem can keep you from exploring the outside world and pursuing your passions. This can leave you feeling empty and pointless. Such feelings can breed anxiety, depression, and self-pity. The moving company can lift your confidence and allow you to be more outgoing and bold in your actions. This can help you stop worrying about what others think about you and focus on doing what you love.
It is easy to get your hands on an ESA letter. Get yours now by clicking the button below.

Do You Wish to Get an Emotional Support Animal? 
An ESA pet can help you alleviate some rough symptoms of your condition and make your life more meaningful. If you don't already have one, we will guide you on how to get the right one for your needs. Use these steps:
Reach Out to a Licensed Professional

– Since ESA pets are only available for individuals living with various conditions, you should talk to a licensed health care professional to know whether an animal is the best solution for you. Ideally, the person should be knowledgeable about ESA pets.

Get a Legitimate ESA Letter – If your psychologist determines that an ESA can help your condition, you will need to get an original ESA letter. Certified health care providers only provide this letter, and it shows that you have a disability that qualifies you to have an ESA pet.
Adopt a Pet – If you don't own a pet, you can now start looking for one. Remember, owning a pet is a long-term commitment; therefore, you need to choose wisely. Look for an animal that has a good temperament and behaves well around people. Also, consider nutritional needs, attention requirements, and whether it will suit your lifestyle.
Your ESA pet can help you reconnect with people – Click the button below!

Get Your ESA Letter
ESA Care is health providers who understand the challenges you go through when you live with a disability, and we strive to make your life easier, positive, and purposeful. We will listen to your needs, give you options, and help you register and get a legitimate ESA letter that will allow you to travel and live anywhere without being separated from your furry friend.
Book an appointment with us today to talk to one of our doctors!