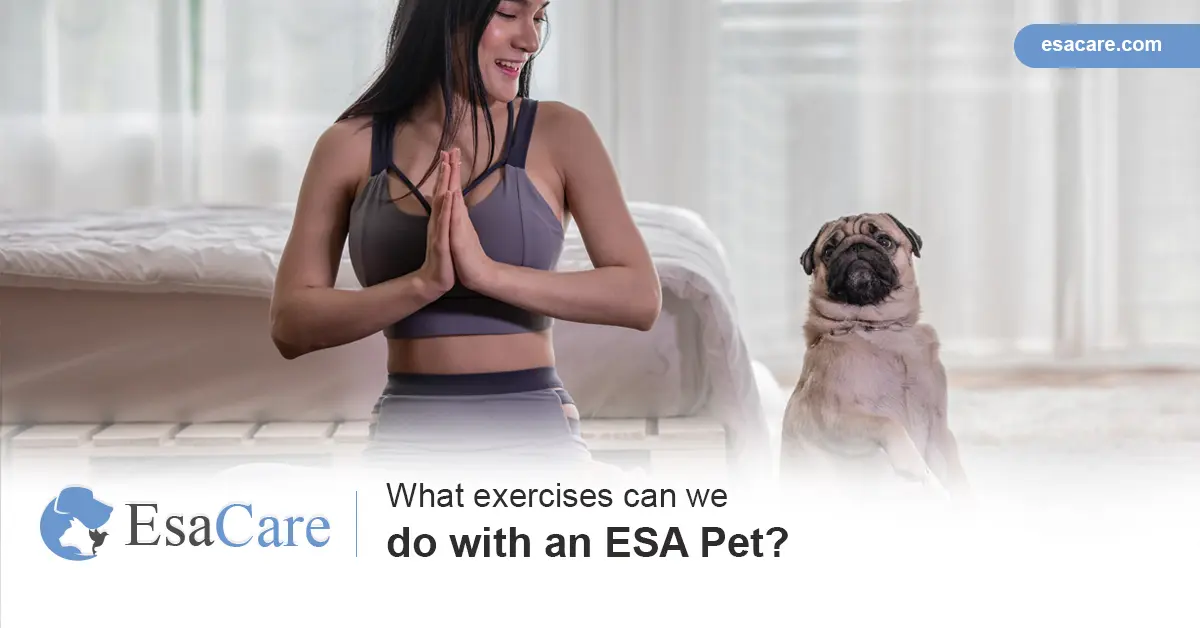 Did you know that approximately 75% of the human population undergoes stress every two weeks?
With busy schedules, this shouldn't come as a surprise. Excessive stress isn't good for your body or
mind, especially if it keeps you from living a normal life. However, if you have been experiencing stress,
your doctor may recommend getting an Emotional Support Animal (ESA).
You can find your Pet companion after getting your ESA letter!

An emotional support animal can help alleviate symptoms of stress. In fact, according to a recent study,
getting a furry animal can help lower your heart rate, blood pressure, and even induce the release of the
feel-good hormones. Additionally, a canine emotional support animal can encourage you to exercise
more. Studies have proven that exercises help in the release of endorphins, which can improve your
moods and well-being.
Exercises You Can Do With Your ESA Pet
Walking
Brisk walking is one of the best exercises for both humans and pets. Some of the benefits of walking
include lower blood pressure, a stronger heart, denser bones, more energy, and a lower risk of
depression. In some pets, regular walking can reduce the likelihood of undesired behavior. Although
there's no rule for how long you should walk, start slowly and increase your speed and distance.
However, if you have a young pet, you shouldn't overtire it.
Jogging
If your pet is a slightly bigger dog, you can crank up your daily walks to a jog. Jogging is one of the best
ways to increase your heart rate and your blood pumping. Start slowly with a power walk and then build
up you and your dog's fitness levels, and before you know it, you will be racing each other. Try taking
quick sprints and then slow jogs, and repeat.
Go for a run
Most animals like dogs are creatures of habit, and they can help you achieve your weekly mileage. Once
your pet gets into the routine of running every morning, they won't let you wimp out just because it's
drizzling outside or you are tired. Your pet will be waiting by your sneakers every morning with their tails wagging.
Get your ESA Letter Now! And cherish yourself with every moment of Life!

Are you concerned that your furry friend won't keep up? You will be surprised to learn that most small
dog breeds tend to have more energy than the big ones. However, always check the heat and humidity
outside because dogs don't sweat as humans do.
Go hiking
Hiking is a great activity for both humans and animals. Apart from being a good form of exercise, being
in nature can positively affect your mood. Hiking with your pet will most likely become its favorite
activity because most pets, especially dogs, like to go outside and explore. During hikes, your dog will
explore how nature smells, and this is important in training their innate scent ability, focus, and
confidence. One thing you should always remember is to protect your pet from fleas and ticks.
Dancing
If long walks or running don't entice you or your pet, then you can try dancing. Dancing has numerous
benefits, including developing greater stamina, burning calories, improved balance, improved muscle
tone, lower blood pressure, and improved bone density.
Most emotional support dogs (ESD) can dance to music, and you can even include new tricks like your
furry friend running between your legs. If you have a cat, you can still try dancing. However, new
research has revealed that cats don't like human music. To dance with your cat, you may want to get
music that actually fits into how your animal communicates.
Swimming
Swimming is one of the most beneficial workouts for both people and pets, especially those with
arthritis. Because swimming is a low-impact exercise, it is easy on the joints. Swimming engages
different muscle groups, strengthens the heart and lungs, and improves endurance. However, not all
pets like swimming, so you may want to start slowly, and use treats or toys to encourage them to start
swimming. If your pet resists even after providing some incentive, find another sport.
Play fetch
This is a classic activity and exercise for dogs, but they can be active and enjoyable for you. Not only will
playing fetch help your dog get in shape, but if you include learning in the activity, like training your dog
to sit or bring the ball, you will help stimulate your dog's brain.
Bottom Line
An emotional support animal is supposed to provide you with some therapeutic benefits, and regardless
of how hard it might be to take care of your therapy pet, it will always love you and even help you to
exercise. Therefore, if you're undergoing mental health issues, and you believe that an ESA pet can
greatly benefit you, we can help link you with a licensed therapist, who will evaluate your situation and
prepare an ESA letter for you.
Get an authentic ESA Letter!

Getting ESA documents will help you to travel and even stay with your pet in an apartment where pets
aren't allowed. If you need professional assistance, we're here to help you. Just call us on 1-800-273-
8255.