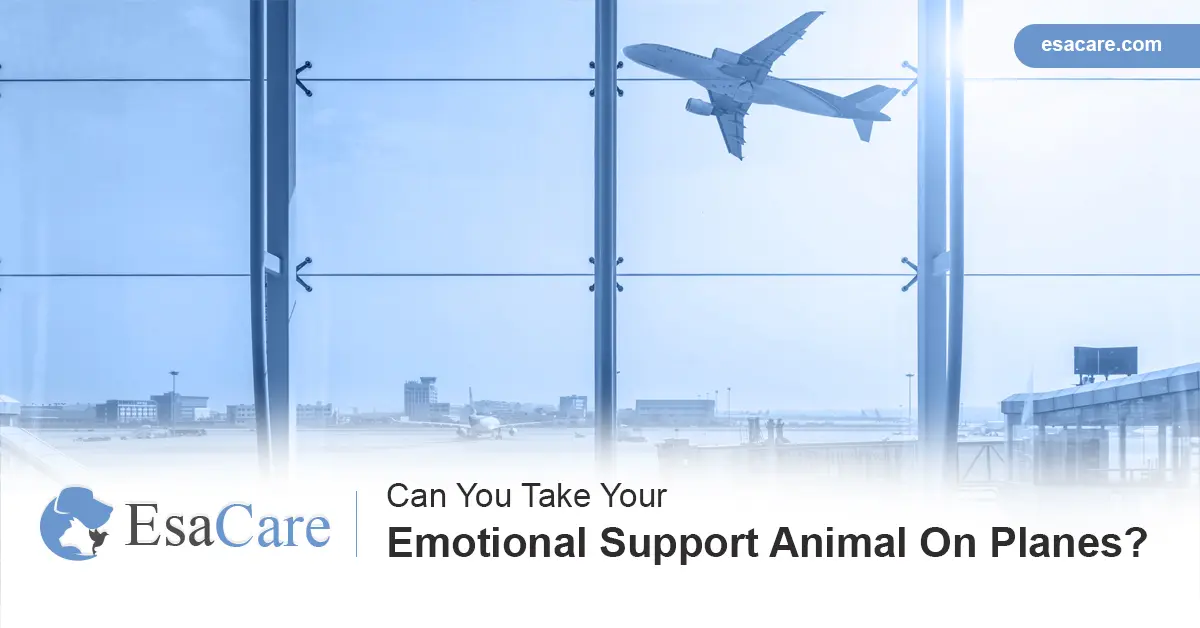 Do you have a fear of flying due to anxiety and other mental issues? An emotional support animal (ESA) offers some much-needed companionship in such circumstances. Before taking your pet on a flight, you must fulfill specific requirements to show their ESA status. The Department of Transport (DOT) is responsible for outlining and enforcing these guidelines.
It is easy to get your hands on an ESA letter. Get yours now by clicking the button below.
Why Airlines May Make It Harder for ESAs to Board Flights
Dogs are the most popular type of emotional support animal, with cats coming second. Ever since they were allowed, travelers have been arriving for flights with several other species as ESAs. They include miniature horses, monkeys, pigs, ducks, and rabbits. This situation coincides with a rise in hygiene and safety-related incidents, especially involving untrained animals.
Some travelers also unnecessarily designate pets as ESAs, which makes it hard for those who need them to be taken seriously. Airlines for America has been lobbying the DOT to restrict emotional support animals to trained breeds. Airlines are trying to help those in genuine need in a bid to address concerns about rampant abuse of ESA requirements. As many as 40 million adults in the US suffer anxiety disorders. If you fall into this category, ensure your ESA has proper documents before taking it on a flight.
Requirements for Traveling with an Emotional Support Animal
Federal laws inform ESA regulations. They include the Americans with Disabilities Act (ADA) and the Air Carrier Access Act (ACAA). Although airlines can allow or reject ESAs at their discretion, the DOT currently provides the following general guidelines:
Reptiles, rodents, and spiders are not allowed on flights.
Your ESA shouldn't be too heavy or large to fit in a cabin or threaten the safety of other travelers and airline staff.
Airlines can ask for advance documentation regarding your emotional support animal to decide whether it will be allowed on the flight.
Even though the ACAA allows a broader range of support animals, every airline has specific rules regarding them. Most will only allow one animal, which must be clean and well behaved. If it's small enough, you may hold it in your lap. Your support animal shouldn't block aisles or exit rows. If the flight is 8 hours or longer, you may have to guarantee that your ESA will relieve itself in a sanitary way if the need arises.
What Documentation Do Airlines Require?
Before your flight, you'll need to provide documentation that is less than a year old. It should show:
That you suffer an emotional or mental disorder listed in the Diagnostic and Statistical Manual of Mental Disorders (DSM).
Your emotional support animal provides adequate companionship to help you manage your disorder while flying.
That a qualified mental health expert who personally treated you assessed your condition.
Your health care professional's details. They include the state in which they received their license, the date of issuance, and the type of license.
A certified ESA letter makes it easier for you to travel with your pet. Get yours now by clicking on the button below.
You also need to provide details regarding your emotional support animal. Their primary caregiver should fill these veterinary documents. Apart from the animal type, other information includes the breed, weight, and vaccination history. The vet should explain whether the animal is safe enough for other travelers, as well as any additional measures that can improve its comfort during the flight.
As with your mental health professional, your vet's details are essential. They include his or her license number, date of issue, the jurisdiction of practice, their name, signature, and date of assessment. The document should also contain their contact information.
A Guarantee of Behavior
Other than the documentation mentioned above, some airlines may require a commitment that your pet will behave. Such documents may vary, with the airline providing a downloadable form or one that you can fill and submit online. It will usually ask for confirmation on whether your ESA has public behavior training, as well as competence in its support role.
If that's the case, you might be asked for details of their behavior school certification, as well as your full contact information.
Once all the documents are in order, the airline will provide a timeline for their submission. Some might ask you to do so 48 hours before travel. Although airlines might ask for specific documents regarding your emotional support animal, the Air Carrier Access Act overrides such demands. Once you comply with this law's requirements, you're not under obligation to provide any extra documentation.
Are you planning on traveling with your emotional support animal? At EsaCare, we'll help you fulfill airline requirements regarding your pet. At ESA Care, we issue our 100% Certified ESA Letter after a thorough assessment by licensed mental health professionals. If you qualify for one, we'll send it to you within 2 to 5 business days of getting approved.
Apply for your ESA letter now!