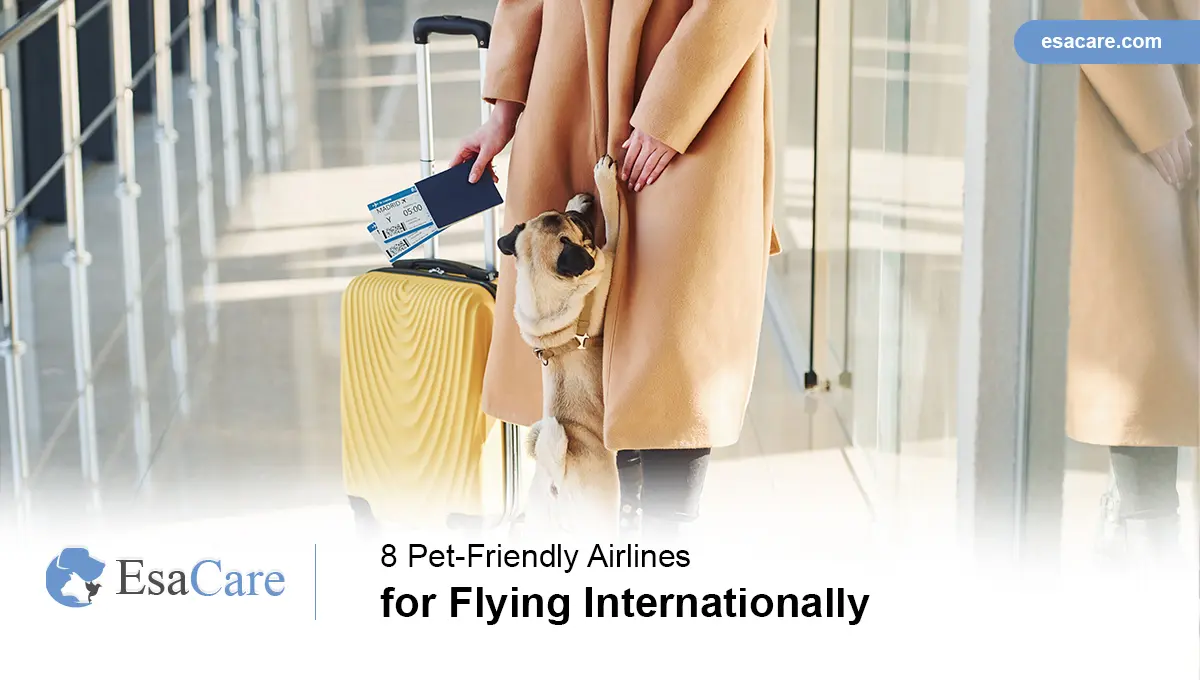 There's no doubt that emotional support animals (ESAs) help many people suffering from mental health issues. ESAs have proved to be even more effective than most treatment options, not to mention the bond their owners develop with them.
Therefore, it makes sense to travel with your dog, especially when he provides you the emotional support you need to stay grounded. But, unfortunately, not all airlines allow passengers to travel with pets. And that's why flying internationally with a dog isn't as straightforward as some people might think.
Traveling with your ESA has never been easier – Experience it through our services.
So, which airlines should you consider when flying dogs across the country or traveling overseas with a dog? This post will provide you with a comprehensive list of the top airlines to book when flying internationally with a dog.
Airlines for Flying Internationally with a Dog
Whether you are traveling with a playful puppy, a trained emotional support animal, or a service animal, these top airlines will help make your flight with your dog comfortable and memorable.
1. American Airlines
As one of the biggest airlines worldwide, American Airlines is known to be very pet-friendly. You can fly with your dog in the cabin for short flights, provided you keep him in a small carrier under your seat throughout the flight.
However, for longer flights, the airline insists that you check your pet as cargo to ensure he is properly cared for during the flight. The fees for traveling with your dog also vary, depending on your pet's flight distance, destination, and size. The upside is that American Airlines has hundreds of positive reviews regarding how it handles pet travel. So, the price is well worth it.
2. Delta Airlines
Delta Airlines is another popular airline with destinations in over 60 countries worldwide. This airline provides one of the best bet-friendly travels. The airline even allows passengers to travel with household birds for domestic flights.
To travel with an ESA on Delta Airline, you must provide the necessary paperwork, including an ESA letter that allows you to travel with your dog. Moreover, like most airlines, Delta will enable passengers to ride with smaller pets in the cabin. In contrast, larger dogs ride with the cargo for their safety and comfort.
The price range for pet travel on Dental Airlines varies between $75 and $200, which shouldn't be too hard on your wallet, depending on your destination.
3. Frontier Airlines
You will never find a more pet-friendly airline than Frontier Airlines. Pets are a part of the family, especially when they are taking care of you healthwise. That's why Frontier Airlines goes the extra mile to ensure you and your dog can travel as comfortably as possible.
Flying internationally with a dog has never been more accessible with Frontier Airlines. The airline welcomes animal travel on its domestic flights. You need not worry when traveling with your dog, cat, rabbit, guinea pig, hamster, or bird on your domestic flight.
On international flights, you can take your dog and cat with you. But perhaps the best part is that the cost of traveling with your dog is only $75, which is a big break.
Get your ESA certification by clicking the button below.
4. Air France
Air France is another excellent airline that allows pets on board for both its domestic and international flights. So, if you have a European tour on your bucket list and plan on flying with a dog, you should strongly consider using this airline.
Air France also doesn't require you to have an approved pet container for your pet. Instead, the airline allows passengers to use flexible bags to maximize the comfort and safety of pets.
The price range for traveling with your dog on this airline ranges between €30 and €200, entirely dependent on your final destination and the size of your dog.
5. Japan Airlines
While Japan Airlines might not allow pets to enter the cabin, it puts great care to ensure your dog has the most comfortable ride in cargo. The airline puts all pets in air-conditioned rooms that are secured in the cargo hold. Once you reach your destination, an agent will deliver your furry friend directly to you.
Japan Airlines is a great option when planning on flying internationally with a dog. It provides prime service for both yourself and your dog.
6. Virgin Australia
Virgin Australia is another common name in the airline industry. The airline flies various pets in its cargo hold and allows only service animals to travel in the cabin. The temperature of the cargo is similar to that of the passenger cabin. It is well-ventilated, safe, and comfortable for your dog.
You can travel with your dog to most destinations in Australia using this airline. The airline flies only pet dogs and cats. Other pets can fly on the Virgin Australia Air Cargo.
7. British Airways
British Airways is another great pet-friendly airline with well-defined regulations set to ensure a safe and comfortable trip for your pet. If you're planning on flying internationally with a dog, then British Airways is another worthy consideration.
However, this airline flies pets in the cargo hold only. Additionally, all pets must have a health certificate and other proper documentation issued by a professional vet. All pets must also fly in IATA-approved crates in a cargo hold with temperature embargos that maintain the temperature even during winters when there's extreme weather.
8. Air Canada
Air Canada also focuses on the safety and comfort of traveling pets. Flying internationally with a dog using this airline is the best move you can make. The airline trains its staff to care for all traveling pets and has designated specialized holding facilities to guarantee your dog's comfort.
You never have to worry about the safety and comfort of your dog when traveling by Air Canada. The airlines' specific regulations and requirements for pets traveling internationally are the friendliest on this list.
Carry an authentic ESA letter to travel with your pet – Click the button below.
Planning On Traveling With Your Pet? ESACare Has You Covered
With this guide, you can now rest easy, knowing that you can travel with your furry friends with ease. You will learn how to travel long distances with a dog and even get an ESA letter that allows you to live and travel with your emotional support animal.
ESACare has licensed doctors who will vet your application and give you more information about flying internationally with a dog. Contact Us today for more information on pet-friendly airlines for yourself and your dog and the right procedure to follow.
Get your Emotional Support Animal Letter today by booking an appointment at ESACare.