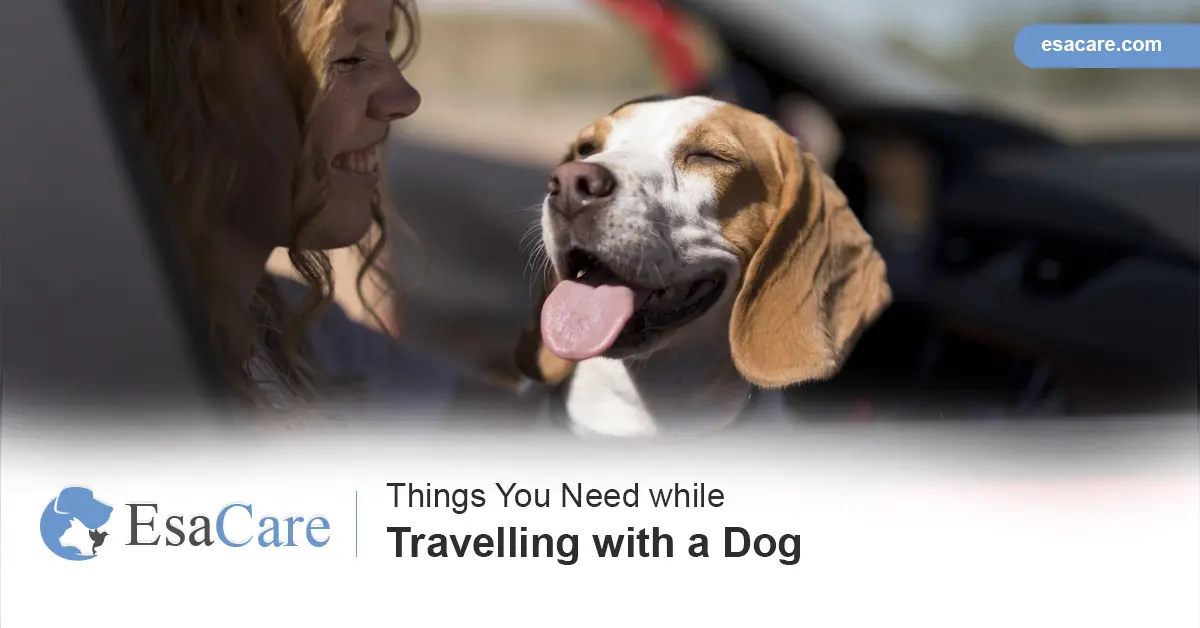 Emotional Support Animals have become part of families. As a result, pets have been designated rooms, and some are even showered with gifts. Pet travel is a growing practice among people. Taking your pet for a journey needs adequate preparation. Just like you get psyched up for a vacation, there are several things that you need to pack along as you prepare for your trip. The bottom line is your pet's comfort and security. This should guide you as you prepare for a ride of your life with your furry friend. To travel around without trouble, make sure you acquire your ESA letter. 
At ESACare, we always pride ourselves on providing valid letters.
Some of the travel essentials to consider include the following:
Have your pet passport
Your dog's certification is essential before traveling. This is the kind of certification that's obtained from your vet. This will basically ensure that your dog is healthy and up to date with vaccinations. With the picture of your dog in the passport, there's always easy identification in the event of your flurry friend getting lost. Furthermore, passports are needed by the law, and this will make your travel to be smooth.
Pet Microchips
One of the greatest concerns about traveling with your dog is its safety. What would happen if your pet gets lost? Implanting microchips inside your pet is the best way to track them in case they get lost. Microchips have data that has an identification number. The identification numbers have digits that indicate different radio frequencies. When lost and end up in an animal shelter, the microchip can be scanned, and information about your pet will help you locate your furry friend. Gratefully, microchips are quite cheap as they cost less than 50 dollars.
Consider having seat covers
Traveling with your dog might cost your seats without proper protection. Since you probably want the best experience for your pet, you may as well consider covering your seats with the help of old towels and blankets. However, for the best results, you should consider purchasing seat covers. Since your furry friend will move about the car, protecting your seats is quite in order. It's also worth noting that manufacturers make pet-specific covers, and this might save you from trouble. Some of the seats are made of water-resistant and scratch-durable material for further protection.
Travel water dispenser
Freshwater is essential for your dog's health. While you travel, you don't need stops to access water. Consider taking with you a water dispenser for your canine friend. Water prevents dehydration and will help your dog to feel as much as being at home.
Travel with ease – get your ESA letter now!
Poop Bags
There is nothing as disgusting as traveling for a longer time without poop bags. While traveling with your dog, always consider bringing along poop bags. Based on its behavioral responses, you can tell when they need to get relieved. You wouldn't want to get stuck trying to scoop up after your pet with tissue paper you brought along.
Pet Collars and Tags
These are essential accessories that should be worn by all pets. For out of town venture, consider acquiring travel tags for instant identification. Tags bear information such as local contact information and pet's name. This will prove to be quite invaluable in the event of your flurry friend getting lost. In case your lost pet doesn't get up in an animal shelter, the tag will play a vital role in finding it. Get that tag today, and enjoy your travel. 
First Aid-Kit
No one plans for sudden injuries or sicknesses. The last thing you'd wish for is your pet falling sick during the journey. Preparing for this eventuality will help you to deal with it with conviction and surety of recoveries. A basic first aid kit contains gauze rolls, bandages, cotton swabs, tweezers, dog anxiety medication and antibiotic ointment. Armed with basic first aid kits, you'd be better placed to offer medical assistance in the event of your flurry friend getting sick. You don't want to be stranded in the car with a sick pet!
Toys and Play Sets
Dogs can get a bit restless if they stay for a long time without much activity. Your dog can get bored too due to confinement in a small place for a long time. The best way to kill this boredom is by bringing along toys and playsets. Any distraction from the boredom will help you have a great ride with your pet.
Improve your mental health by keeping your mental health close by – get your ESA letter today!
Conclusion
As you plan to get a ride with your pet, consider making it not only eventful but also memorable.  As you travel, make your dog comfortable and secure. At ESACARE, we cater to all your pet needs.
Book your appointment with us today.