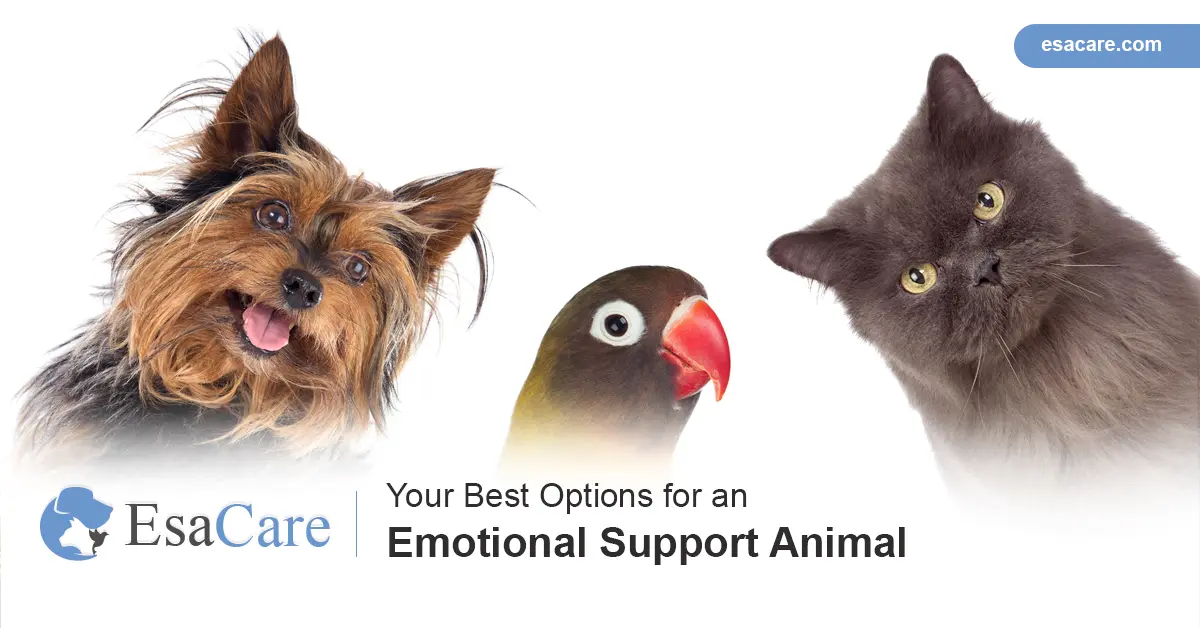 When living with a psychological issue like depression, anxiety, stress, bipolar disorder, or PTSD, among others, an emotional support animal (ESA) can be of great help. It will truly change how you will see and interact with your world. An ESA is an assistance animal that offers emotional support and comfort to someone with a diagnosed psychological issue. Most people think that the terms 'service animal' and 'ESA' refer to the same thing. Unlike when keeping a service animal such as a guide dog, you need not invest in any special training for your ESA.
Stay mentally fit with your ESA pet! – Click the button below.
In theory, any domesticated animal qualifies as an ESA. However, remember that animal breeds have different temperaments and care needs. You might end up with an animal that stresses you further rather than eases your life if you do not choose your ESA carefully. Below are some of your best alternatives when looking for an ESA.
Dogs
Dogs are the most popular ESAs. This might be because, as research has proven, it is very easy for dogs and humans to communicate. Moreover, they are renowned as some of the most loyal animals. For both reasons, most people going through emotional turmoil can spend hours talking to their dogs and feel like they have formed a genuine bond with them. Dogs will get quite excited even at seemingly simple things like wrappers flapping in the wind and children playing. Their excitement will teach people battling different psychological issues to appreciate the simple pleasures in their lives. However, remember that dogs will need to be walked regularly to keep them fit.
Cats
Cats are loving creatures. Though some people consider them grumpy and demanding, they also have the same unconditional love as dogs. Cats are also quite funny. In fact, research has linked a boost in energy from watching online cat videos. Since they will want to spend as much time as possible next to you, they will help you forget any traumatic experiences and not focus on negative events or emotions. Other than the ease of traveling with a cat, the animal suits small homes because it does not need large living space.
Rabbits
What would relax you more than a small fuzzy creature like a rabbit next to you? Rabbits are quiet and shy animals that will make excellent ESAs if you live in an apartment because they will not disturb your neighbors. They will also form an exceptional emotional bond with you. If you are worried that your home will be too small for a bunny, you can relax. Rabbits only need a litter box in a comfortable spot in your house. They also need no backyard or safe outdoor space to roam around.
Don't wait anymore – get your ESA letter in a few easy steps!
Birds
According to experts, birds are the only animals that can replicate human speech. If you are looking for an ESA that you can ''interact'' with, a bird should be among your first choices. Parrots, for instance, will respond to you using the same words you have taught them. Unlike when keeping dogs and cats, you need not worry about taking your bird for a walk or cleaning your ESA's litter. Birds occupy small cages that they can use as their bathrooms. Keeping the cages clean is quite easy, and you can hang them if you have insufficient floor space for placing them.
Hamsters
Hamsters have very calm personalities, and their soothing presence can easily calm even the most mentally disturbed people. Moreover, the way the animals will curl up sometimes and sleep next to you is quite calming. Hamsters are inexpensive to maintain, occupy little space, and largely independent. Their small sizes also make these animals the perfect ESAs for kids.
Horses
Most people assume that horses are high-maintenance animals that will stress you when used as ESAs. Even so, horses are highly trainable and can adapt to different environments. This means that with the right training, you can even comfortably keep your horse in a backyard. As ESAs, horses are easy to take care of and quite playful. Moreover, they have longer lifespans compared to other ESA options. This means you will have a stable emotional bond with your ESA rather than deal with its death every 3-5 years.
Travel with your pet with an authentic ESA letter – Click the button below.
The rules on animals that can make the best ESAs are not cast in stone. Nonetheless, the above alternatives are the best for almost all people looking for an ESA. They are not harmful and can be easily managed in public places. You are allowed to have more than one ESA if your condition will benefit from the same. Even so, you should first get an ESA letter from one of the licensed mental health professionals on our site when you own an ESA. This letter allows you to live and travel with your ESA without worrying about the restrictions that apply to animals.  
Book an Appointment by clicking the banner below!