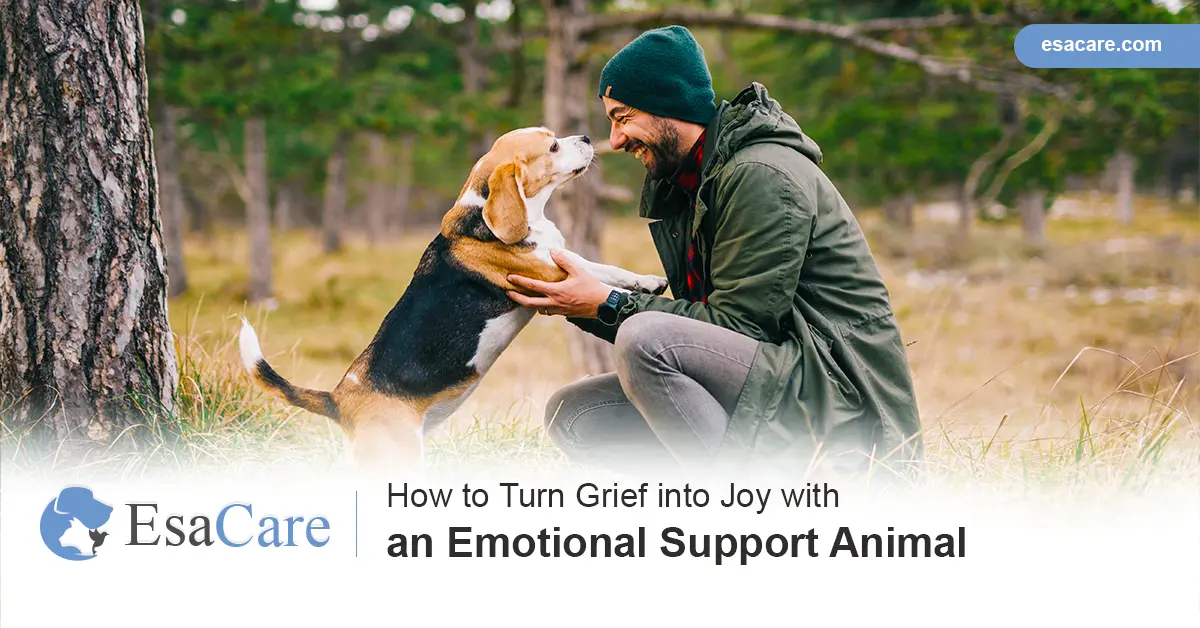 Grief shared is half the grief…Joy shared is double joy. -Anon
When grief has no words, a pet can provide a level of comfort beyond spoken words. Many funeral homes are now employing grief therapy dogs to assist adults and children grieving the loss of a loved one.
Get an authentic ESA Letter!

No Words Are Needed
Animals often can sense pain and grief. Burying your face in a warm, furry neck can communicate your pain. And communicating your grief is the first step in the healing process. 
Emotional Support Animals (ESAs) can distract us from our stress, even if only for a moment. Funeral homes are now discovering how the presence of a therapy dog can change the mood in a room. After they pet a friendly dog, people begin to smile; they feel more comfortable sharing poignant memories.
ESAs are often invited to attend grief support meetings. "Therapy dogs have an amazing ability to put people at ease in a very emotional and difficult situation," says Jessica Koth of the National Funeral Directors Association. "When the therapy dog comes into the room, the mood changes and the family begins to open up and share their loved one's story."
How Emotional Support Animals Provide Service for Better Health
Emotional Support Animals not only provide comfort in times of grief; they also improve mental and physical health. Petting a therapy dog increases serotonin and dopamine levels in our brain.
Researchers say all animals – including humans – have cells under the skin that activate a chemical called oxytocin in the brain. Gently grooming your horse, stroking your cat…even an absentminded pat on your pooch's head can trigger the release of this chemical in your brain. 
Watching fish swim or petting an animal reduces stress levels and lowers blood pressure. Cat owners have a 30% lower risk of a heart attack. And a reduction in stress has been shown to boost immunity. 
With the right paperwork, ESAs can accompany their owners almost anywhere. Any pet can be considered a therapy animal, but you'd be hard-pressed to convince an airline to find a seat for your pet giraffe. For those of us on-the-go, an ESA cat or dog is the logical choice.
When Grief Shuts Us Down, ESAs Keep Us Moving
A good diet and exercise can help during emotional times. But as all too many people suffering from depression or grieving the loss of a loved one can tell you, the weight of sorrow can be paralyzing.
Pets and Emotional Support Animals need daily care. They must be fed…groomed…exercised. When we can't help ourselves, we will do what is necessary for our pets. An ESA gives its owners a sense of purpose, and a kitten or puppy can make us laugh when all hope seems lost.
If you believe you are suffering from depression as a result of grief, please seek medical assistance. A medical professional can explain options that include treatments, medications, diet, and exercise. Most medical professionals agree an Emotional Support Animal adds value and alleviates depression for many patients.
Get rid of depression, Love life with your ESA Pet!

Putting a leash on your dog and forcing yourself outside for a daily walk introduces fresh air and sunshine into what seems like a bleak existence. Just as you don't feel as if you can prevent grief, you can't help but feel better when you care for an ESA.
The Best Therapy Dogs
Your dog can be certified as a therapy dog, no matter what its breed or age. Your ESA should be well-trained and generally calm and friendly. Emotional Support Animals should have current vaccinations.
If you are choosing a dog as an ESA, you might want to consider a hairless or low-shed dog. "Hypoallergenic" breeds or mixes include:
Bichon Frise

Maltese

Poodles

Schnauzers (some; not all)

Shih Tzus

Terriers (some; not all)
Top Therapy Cats
Love is blind to breed, so it doesn't matter what your cat's DNA. But these cats are considered good ESA choices based on intelligence, companionability, and loyalty:
Maine Coons

Mixed Breeds

Persians

Russian Blues

Siamese
Do You Qualify for an Approved ESA?
Many of us have Emotional Support Animals at home. We call them our "pets." We receive their unconditional love every day. In times of grief or stress, our pets comfort us. But when you want to travel with your ESA or are told by a rental agent "No pets are allowed," that's when you realize it's time to acknowledge the very real, health-giving benefits your 4-legged companion provides.
You can find your Pet companion after getting your ESA letter!

A licensed therapist can evaluate your situation. If an Emotional Support Animal can provide therapeutical relief and improve the quality of your life, you may qualify for an ESA document. 
Learn more. Call 833.976.0637, contact us for more information or apply for an ESA evaluation and letter today.