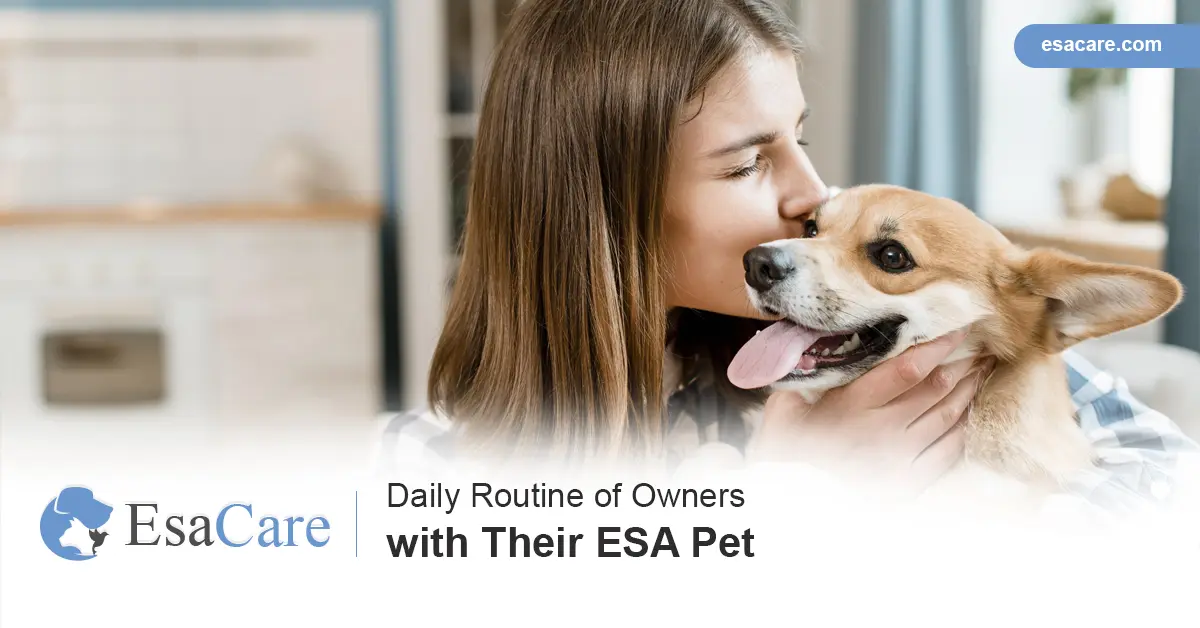 You continuously integrate positive habits into your daily routine. Probably you wake up and jog, hop in the shower, and prepare your kids for school. But have you ever thought of creating a daily routine for your ESA pet?
An established schedule for you and your emotional support animal is meant to cement the bond between you and your feline/canine friend. It boosts communication, grow trust, and improve health- for both of you. Stay Healthy with your ESA Pet!

Here is how to make your ESA pet's day feel more relaxed and complete
Training Schedule
Most people assume that training your pet is all about commanding them to sit or greet. However, it involves more than that. Training enables pets to learn new tricks. However, be mindful of your pet's capability.
Daily exercise is an excellent way for pets to release energy and boost concentration. It also keeps their mind and body active throughout the day. Training is a great way to create a strong bond between you and your feline or canine friend.
Any training that involves tricks and agility will improve good health. Increased muscle strength, balance, flexibility, and stamina will keep the ESA pet excited and interested in daily life.
The increased level of practice will significantly boost the pet's confidence. Starting a training regime with your ESA pet is simple. Start with short sessions, with motivators on hand. Gradually increase the duration and frequency. Eventually, you and your pet will realize the benefits of training.
Ensure you make this a daily routine for the pet to retain agility, flexibility, and stability. A pet that works daily with their owner tends to be happier and excited about life.
Basic Commands
A balanced dog isn't the same as a trained dog. Training might involve more physical and mental stability. But basic commands enable your canine or feline friend to tackle some behaviors. Your dog might take a class or train it. This will be fun and inexpensive.
Ensure you repeat the sequence a few times daily for your pet to master it. Since there are several basic commands to teach your pet, don't rush the process. Take one step at a time and only move to the next order if the pet has mastered the first.
Working together with your pet will grow trust and create a strong bond between the two of you.
However, most owners stop working with their pets once they learn. This is a severe mistake. Providing constant stimulation to your emotional support animal is indispensable for them to be comfortable and happy.
Socialization 
Correct socialization routine with people and other pets is essential for your ESA counterpart. Well-socialized cats or dogs lead to fabulous feline or canine citizens. Emotional support animals that spend time exercising, playing, and interacting with other pets and people live a happy and healthy life.
Keep your self engaged with your ESA Pet. Get your ESA Letter!

If your cat or dog is anxious or worried about an encounter, it means they spend less time interacting and having fun. And unhappy ESA pet, cannot make you happy or help you alleviate anxiety. Socialization also promotes confidence and acceptable behaviors.
Your pet will also manage to adapt to a variety of situations and environments. And as your pet interact, you'll also interact with other ESA pet owners. Create new friendships and discuss various challenges of your pets. It's a win-win situation.
Create a Walking Schedule
Regular walking routine with your ESA pet is right for you and your pet. More so, it can be fun. You'll enjoy social and health benefits by walking your dog a few miles per day. Services include lower blood pressure, enhanced cardiovascular fitness, stronger bones, and decreased stress.
Obesity in pets leads to several health complications such as liver disease, insulin resistance, and heart disease. Then, you need to walk your emotional support animal once each day. The breed of a pet you have and their fitness level will determine how vigorous and long your walk should be.
Pets, especially dogs, love checking out the sights, smelling, and urinating in different environments. As you walk your pet, you also gain a lot. You'll gain social and health benefits. It helps you shed off some pounds and keep fit. Aim at least 30 minutes, five days a week. Carry fresh water for you and your pet. Importantly, avoid walking in extreme heat. Early morning or evening walks are the best.
Allow Your Pet Time Alone
Dogs and cats should never be condemned to solitude. ESA pets are social animals, so the company is essential. However, it would be best if you gave your pet some time alone- not exceeding 8 hours. This is to allow them to have time to relax or sleep.
Never Feel Alone! Live with your ESA Pet!

Obtain Your ESA Letter with Ease
Creating a daily routine for your ESA pet is essential. To enjoy being closer to your pet, you need an ESA letter.
At EsaCare, we can help you obtain the ESA letter seamlessly. Contact us today for more details and help.