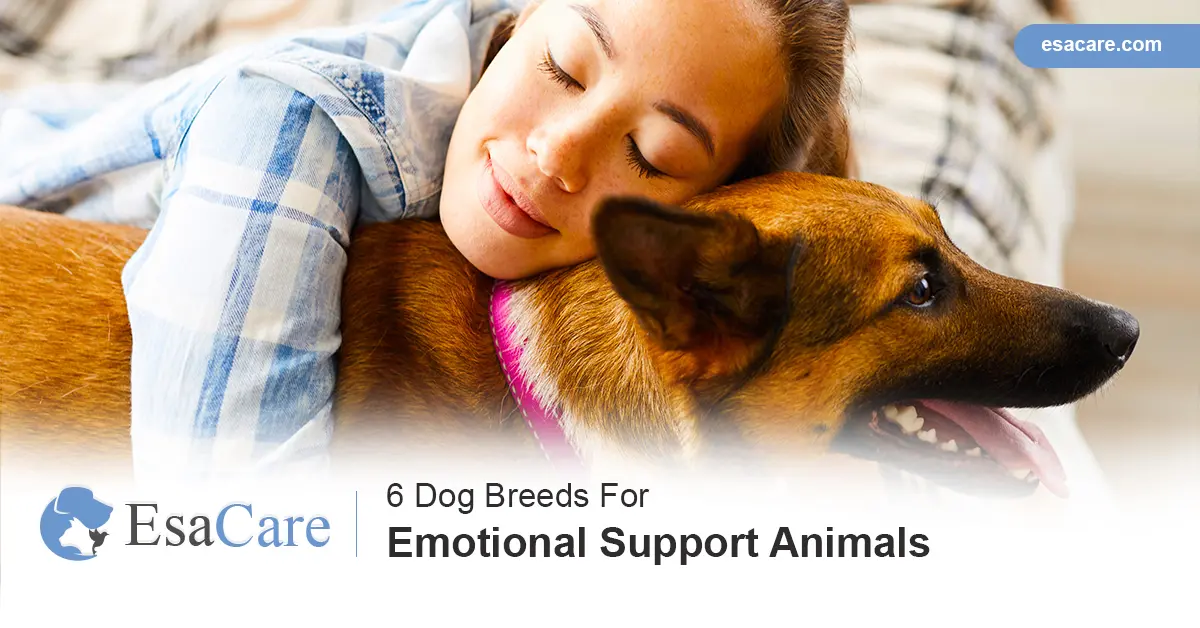 Separate studies carried out by the "Journal of Psychiatric Research" and also the "Journal of Applied Development Science" point to the benefits of owning a pet. Emotional Support Animals (ESA) not only provides support to people with mental health issues, but they also make them engage with others with ease.
Your ESA Dog can be your best companion – Click the button below!
Besides, dog ownership can also help:
Lower blood pressure
Elevate serotonin and increase dopamine in the brain
Curb triglycerides and cholesterol
Even so, while it can be calming to be around many dogs so long as you have a bond with them, several breeds are renowned for being excellent emotional support dogs owing to their nurturing personalities.
What's more, while some are natural lapdogs, others maintain a calm demeanor regardless of the situation. Unlike service dogs, emotional support animals don't need extensive or expensive training for them to help alleviate your mental health symptoms.
So, let's look at some commendable support dog breeds.
1- Golden Retrievers
This breed is an excellent pick if you're looking to get an Emotional Support Animal. Apart from being highly trainable, Golden Retrievers are loyal, eager, playful, and gentle dogs.
Even though most of these attributes make these dogs notable candidates as service dogs, if you're looking for a dependable and cheerful companion, Golden Retrievers—along with retriever mixes—can be precisely what you need.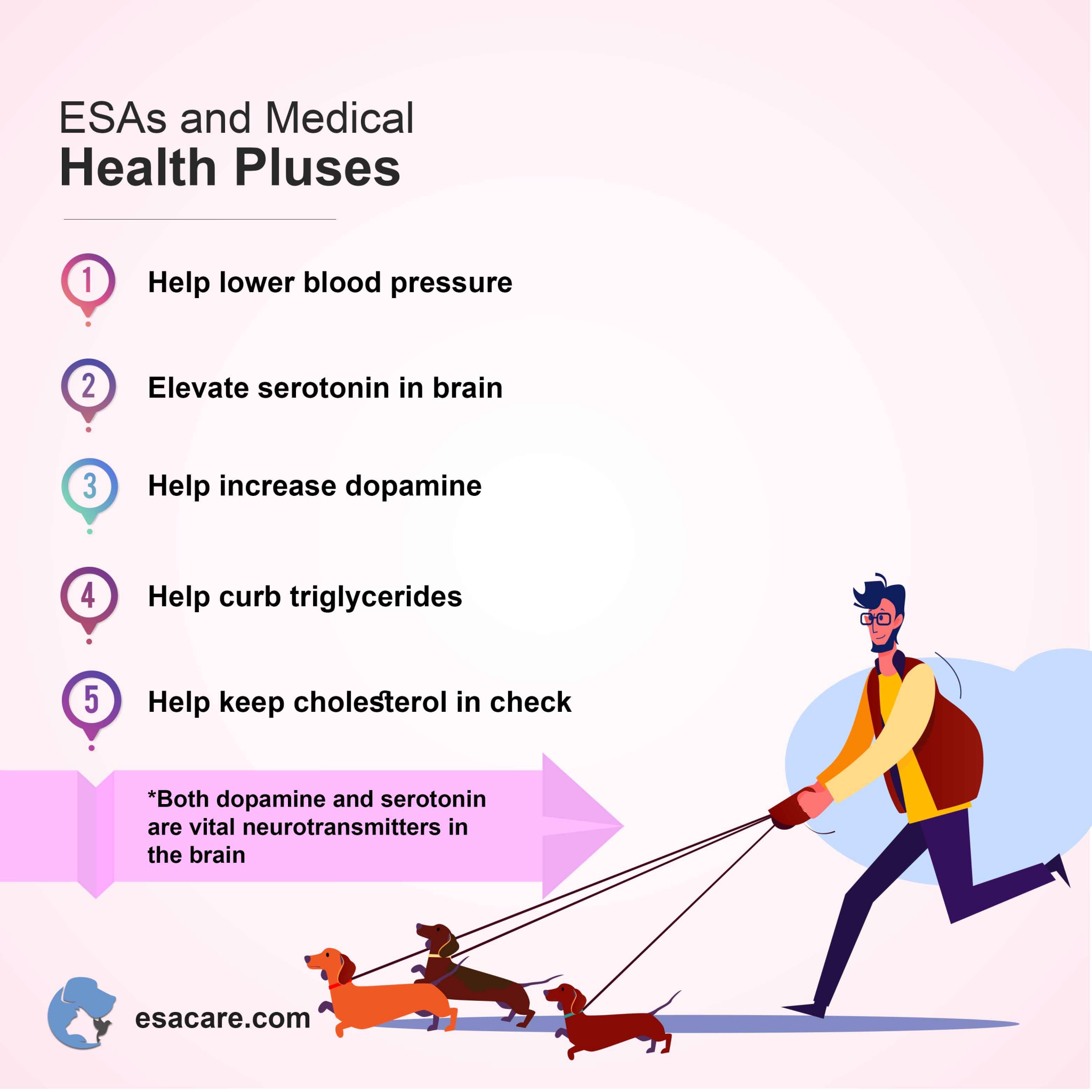 2- Chihuahuas
Small in size and on the same note highly mobile, Chihuahua's can be extremely emotionally supportive. Due to their size, you can be able to move around with them without much trouble.
They're also exceptionally cute—a nice distraction that often makes people want to protect them. A Chihuahua proves that a support dog doesn't have to be big to fit the description of a loving, caring, and responsible animal.
Moreover, these small dogs score big in intelligence and loyalty. Besides, they're also highly receptive to verbal and visual cues as well as commands from their owners.
Click the button below to keep your ESA Chihuahua close to you.
3- Cavalier King Charles Spaniel
Because of its popularity as a "cuddle bug," the Cavalier King Charles Spaniel is a highly regarded support dog. As super affectionate pups, these dogs are dependable companion dogs that also have a quick to learn—eager to please reputation.
Loving and compassionate, King Charles was once a top pick in royal circles, and even though they lack the disposition of a monarch, these support animals revel being in your presence—be it on a long walk or when they want to snuggle on a couch. They're excellent companions for people struggling with depression or PTSD.
4- Border Collie
Dog breeds don't come with a higher intelligence ceiling than this! Border collies are devoted and friendly companions that are not only easily trainable but also affectionate and people pleasers.
A herding dog by nature, border collies' will motivate and encourage you to pick yourself up, even when it's seemingly an uphill battle.
As such, this dog breed is suitable for people dealing with depression. Similarly, these content canines are excellent in calming anxiety and will provide a wealth of grounding and physical comfort.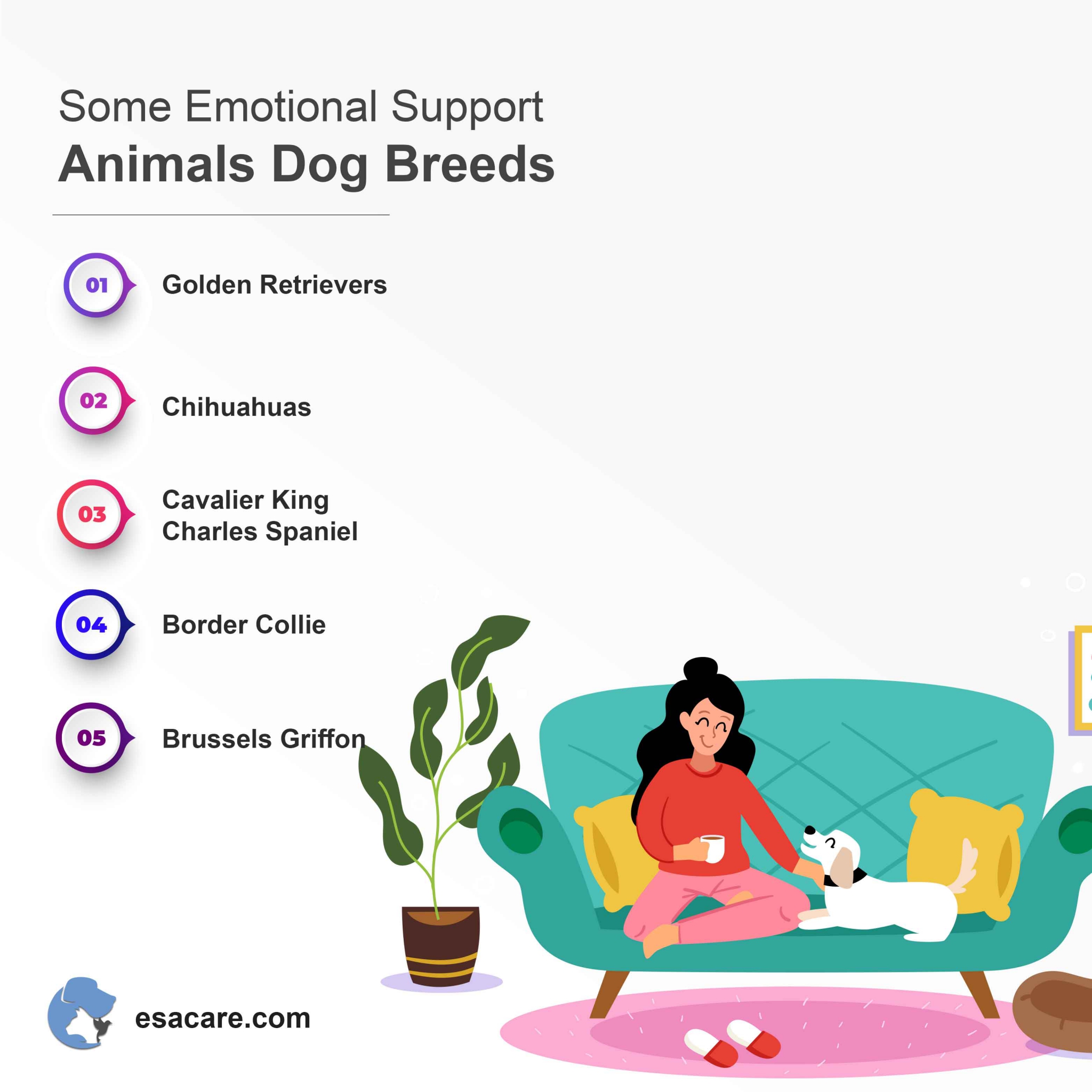 5- Old English Sheepdog
It's only natural that you'd feel an inclination to cuddle up to this dog breed. Old English sheepdog is a friendly and shaggy pup that ticks all the right boxes desired in an emotional support animal. Other than excelling in obedience, it's also a highly smart dog.
Yet that's not to say it's all about work with no play for this breed—sheepdogs enjoy interacting with family members, and provide an abundance of support for people in need.
Even so, if you've your sight on one as a pet or else an emotional animal, be mindful of their grooming needs, which often require close to four hours each week.
6- Brussels Griffon
If you're eyeing an expressive dog, then you'd not go wrong with the Brussels. Dare to look at one and you'd not resist a smile! As an alert and inquisitive dog, Brussels' are exceptionally sensitive to human emotion.
Unlike many other dogs bred for hunting, this breed is contentedly low key. They love doing nothing more than sitting on your lap or play with kids.
It is easy for you to reach out to us at ESA Care to get assessed for your medical condition and subsequently acquire your ESA letter – Click the button below!
Conclusion
Without regard to the breed, one of the traits you should look for in a support dog includes the ability to bond emotionally. How you develop the connection and how the support dog makes you feel will be of utmost importance.
Several dog breeds can be excellent emotional support animals with the correct training and temperament. Yet, only a few dog breeds have a natural fondness for affection and devotion, a necessary qualification for a support dog.
Emotional support animals play a different role to that of service animals and also have specific certification requirements. Are you looking for a dog breed to provide you with emotional support?