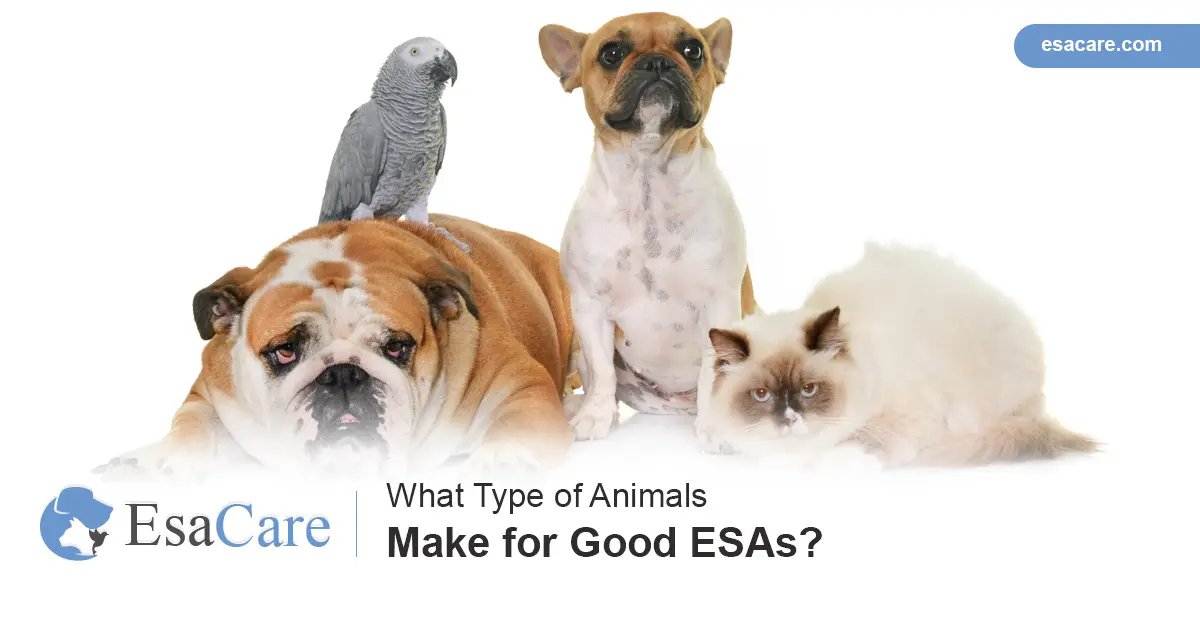 Emotional support animals play an essential role in the healing process for patients with mental and physical conditions. They offer therapeutic help, as well as provide companionship and emotional support. And according to BMC Psychiatry, the rise in mental health concerns globally has created a need to resolve the problem, a process in which emotional support animals and pets come in handy.
Stay mentally fit with your ESA pet! – Click the button below.
Different people have different preferences when it comes to the type of animal to choose for emotional support.
Below is a list of factors to consider when selecting an ESA and the animals you can choose from, whether you live in a small space or have open land.
Factors to Consider When Choosing ESAs
For people looking to benefit from having emotional support animals, deciding what type of animal to get is complicated and a very important step. Different animals have different benefits, which makes a choice complicated.
Below is an overview of what you need to know before choosing an ESA:
Choosing the right ESA- A lot of variables will affect your decision. You need to consider your household, size, age, lifestyle, and children. Choose an animal that is best suited for your life.
The lifespan of the animal- Household pets live for an average of 12 to 15 years. Some live longer, while others don't live that long. So, make sure you are dedicated to taking care of your emotional support animal for years to come.
Time- The main reason behind having an emotional support animal is to have a companion and peace of mind. So, make sure you get an animal that you can give sufficient attention to without straining yourself.
That said, you must get an emotional support animal through the right channels so that you can enjoy your rights as an ESA owner.
What Types of Animals Make for Good ESAs?
The US Department of Justice identifies emotional animals as any type of animal that can provide comfort to a person by being just there.
These animals can range from furry to scaly and feathery.
To determine the type of animal that is best suited to be your emotional support animal, below are some considerations:
When seeking support and companionship, adopting a pet as your emotional support animal is a viable option.

Select the breed carefully because different animal breeds have varied characteristics/traits and temperament.

Understand the demands of each animal first because they differ from one type to another.
Don't wait anymore – Get your ESA letter in a few easy steps!
Once you have a clear idea of what your needs are, then you can choose based on:
The purpose of the ESA- Do you want a cuddly animal to snuggle on the couch or an animal that makes you happy and calms your nerves?
Affordability- Can you sufficiently provide for your ESA's needs regarding food, vet services, attention, and other expenses?
Lifestyle- Will the ESA impact your life favorably to large extents? Will you be able to accommodate a new friend in your schedule? It would be unfair for your pet to be left alone for long periods with no attention, care, or exercise.
Age- Are you interested in a fully grown animal or a young one that you can nature? The age variances also introduce a difference in the care provided for the pets.
Your health- Before choosing an emotional support animal, you must put your health first. Make sure you do not have any allergic reactions to the type of animal you want.
On the same note, make sure that the animal you select:
Is not poisonous or dangerous

Does not threaten your well-being due to their large sizes

Can be trained to interact with other people easily
Now that you have noted the factors and aspects to consider when choosing an emotional support animal, below is a list of animals that make for good ESAs:
These are probably the most common choice for many Americans. Some of the best breeds to choose from include Corgi, Golden Retrievers, Labrador Retrievers, Yorkshire terrier, Pugs, Beagles, Cavalier King Charles Spaniel, and Pomeranians.
Cats rank among the top animals used for emotional support. Some of the best breeds of cats you can choose from include American Shorthair, Siamese, Maine Coon, Ragdolls, American Bobtail, Persian, Russian Blue, Bengal, and Manx.
Rabbits are other animals that make for excellent ESAs. Some of the friendliest breeds of rabbits suited for any home include the Harlequin, Rex, Mini Lop, Lionhead, Polish, Dutch, Jersey Wooly, and Chinchilla rabbits.
Rodents make for beautiful companions and offer generous emotional support due to their social nature and small size. Also, they are easy to take care of and keep in the house.
Improve your mental health by keeping your ESA pet close by – Get your ESA letter today!
Once you identify an emotional need that could benefit from an animal's help, you should talk to your therapist or psychiatrist about it.
After getting a recommendation, you can choose the type of animal that will best suit your needs. Then, you should have your animal friend registered as an emotional support animal so that you can enjoy the benefits and rights.
We, at EsaCare, provide legit, genuine, and credible ESA letters from Licensed Mental Health Professionals for the registration of these animals. We offer an easy online step-by-step procedure to get your ESA letter.
Book an Appointment with ESACare, do not hesitate to contact us.