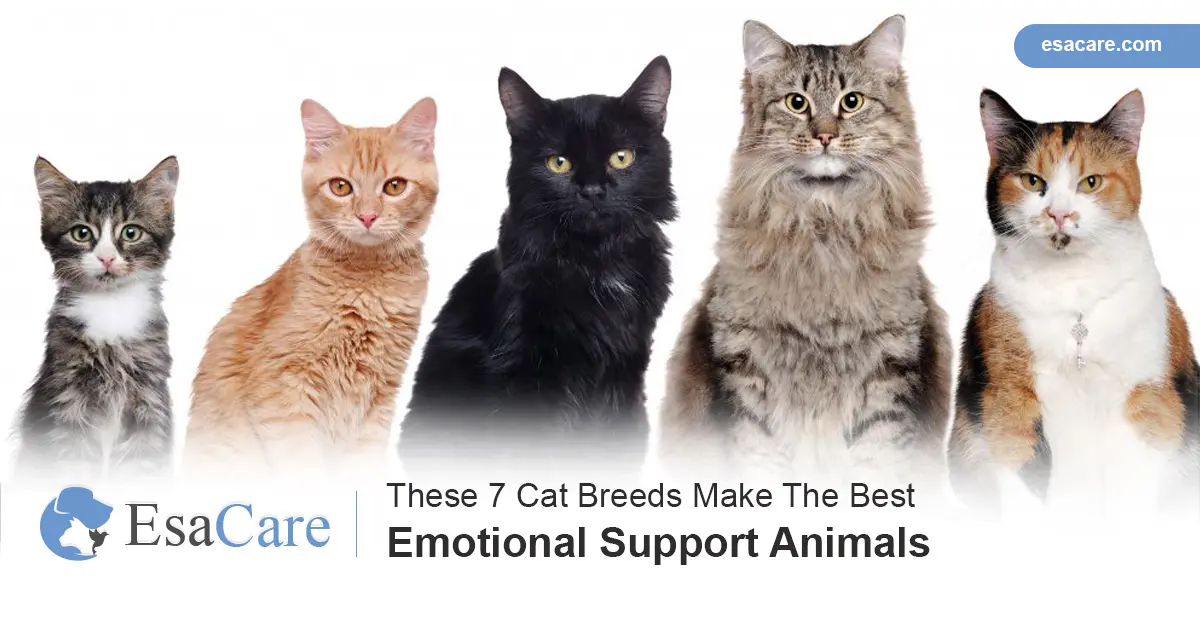 Over the recent past, Emotional Support Animals have become common. Today, you'll come across different people with Emotional Support Animals, even in public places. For instance, in most public means of transport, you'll find countless passengers traveling with their Emotional Support Animals.
Emotional Support Animals are often confused with service animals, but the two play quite different roles.
An Emotional Support Animal is more than a pet – Click the button below.
What are the benefits of Emotional Support Animals?
Emotional Support Animals are increasingly being advocated for by healthcare professionals. Some of the conditions where ESAs are recommended include;
PTSD

General anxiety disorder

Aerophobia

Agoraphobia
The benefits of using emotional support animals are clearly evident with their continued growth. These benefits include;
They act as a motivating factor.

They help patients feel comfortable and safe.

They help their owners become more sociable.

They have been known to diagnose illnesses early.

They help boost the owner's esteem and confidence.

They offer a sense of purpose and responsibility to the owner.
There have been numerous studies investigating the benefits of these Emotional Support Animals. And while more studies are still underway, the advantages of having an ESA are apparent.
What is the best emotional support animal?
The question then turns to, what is the best support animal for you? Ultimately, this question will be influenced by several factors. These include where you live, ESA guidelines and policies in your region, and your general preferences.
Cats, as it turns out, are one of the most popular Emotional Support Animals. However, not every cat is a personal support cat. There are numerous breeds of cats, and unfortunately, not all of them make the best Emotional Support Animals.
For a cat to qualify to be an ESA, it needs to have most or all of these qualities;
The cat should be sociable and enjoy the company of humans.

They should be calm and not startled easily.

The cat shouldn't be bothered by loud noises, dogs barking, yelling, and noise from machines and other equipment.

They should also quickly adapt to new environments.
What cat breeds make the best Emotional Support Animals?
While almost all cats make great pets, not all cats can act as your Emotional Support Animals, according to the criteria list above. If you are looking for the best breeds, here's all the information you need to find the right emotional support cat.
An ESA pet can improve your lifestyle – Click the button below.
Number One:

The Ragdoll Cat

The Ragdoll cat is an excellent choice for the emotional support cat list. For starters, the relatively long lifespan of 15 years makes them a companion that lasts. The average Ragdoll cat measures about 25 inches and weighs from 6 to 20 pounds.

Ragdoll cats have their roots deeply seeded in the United States. They are usually easy to identify from their colorful fur across their body. Some of the common Ragdoll fur colors include lilac, chocolate, seal, and blue.
Personality
Ragdolls are among the favorite emotional support cats as they meet the above-mentioned qualification criteria. Ragdoll cats are usually calm, gentle, and socialize well, even with kids. These qualities make Ragdoll cats an integral companion when you're going through tough times.
One little known fact about Ragdoll cats is they are also called the puppy-dog cat. This is because of their playful nature, a unique and advantageous quality against other cats.
Habits
Ragdolls can adapt to new environments rather quickly. They are also easy to train using the litter bin.
These cats are famous for creating a strong bond with the owner. Whenever they're around you, they'll always want to be near you. Since they are a calm breed, you don't have to worry about ragdolls disturbing your peace.
Not many people know where these adorable cats get their names. If you're in these categories, you'll be lucky to learn the name from one of their popular habits. Ragdoll cats tend to relax or go limp whenever someone picks them up, just like a ragdoll.
Health
As you consider getting an emotional support cat, you should realize that cats, too, get sick just like you. Before selecting the best cat breed to be your emotional support animal, you should first analyze the breed's health issues.
Ragdolls, for instance, are prone to different conditions and health issues when not properly taken care of. Remember, getting an emotional support cat is committing to a symbiotic relationship.
Just like the cat will help you heal and take care of you, they also need to be taken care of. Ideally, you should take your Ragdoll to the vet to be screened for different diseases and medical conditions. These include;
Heart complications

Kidney problems

Gastrointestinal tract infections

Oral cavity contagions
Diet
Ragdolls are known to be inherently predisposed to dietary problems such as overfeeding. From their playful nature, Ragdoll cats are always hungry, and they love to eat. This may lead to some added weight, which is usually hard to notice in the initial stages. When you finally notice it, it becomes expensive to regulate.
To keep your emotional support Ragdoll from adding weight, monitor what they consume and the irregularity. Additionally, you can get the right dietary guidelines when adopting them, or even from your local veterinarian.
Book an Appointment by clicking the banner below.
Number Two:

The Maine Coon Cat

Getting their name from their State of origin, the Maine Coon is another excellent candidate for the emotional support cat list. They usually live for between 9 to 13 years and, depending on the gender, measure about 8 to 16 inches.

The American bred cat has numerous colors that usually combine and create beautiful patterns on the fur. The most common color combos include black, cream, white, brown, and gold.
Personality
Maine Coons are known for their sweet temperament. They are usually very cool, gentle, and friendly. And while they do like getting attention, Maine Coons are rarely clingy. That means they'll stay around you with minimum distractions or call for attention. These qualities make the Maine Coon an excellent candidate for an emotional support animal.
Maine Coons are also playful and often enjoy playing with soft toys, small balls, and general games. If you don't get your Maine Coons these toys or engage them in these simple animal games, the cats will start playing with pretty much everything.
If you are looking for a playful Maine Coon, you should get a male as they are spirited and lively. Female Maine Coons, on the other hand, are considered refined and classy.
Habits
If you ask a random person what they know about cats, among the answers you'll get is their distaste for water. Cats notoriously hate getting into the water and sometimes go to great lengths to avoid water contact.
The Maine Coon, however, is a water enthusiast. Unlike other cats, Maine Coons love to be in the water and even jump into water paddles and bodies like bathtubs. If you get a Maine Coon as your emotional animal support, play with it around water now and then. For example, you can set up a pool in your yard on a sunny day and let the cat play around with the water.
Another well-known practice common in Mane Coons is their love of sleep. On a typical day, a Maine Coon will take a nap at least twice.
Since they are a very playful breed, Maine Coons don't like being alone. Just like dogs, Maine Coons love to be around your company and will tend to hang around when you have visitors and family over.
Health
Maine Coons are a strong and resilient brand of cats. However, they have a relatively high chance of contracting diseases and health conditions in the following organs;
Heart

Kidney

Muscles

Bones
To monitor your Maine coon's health status, keep an eye out for lazy behavior and skipping meals. When your cat starts displaying such signs, rush them to the vet as it could be a budding infection.
Diet
Since these cats are playful and very active, they always have an appetite. However, you need to watch what they feed as it could easily lead to obesity. Another reason to be careful with your cat's diet is that Maine Coons are susceptible to toxicity and dietary problems from various foods. These include;
Chocolate

Garlic

Onion

Dog food

Dough with yeast
It is easy to get your hands on an ESA letter. Get yours now by clicking the button below.
Number Three:

The American Bobtail Cat

As the name suggests, the American Bobtail is another native cat with its roots right in America. American Bobtail cats are medium in size, and they have an iconic short tail. This characteristic is the source of their name.

American Bobtails measure from 1 to 4 inches and they can averagely live from 11 to 15 years. These cats can naturally have a wide array of colors and patterns. The common ones are black and white cat breeds, brown, cinnamon, and chocolate.
Personality
When you think about it, cats and dogs are very different in nature. Most people identify either as dog lovers or cat lovers.
But what if there's a way to be both a cat person and a dog person? While this is not uncommon, in this case, it is the American Bobtail cat that has a personality between that of a dog and a cat. These cats are intelligent and love to play with toys, humans, puzzles, and learn new tricks.
American bobtails are known for their adaptability, a suitable character for different kinds of owners and families. If you're a calm person, the cat will adapt to this and develop a calm and collected demeanor. If you're playful, on the other hand, the cat develops a jovial, playful persona.
This adaptableness feature in American Bobtail cats is seen as a superpower by some people. That's because the cat is an ideal choice for people suffering from different illnesses and conditions. This is why American bobtail cats are some of the most common Emotional Support Animals.
Additionally, these cats don't show any aggression, making them an ideal choice, even for kids.
Habits 
American Bobtails are playful and like to be kept busy for long durations. They are also an obedient breed and listen to any instructions. They'll even fetch toys you throw, just like dogs.
They love hiding and escaping, and they are excellent at it. So, you'll have to keep your eyes on most of the time. Additionally, you'll have to occasionally trim their nails as they love scratching furniture and curtains when they get bored.
Health
Another reason why American Bobtails are so popular is because of their stellar health condition. American Bobtails don't have any historical genetic disorders.
However, from their short tails and spine, they can sometimes develop spine issues. Mostly, these issues are from the pressure that builds up at the spine and needs professional intervention.
Some American Bobtails have been diagnosed with issues relating to the heart and kidneys in a few cases. So, it's important to have a vet check your American Bobtail emotional support cat every so often. If there are no outstanding issues, the vet will guide you on how often you should schedule the next checkup assessment.
Diet
American Bobtails once again display how they are like both cats and dogs. Like other cats, they love eating meat. Like their canine counterparts, American Bobcats also love eating all sorts of food, from cookies to apples.
However, when you have an American Bobtail cat, you should keep it on a strict diet of fat and meat. This, too, must be monitored to ensure the cat doesn't become obese.