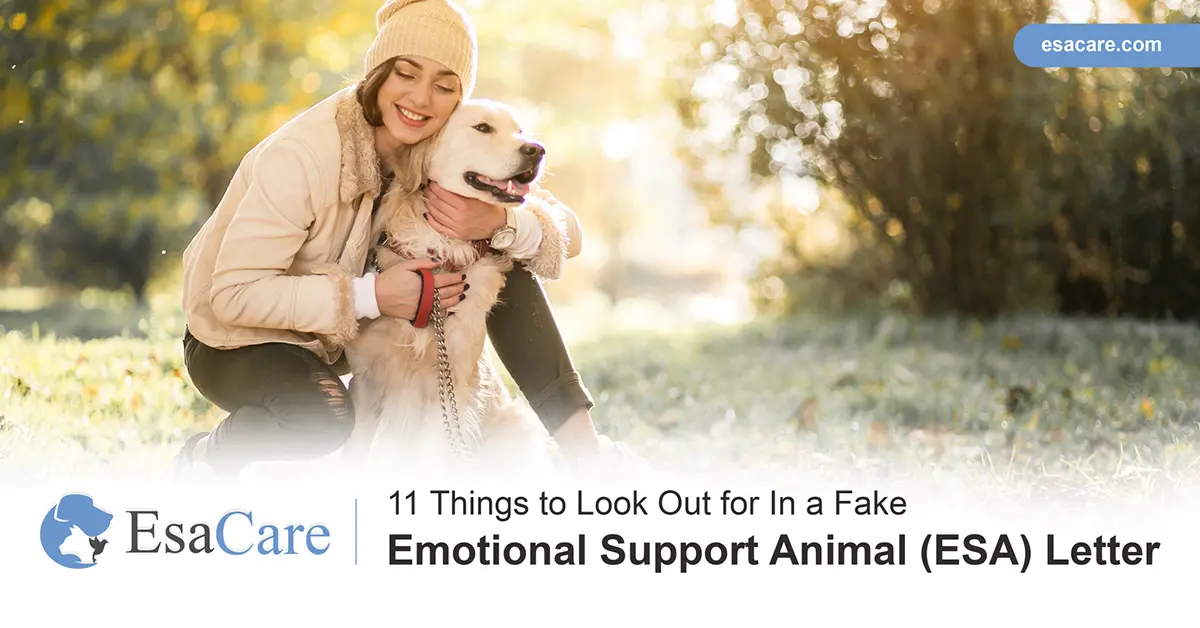 Emotional support animals have changed the way we deal with stress, disorder, and other mental health disorders. To recap, emotional support animals are pets that comfort to mitigate the symptoms of mental health disorders.
A majority of the population appreciates the value of emotional support animals. ESA centers are on the rise; there is a demand for emotional support animals. With the growing popularity, comes a dark reality. Crooked agencies are emerging.
Get an authentic ESA letter by clicking the button below!
Are these agencies trying to make a quick buck?
I am not sure. One thing is certain. These crooked dealers are issuing fake ESA letters. Such practices pose a significant threat to those who need emotional support animals. For this reason, you need to stay ahead of the bootleggers.
Let me paint you a picture:
After your battle with anxiety, you learn about the benefits of ESAs. You cannot hide the thrill when you think of the joy and comfort your animal companion will bring you. You can fly to any destination with your pet in hand, you can move into an apartment with your pet at no extra charge, and the possibilities are endless.
You hop onto your personal computer and search for an ESA agency. You finally find one; it's a little vague but satisfactory. You apply and wait for a response.
What next?
At the airport, you wait to board your flight, pet in hand. You can't wait to board and play with your ESA. To your shock, the airline staff dismiss your ESA letter and deny admission. How embarrassing. One phrase keeps coming up, "Your ESA letter is unverifiable."
That's when it dawns on you: you were the victim of a scam.
How do you avoid such a situation? Do not worry; we are here to help. From this article, you shall learn how to spot a fake ESA letter.
Bring Down Fraudulent Syndicates by Understanding the Issuing Process
First things first, time to understand the ESA letter processing and approval. Only then can you ensure that your registration is legitimate. Official registration comes with benefits that are protected by the following acts:
Air Carrier Access Act (ACAA)
It is challenging to hold fake agencies accountable in court. It's frustrating to assume that acts above protect you only to wake up to a rude awakening.
What does the registration process entail?
Below are the steps involved in an ESA application.
Most online ESA centers will issue a questionnaire. The questionnaire will focus on your mental and physical wellness. The information you provide in your questionnaire provides the ESA center with a clear perspective on what you are going through. You must remain truthful and honest.
The money comes next. If, according to your judgment, the agency is legit, you will make a payment through their website.
Consult a Mental Health Professional
 You will need to consult a medical professional to carry out a full diagnosis. With the mental health professional, discuss what is bothering you. Discuss your symptoms and explore your options.
If your doctor agrees that an ESA can do you a wealth of good, it's time to acquire your ESA letter. What if it was all a scam? What if you were ripped off?
Beware of emotional support animal scams. You can get your authentic ESA letter from licensed therapists at ESA Care.
Identify these Sparks of Scammers
Let's dive into the red flags to look out for in online scammers.
1. The Magical Promise of a Hustle-Free ESA Letter
Sometimes, when the deal is too good, think twice. Applying and gaining approval for your ESA letter is not an instant process. An ESA letter is a legal document. The paperwork takes considerable time.
Below is a list of what it takes to file for an ESA Letter:
What you want to do is to consult with the ESA Company. A legitimate ESA center will direct you to a licensed mental health professional (LMHP).
The LMHP will carry out a full health analysis on you. The analysis may require tests or interviews. It all depends on the medical professional.
Depending on the results of your health analysis, the LMHP will decide whether an ESA is a viable option for your disability.
If you come across a website offering a sweet ESA deal, chances are you are dealing with scammers. An agency that skips any of the above steps is not a legitimate ESA center. The chances are that the doctor will pen his or her signature without reading the document.
2. Missing Details
Missing details are screaming red flags that may cause you public embarrassment.
Below are details that make a legit ESA letter:
A Licensed Professional: Your ESA letter should be a recommendation from a licensed professional. The licensed professional could be a psychologist, psychiatrist, LMHP, counselor, physician, registered nurse, etc. As long as the professional is registered and licensed as a healthcare professional.
Contact Information: An ESA letter should contain the contact information of the signatories. The purpose of this detail is to provide an avenue to follow up. So that anyone can call or trace the health professional to confirm credentials.
Information on the ESA: An ESA letter should contain information that describes your emotional support animal in detail. What type of animal is it? What's the name of your ESA? What's the certification ID number? Without such details, your ESA letter will be dismissed.
Feeling Emotionally Unstable? Keep Your ESA Pet Close – Click the Button Below and beware of the fake emotional support dog letter!
3. Irregularities in the License
I cannot stress this point enough: your mental health professional must own a license on the state that you seek an ESA letter. Once you visit a doctor, you are coordinated with an ESA professional from your state. So, check your doctor's state license, make sure that the medical professional is licensed to practice in your state.
To render the doctor's prescription as credible, it would be helpful for the doctor to acquire a license in that state. Back to my point, check the license. Make sure it is valid and credible.
Each state has a different procedure for renewing licenses. Familiarize yourself with the procedure in your state. You want to know which laws govern the issuance of ESA letters in your state.
California, for example, requires its healthcare professionals to renew their licenses twice every two years. Check the dates of issuance and expiry; make sure the document is valid. A discrepancy in these dates is a red flag. A clear indication that you may be dealing with a fraud.
4. The Illusions of Affordability
There are few things in like that are as attractive as a discount, an opportunity to save. However, in the ESA community, affordability is a red flag. Anyone who falls for this is a victim of a major ESA scam.
Check the price range that your ESA agency is offering. Compare the rates with other ESA centers. Compare and contrast the consultation fees that health professionals demand. If the price is way below that of competitors, you may be dealing with a scammer.
You can never buy the services of a licensed professional at a discount. Creating a network of licensed professionals spread across the United States is an expensive undertaking. No legitimate agency will offer you these services for pennies on the dollar.
All these websites with significant discounts are trying to have you purchase a consultation with unqualified professionals. Be mindful of such sites. You do not want yourself to be stranded in an airport with your pet in hand.
5. Absence of Customer Support
The approval of an ESA letter does not end with the issuance of the documents. Make sure that you check on the following parameters to avoid falling victim to fraud:
Always have a Consideration for Additional Documents: It may take more than an ESA letter to convince a landlord or airline courier. These individuals may ask for other documents to support your ESA letter.
Check for Your Doctor's Availability: A legitimate healthcare professional will offer his or her services way after the issuance of an ESA letter. Follow up is essential in the medical field.
A Blank Copy of the ESA Letter: It is highly recommended that you also collect a blank copy of your ESA letter. Before purchasing the services of a specific ESA company, ask the organization to provide you with a blank ESA letter. With the blank letter, you can judge whether the agency is legit or not. Are there fields allocated to all the details that an ESA letter needs? If the company lacks or rejects your request, be cautious.
6. The Claim of Providing " ESA Registry" or "ESA

 Certificate

"
This is a common practice. Individuals in their search for ESA letters fall victim to this scam.
Searching for Online Registration: Most people fall on the laps of websites that offer an ESA "registration" or "certification." You do not need registration or certification. Most people who dig through search engines looking for ESA registration or certification always fall prey to fraudsters.
Going Through the Registration Process: Registering or certifying an animal as an ESA does not make the creature an emotional support animal. An ESA letter is all you need. Otherwise, you will be paying for a service that you do not need.
You do not need to register your pet to qualify it as an ESA. The laws of the land do not require the registration of ESAs. Another scam is the "Official Qualifying Program." You cannot find an official program that qualifies your ESA because such programs do not exist. Getting a golden certificate with your pet's name and the picture won't do you any good. ESA status is not a school where pets graduate with certificates. All you need is an ESA letter from a qualified and licensed mental health professional.
7. Missing the Evaluation Process
An Assessment by a licensed mental health professional is the first step in processing an ESA letter. It would be suspicious to acquire an ESA letter after skipping this crucial step.
Beware of websites that do not recommend a mental health evaluation process. If the ESA center charges you a fee without carrying out a health analysis, they are ripping you off. A legit ESA agency will not skip the evaluation. The fate of whether your ESA letter request goes through or not lies on the recommendation of the LMHP.
Get your ESA letter from licensed therapists at ESA Care.

8. Missing an Official Letterhead
A common item that most people overlook is the letterhead. A missing official letterhead is a screaming red flag. Why is the letterhead so important? With an ESA letter, you can enjoy certain liberties protected by law. An official letterhead adds to the credibility of the document.
An ESA letter is a recommendation written by a licensed mental health professional and supported by an official letterhead. Each ESA agency needs to have a branded note pad or printing material with a letterhead.
A credible letterhead should have the following characteristics:
Organization's name
Specifics on the kind of license that they own
Registration number
Date of issuance and expiration of the license
9. The Solid Claim of ..Free Travel
One of the benefits that come with an ESA letter is the empowerment that you get to travel with your pet. Unfortunately, scammers use this benefit to market their services. Before you fall for the scammer's antics, consider the following information.
The Purpose of an ESA Letter: Once your request goes through, airlines will allow you and your pet to board their planes. It also means that houses or apartments with "No Pets Allowed" policies will let you rent or lease a space with no extra charge. If the ESA center claims anything above these right, they are setting up a marketing trap to reel you in.
Limits to Access Rights: Having an ESA letter doesn't mean that you can walk into any public space with your pet. Restaurants, bars, theaters, and other establishments can deny entry if they feel your pet may be disruptive. The same applies to airlines. If they feel that your pet may be disruptive to other travelers, they reserve the right to deny service. A legitimate ESA center will explain to you the limits of your rights.
Cope Your Fears with an ESA Pet – Click the Button Below.
10. An ESA Letter that is Valid for Over a Year
ESA letters are valid for a period not exceeding one year. After the validity expires, you renew it. An ESA letter that is valid for over a year is a fake. As a test, visit the websites of different ESA centers. Check on the number of years that each organization is offering. How many fake agencies did you find?
11. Unsecure Payment Page on the ESA Center's website
Payment security is as simple as it sounds and equally overlooked. How do you know whether a website has a secure payment system or not? Search for the ESA website of your choice and log on to their home page. While on the website, check on the address section. If the Http bar is missing the symbol of a padlock, it means that the page lacks protection to your bank details. Other indicators of website security include the term secure or a green color code.
A Super Way to Detect Dodginess: A Well-Kept Secret
With the information above, you know what to look out for in identifying fake ESA agencies. There is one more secret that you need to learn. Are you ready?
Here is a bonus tip that will help you identify the fake agencies. This tip will help you avoid the traps that scammers lay on their victims.
First, make sure that the health professional examining you understands every detail regarding your health. Fake online services may retain their signatures on the file and send you the ESA letter themselves. This is a common way of scamming their victims.
You submit your ESA letter to your landlord or an airline courier with pride. To your shock, they reach out to you and inform you that your ESA is invalid. What a huge blow to your reputation and credibility! Now you have to invest more money and time to get a legitimate ESA letter.
Be open and honest with your licensed mental health professional. Ask the healthcare professional if he or she is always available to confirm your mental status whenever you need a third-party verification. Let's assume that you are at the airport; the airline staff needs some form of verification to support your ESA letter. In such a case, they can reach out to your doctor.
How Credible Are Online ESA Letters?
I am sure by now your mind is boggling up with doubts. Is the internet full of scammers who are out to get you? It is a fact that there are fraudsters out there. However, some legitimate ESA centers have your best interests in mind.
An ESA letter from an online LMHP versus one from an in-person checkup. Which one is more credible? Both options are equally credible. Licensed mental health professionals can provide their services online as well as they do in person.
However, you have to ensure that the health professional's license is for the same state that you reside in. The United States Department of housing recognizes this fact. ESA service providers can work remotely. This is why we see an ever-increasing trend of therapists and mental health professionals working from the comforts of their homes.
Why Should You Consider Online Therapy?
Using the web is convenient for many. Online therapy is beneficial to those who are comfortable seeking help from the internet. Through online therapy, you can keep up with your sessions even when you are out of town.
Web-based therapy can help you achieve the following:
Connect with a licensed therapist
Grasp the importance of ESAs while you are on the go
Understand the rights that your pet can enjoy as an ESA
Online therapy is beneficial to the following demographics:
People who cannot afford regular sessions
People who are shy or fear personal contact
People with scheduling conflicts through work, family, and school
Your ESA pet Can Be a Great Companion During Mental Breakdown – Click the Button Below.
Get Yourself a Valid ESA Letter
After reading the discussion in this article, you may be considering adopting an ESA. It all starts by scoring a legitimate ESA letter. The steps below will help you achieve your goals:
Carry out a Self-Assessment: 
Nobody knows you better than yourself. Analyze your condition and list some of your symptoms. Do a quick search about ESAs and their benefits.
Consult a Professional Healthcare Practitioner: 
Reach out to a licensed professional. Share your thoughts. Ask about therapy and what it entails. Ask about a mental health diagnosis. Talk about the possibility of emotional support animals.
Have a Deeper Discussion with Your Doctor: 
Discuss with your doctor about your mental and general health. Talk about your experiences and explore the possible solutions to your insecurities. Communication is the key to the treatment of mental health disorders. Be honest and truthful.
Acquiring an ESA Letter:
Search for ESA letter providers online. With the knowledge that you have gained in this article, pluck out the fakes. Shop around for the best deals. Applying for an ESA letter from web-based sources will save you some money.
Use Your Letter to Fight Back against Mental Health Disorders: 
Now that you understand the rights that your pet can enjoy with the support from an ESA letter, you can live comfortably. If the fear of flying is a struggle that you live with, travel with your animal. Move-in with your ESA and build a bond.
Conclusion
With the 11 red flags in the article, work on your fraud detection game. Before you commit to a particular ESA center, ask them to send you a blank letter. Use the tips you have learned to judge whether the document is legit or not.
Emotional support animals are beneficial to those who need them. Unfortunately, fraudsters are trying to make a quick buck at the expense of those struggling against mental health disorders. Do not fall victim to crooked ESA centers. Esacare.com enables safe and effective acquisition of your Emotional support animal letter.
Get your ESA card appointment now!