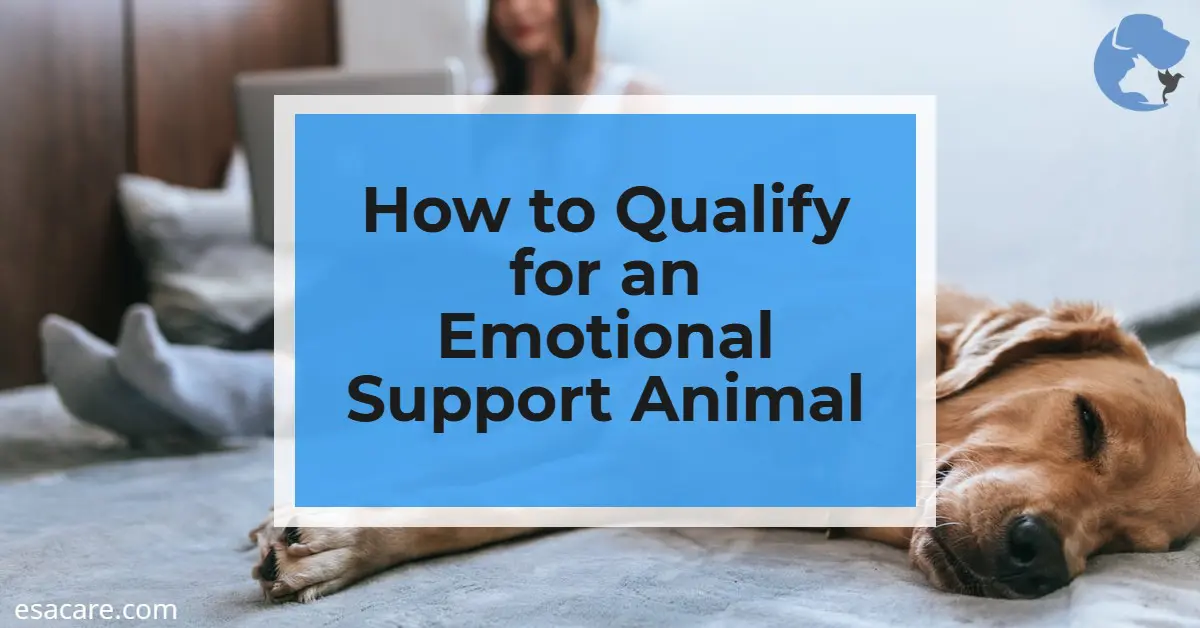 There are very many treatments for emotional and mental health, and one of the treatments that are not mentioned quite often is having an emotional support animal. However, having a special furry friend to help you with your emotional well-being is a viable option if you qualify for one.
Feeling emotionally unstable? Keep your ESA pet close – Click the button below.
An emotional support animal (ESA) provides support through companionship. They help people to deal with depression, anxiety, and some other phobias. These animals are not the same as service animals, and therefore, they will not have the same rights as an animal who carry out tasks meant to support their owners in their disabilities like guide dogs for the visually impaired.
Take a look at some of the requirements of getting an emotional support animal.
See a Shrink
If you have an emotional disability or a mental health diagnosis, you legally qualify for an ESA. However, according to the American Kennel Club, the animal must be prescribed to you by a licensed mental health professional. This means you need to be currently seeing a psychiatrist, therapist, or psychologist actively.
Not any other medical doctor or physician, a cardiologist, for example, qualifies as a mental health professional. However, some airlines or property owners can allow you to have your support animal with you if you have a letter from your primary care physician.
Don't wait anymore – Get your ESA letter in a few easy steps!
The certified specialist will give you a certification that will qualify you to have an ESA. The certification is known as an ESA letter, and it contains the doctor's license number, license type, the date they were licensed, the state that it was issued in, and the time of the issue.
The letter should be written on the mental health professional's letterhead, and it must show:
Proof that you are their current patient
That you are under the professional's care for your mental disability as described in the Diagnostic and Statistical Manual (DSM) of Mental Disorders Version V
Having an ESA is an important part of your treatment.
That you are incapable of performing at least one major activity in life as a result of your disability.
It is important to note that the ESA letter expires after a year. Therefore, you will have to continue seeing your shrink even after you have qualified to have the pet. This is the only way to keep having your support animal for as long as you need it. If you intend to travel with your furry friend, you should ensure that your letter is dated not later than a year from your date of departure.
Disorders that Qualify You for an ESA
Here are some of the mental health disorders that qualify you to be an ESA owner:
Anxiety disorder
Learning disorders
Post-traumatic stress disorder
Panic disorder
Attention Deficit Disorder, also known as ADD
Major depressive disorder
Sexual disorder
Motor skills disorders
Substance-related disorder (alcohol and/or drugs, among others)
Mental retardation
Gender identity
Agoraphobia
Tic disorders
Cognitive disorders
Bipolar disorder
If you feel that having an ESA is a great idea, then you should start the process as soon as you can. These animals have been known to help rough several of these mental disabilities. They provide comfort, a sense of well-being, and more to the patients who have them.
Do not forget to train your animal to be a good citizen. Should they cause a disturbance or damages, you will be held responsible.
Click the button below to keep your ESA Pet close to you.
Remember to Get the Right ESA
Having an Emotional Support Animal is a long term commitment. Therefore, you must choose a pet that has the right attributes and temperament. A strong connection and bond between you and your animal will help make their support more effective in dealing with the symptoms of your mental disability.
You can contact ESACare for more details. Get your ESA letter now.