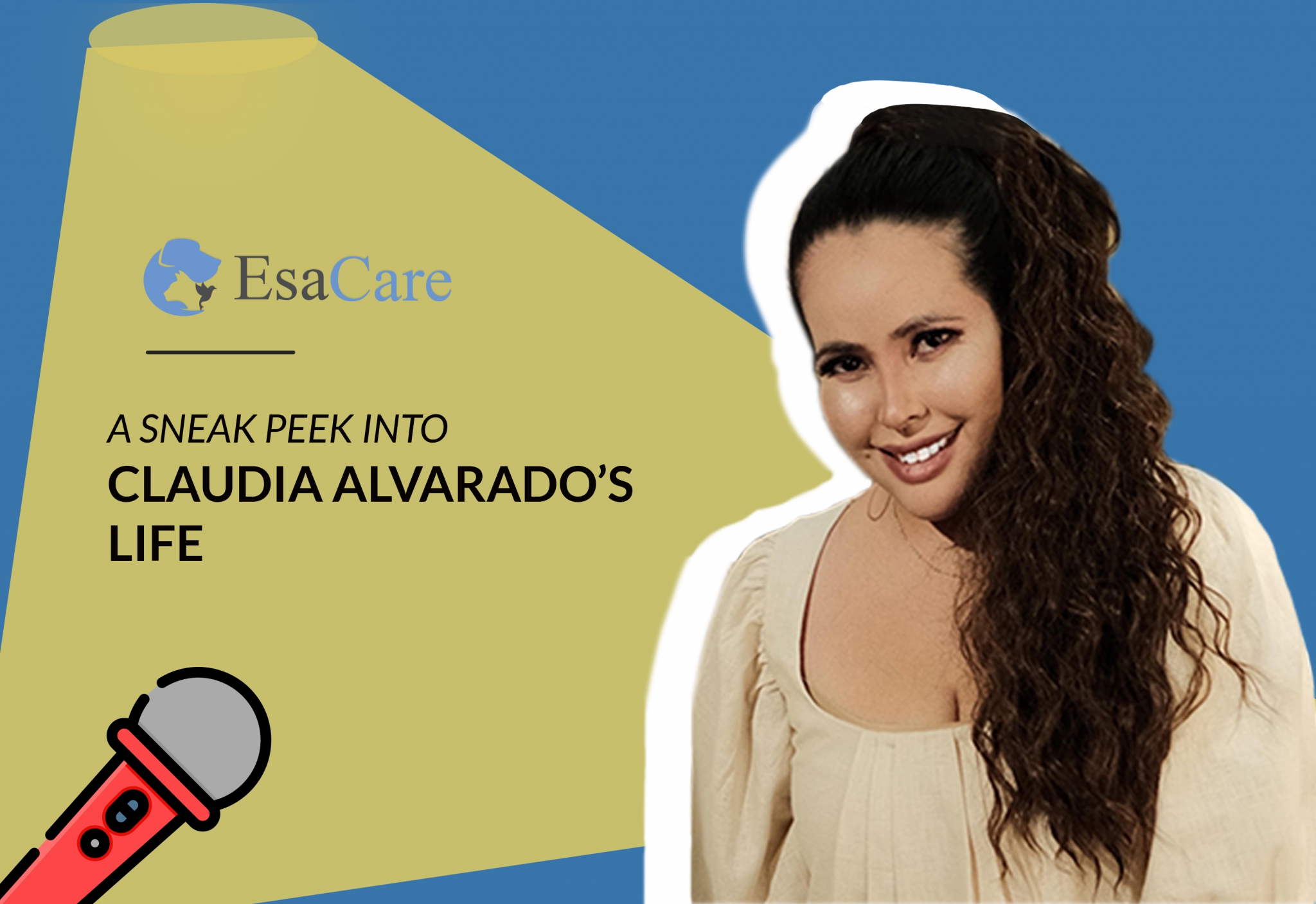 Everyone wants to feel comfortable in their skin, and so does your favorite celebrity. Claudia Alvarado, a celebrity stylist, turned therapist, and mental health advocate, understands this best in her particular industry. After achieving her lifelong dream through her brand Extrahaute, she shifted careers.
No one is immune to mental health problems. And if you come from a society that stigmatizes your efforts to seek out professional help, you might end up suffering. And it's worse if you have to live in an abusive home or you're a survivor of sexual or physical abuse.
Get your ESA certification to keep your pet close – Click the button below.
After being inspired by the 'Me-Too Movement,' Claudia Alvarado found her passion for helping women and men facing physical and sexual abuse. Now, she holds a Ph.D. in psychology, and a master's in clinical psychology. Using women's group podcasts and TV shows, Claudia seeks to inspire survivors of abuse.
People face stigma when they call out their abusers. And in modern society, no one is immune to the pressures of life. You have to cope with a demanding job, family, school, relationships, and life in general. The best you can do is to take care of your mental health and push on.
According to Claudia, life is demanding, but you can make the best out of it. With her upcoming 2021 publication, you can learn how to balance life, emotions and mental health while excelling at your job.
1.
You are associated with multiple lines of work in the capacity of a therapist, a content creator, and an actress. Where do you see yourself in the entertainment industry? Do you think you have made it big?
A1.
My priority has always been to be a therapist and have a virtual private practice, which is what I'm working on now. Working in entertainment was always something that happened accidentally, but I worked really hard for once I was in. I ended up doing reality shows, fashion segments, entertainment reporting, and some acting. I am really grateful because, thanks to that, it gave me the platform to talk about things that really matter to me, which is ending mental health stigma and child sexual abuse.
2.
What made you choose this line of work? And are you happy with your choice of the industry?
A2.
The entertainment industry did. It has so many beautiful things about it, and I will continue to work on it with integrity in mind. Still, I witnessed power abuse, and women and men getting psychologically manipulated. I got in trouble for speaking up, and I realized I wanted to be part of the solution, and so I became a therapist because you learn how to shift a person's narrative and rewire their brain. I specialize in trauma. I want people to have high self-esteem and heal themselves and be able to defend themselves from predators.

Get ESA Letter Now

3.
You must have had to make some difficult choices along the way to being famous today; how did you cope with those challenging situations?
A3.
I have various coping skills, and I know how to regulate my emotions. I also meditate a lot. However, this took years of therapy and healing my own traumas and wounds. This took so much hard work. I want people to understand that I can self-regulate so well because I have been in therapy for 10 years, healing myself and becoming self-aware and practicing grounding skills, journaling, affirmations, and meeting with my therapist to process my emotions.
4.
Do you think professional pressure takes a toll on your mental health? How do you deal with this pressure?
A4.
Not anymore it used to bother me so much, but now I have healthy self-esteem. I find validation within myself. Of course, I'm not perfect, and I will see another woman or man and think I wish I was taller or wish I was in Italy. But then I quickly think, what is it about being taller for you so triggered. And I try to find what's bothering me at that moment. It's not about being taller. That taller person hit an inner wound.

Get ESA Letter Now

5.
How do you manage anxiety in front of the camera?
A5.
I actually have no anxiety in front of the camera. Adrenaline kicks in, and it's enjoyable. It becomes like a roller coaster ride, and I start having fun. Even when I'm doing scenes, I have a lot of fun. I like being on camera. It's important to do things you love if you have anxiety or
depression
because they go away.
6.
How does it feel to be in front of the camera day-in and day-out? Do you ever feel anxious to be facing so many people?
A6.
I have generalized anxiety, so seeing new people, being on set 12 hours a day, and doing publicity pictures causes me more anxiety, but I also love what I do. I have a huge personality. I am very loud. I was 8 years old when my parents took me to acting school because I was so hyper; I think my anxiety showed up. I, however, practice grounding, listen to music, run around. Once the show starts, the adrenaline kicks in, and it's like a roller coaster, and I actually feel good and have so much fun.
7.
Being a therapist, how do you see the relation between professional work and mental health?
A7.
Being in the entertainment industry, you need to have tough skin. I think that saying is wrong; you need to have a powerful mind. I'm so grateful I do. I see now the relation between celebrities and mental breakdowns. I am by no means a celebrity, but being in the industry, I get
anxiety
. Getting rejected, being in front of the camera, having people judge the way you look all the time. You need to be de-synthesized to all that. The truth is we are not programmed like that. We feel everything. So we need to know how to process our emotions and have healthy self-esteem and a strong foundation.

Get ESA Letter Now

8.
You have a large audience on social media; how do you react to trolls and haters?
A8.
Yes, I do. I have such hateful things written to me even on projects I've worked on, so I can't delete or block them. So I ignore them. I understand that people are projecting their anger or sadness at someone they don't know that happens in real life, so that's how I handle it.
9.
As an artist with so much going on around you, how do you handle all the stress and ensure your mental health?
A9.
Sometimes I am overwhelmed, and I have to take a break and say no to some projects. I also have an amazing assistant who helps me. Boundaries are so important. Please know that it is ok to say no. Even if you lose money, your mental health comes first.
10.
How do you see the utility of pets and emotional support animals, in particular, as a significant source of countering mental health issues? What are your views on the use of emotional support animals?
A10.
I think
emotional support animals
great support almost necessary for therapeutic support. I worked at an inpatient rehab center where they would bring an emotional support dog once or twice a week, and the whole energy of the room would change. The room would light up. After processing some dark themes, we need light and love
dogs
to bring us. Equestrian therapy can be so helpful as well. I have tried it myself, and it's so soothing to me. It isn't for everyone, but I have seen many people benefit from doing art with horses, ride them, clean them, and talk to them.

Get ESA Letter Now

11.
What advice would you give to all those facing mental health issues? As a professional therapist, how would you advise mental health patients to stay positive?
A11.
Please seek help. You are not dramatic. What I hear the most in my professional career as a therapist is people minimizing their problems or emotions. No, if you feel sad or off or having crying spells. Seek help even if you don't tell anyone. To stay positive is to prioritize yourself first. You are not a bad wife, or dad, or sister, or friend. You can't help anyone or be there for anyone if you are not taking care of yourself first.
Tired of coping with your emotional and mental health problems? An ESA pet can be your solution. Learn more about ESA letters and how to relieve yourself from anxiety, depression and stress.
Contact us to get your ESA letter or book an appointment by clicking the banner below.