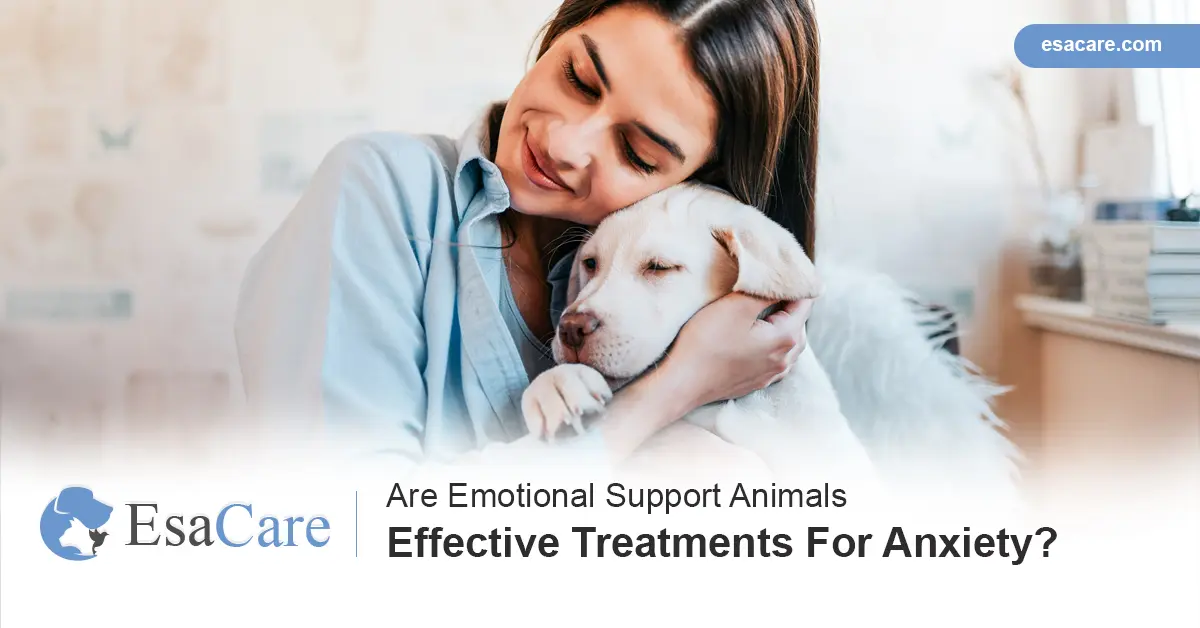 It is normal to experience certain fears and worries at some point in our lives. However, if the feelings last for more than six months and change your way of life significantly, it may be an early sign of anxiety. Anxiety is one of the most common mental health disorders.
Animals have had a reputation for interacting with humans for many years. Emotional support animals have been proven to ease and treat anxiety and other mental disorders.  They also prevent anxiety from escalating to more disastrous conditions.
Click on the button below to get your ESA letter.
Common Causes of Anxiety
Health Problems
Anxiety may arise as a result of underlying medical conditions such as diabetes, heart disease, and chronic pain. People suffering from other forms of mental problems like depression may develop anxiety too.
Social Factors
Various social factors may result in one developing anxiety. Losing your job, getting into bad debt or relationship issues are all possible causes.
When to Seek Help
Seek help when you experience the following:
You worry too much, and it interferes with many aspects of your life like work and relationships
You worry to the point that you can't control your feelings
Which Animals Qualify To Be Emotional Support Animals?
Emotional support animals (ESAs), refers to pets that offer companionship and mental support to people suffering from various mental disorders. The pet does not have to receive any form of training to qualify as an emotional support animal.
For you to qualify to get an ESA, a licensed medical practitioner must issue you with an emotional support animal letter, after diagnosing you with a mental health problem.
How Do Emotional Support Animals Help Alleviate Anxiety?
People bring pets to their homes for various reasons, such as companionship and fun. While health practitioners prescribe medications for their patients, they may also advise them to get an emotional support animal to treat their conditions. Here are some of the ways in which emotional support animals help one overcome anxiety.
They Distract You from Negative Thoughts
Your pet will demand your company, making it hard for you to ward off to negative thoughts that may worsen your anxiety. Going for walks or engaging in other physical activities with them makes you busy, leaving you with no time to overthink.
They Show Genuine Love
Emotional support animals will love you genuinely and will not judge you based on your health conditions. Unfortunately, people tend to stigmatize others who have been diagnosed with mental illnesses. An animal will not do that and will love you despite your condition. The assurance of genuine love reduces anxiety.
It is easy to get your ESA letter. Click below.
They Encourage One to Interact Socially
Anxiety disorders worsen when one is lonely. An ESA will help you interact socially with other people and limit the time you'd spend worrying. I believe you must have bumped into your neighbor while taking your dog for a run and probably made new friends with them. Interacting with other people will greatly reduce the feeling of anxiety.
People who own animals may also form groups where they share their experiences and recovery progress. Interacting with people who have similar health problems to yours is one of the effective ways to overcome them.
They Help One Relieve Stress
We may never avoid getting into stress completely. Although some little stress may not cause health problems, some form of it may make you develop anxiety. Overthinking is one of the causes of stress. When you spend time with your animal, it will all be fun, and you won't have time to overthink.
They Make You Feel Safe
If you are suffering from anxiety, you may be experiencing feelings of insecurity. You may often think that something bad is going to attack and harm you. Some emotional support animals like dogs will help you stop worrying about your security as they have excellent hearing capabilities that will alert you of any danger, and keep you away from imagining those unrealistic attacks.
They Help Improve Self-Esteem
People suffering from anxiety may doubt their worth and develop low self-esteem. The affected person often feels unworthy and of no importance. Feeling unloved may be a cause of low self-esteem. An emotional support animal will love you unconditionally, boosting your self-esteem. The animal will also depend on you for food, shelter, and other needs, and make you feel valuable.
Anxiety is a draining monster. It deprives one of happiness and productivity. If you have already gotten into it, no need to worry since it is treatable. With the right therapy, you will come out of it. One of the therapies is to get an emotional support animal. Although this may seem old-fashion to some people, the patients are able to manage the condition and overcome it after some time.
Mental health professionals continue to advise their patients to get mental support animals to treat anxiety disorders. At ESA Care, we will help you attain all the legal requirements for living and traveling with your animal.