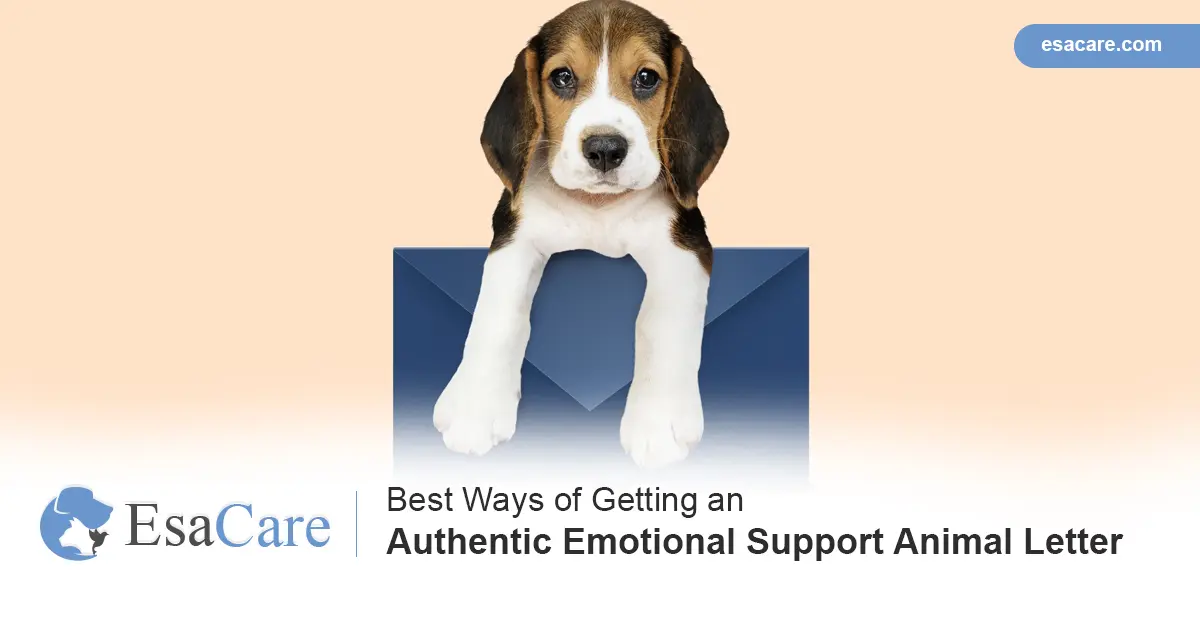 Emotional support animals (ESA) offer support and companionship to people who suffer from mental health conditions like depression and anxiety. An emotional support animal letter enables you to live and travel with your pet and is usually issued by a licensed healthcare professional. There are three types of letters; ESA Housing letters, which allow you to live with your ESA, ESA travel letters which enable you to travel and board planes with your pet, and ESA housing/travel letters, which are a combination of the two. Since getting an ESA letter can be tasking, cases of people presenting fake prescription letters are common. Read on to find out more about the best ways to obtain an authentic emotional support animal.
Click on the button below to get your ESA letter.
Elements of an Authentic Emotional Support Animal Letter
To ensure your emotional support animal letter is authentic, you need to know what an original letter contains. Some of the elements to look out for in your ESA letter include:
The name, letterhead, and signature of a licensed healthcare professional
The license type, license number, and date of issuance of the practitioner's license as well as the practitioner's jurisdiction
Recommendation for an emotional support animal
Contacts of the healthcare professional including telephone and address
Proof that you suffer from a health condition that prevents you from conducting your daily life activities
A confirmation that you need an emotional support animal as part of your treatment
Your name as well as the details of your pet such as the type, weight, name, and breed
It is easy to get your hands on your ESA letter. Click on the button below.
What Are the Best Ways to Get Authentic ESA Letters?
Now that you know how an authentic letter looks like, the next step is finding out how to get one. Keep in mind that only a licensed healthcare professional can issue you an ESA letter. There are two main ways you can obtain an authentic ESA letter; the traditional way and using online resources.
a) Going the Traditional Way
When seeking an authentic ESA letter, the most reliable and credible method is asking your licensed mental health professional for one.  If you are under treatment, ask your therapist to write you an ESA prescription letter. You can collect your letter in a week if your therapist approves your request. If you are not undergoing therapy but still need an ESA letter, you can speak to your physician or doctor about it and ask if they are in a position to write you one. You will need to be transparent about your mental health condition when talking to your physician so they can clearly understand your needs.
Since most doctors may be reluctant to write an ESA letter for you, you can visit any nearby mental health professional for evaluation if you are struggling with your mental health. This way, you can obtain an authentic letter even if you are not currently under therapy. However, it is always crucial that you seek treatment for a speedy recovery.
b) Using Online Resources
Thanks to technology and the internet, you can obtain an authentic ESA letter online if the option of speaking to a healthcare professional does not appeal to you. Whether you have reservations about discussing your mental health one on one with a therapist, or you are too busy to look for one, you can find therapists who work remotely online. An ESA obtained online is just as valid as the one that comes from a therapist you see in person. However, you need to ensure that the website from which you obtain your letter is legit.
The process of getting an ESA letter online is simple and only takes you three steps.
Fill an online application form for screening purposes on whether you qualify.
Chat with your online therapist for follow up
Receive your PDF ESA letter and ultimately, a hard copy which mostly comes via mail
The validity of Your ESA Letter
The validity of your ESA letter depends on the type of letter you have. An ESA travel letter is valid for one year from the date of issue, after which you will go through new assessment and follow up to get another. Keep in mind that your healthcare professional will determine whether you qualify for a new one or not. On the other hand, an ESA housing letter is valid for as long as you hold your lease or ownership.
If you feel like an emotional support animal will improve the quality of your life, and visiting a therapist for an ESA letter is not an option, ESA Care is here to help.
With the help of our licensed medical doctors, we make it easy for you to travel or live with your pet by helping you acquire authentic ESA letters. Contact us today to get your ESA letter in a manner that is convenient for you!