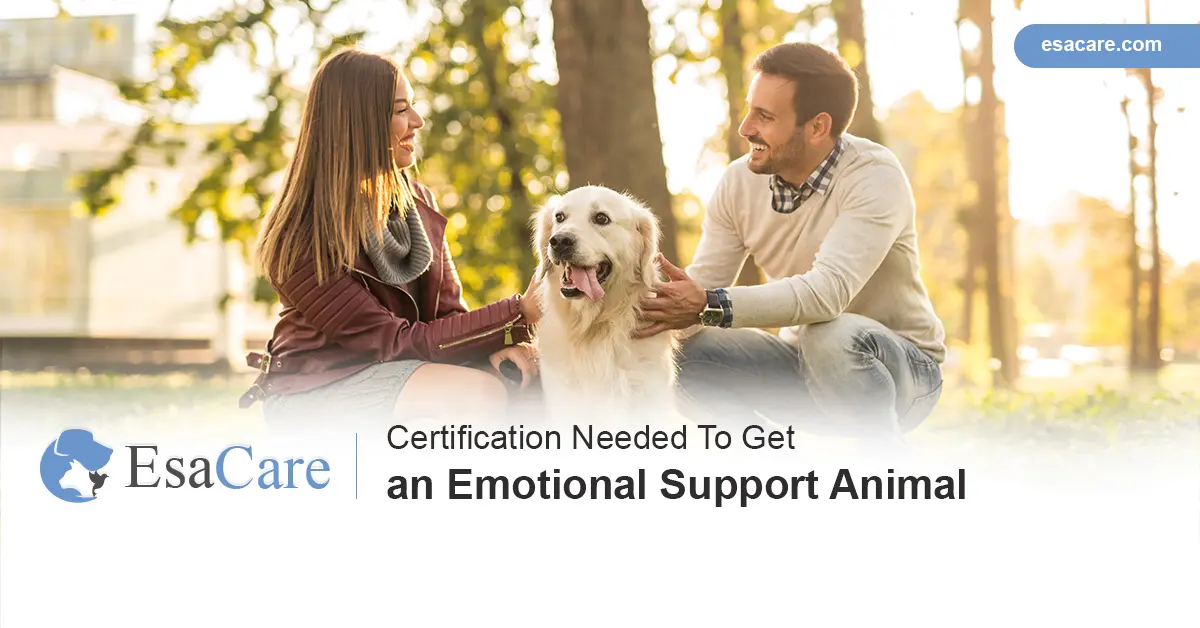 When you experience mental and emotional distress, seeking professional assistance is one of several options. The help comes in several forms, including professionally recommended pets. To help you cope with daily stresses from psychiatric and emotional disorders, mental health professionals may recommend an emotional support animal. Unlike normal pets, ESAs can travel with you during flights that restrict pets, get into buildings with no-pet policies, and also be exempted from charges in planes and houses.
To get an ESA, you need a prescription by a licensed psychologist, therapist, psychiatrist, or a recognized mental health practitioner. If you are eligible for an ESA, your mental health practitioner provides an Emotional Support Animal Letter, which qualifies you to enjoy the rights of ESAs.
Other kinds of doctors cannot write an ESA letter, or diagnose you with an emotional or in some cases mental disability because they are not qualified. However, some organizations may accept a letter from your family doctor, especially if they are managing your mental health.
How to Qualify For An Emotional Support Animal
Licensed mental health practitioners recommend ESAs as part of treatment. Some of the disorders approved for emotional support animals include:
Attention deficit disorder (ADD)
Autism
Bipolar disorder
Cognitive disorders
Depression
Gender identity
Learning disorders
Sexual disorders
Substance-related disorders
ESA Letters
Under the law, only licensed healthcare professionals can draft an ESA letter. These professionals include psychiatrists, physicians, psychologists, counselors, nurses, and physician assistants. The letter lists crucial details about the physician's identity and license details, which notify officials and landlords that your pet is an ESA. Some letter details include:
The mental health practitioner's letterhead and signature.
The date of issuance. The ESA letter should not be more than a year from the submission date.
The mental health professional's license type, license number, the date of issuance, and the state where the license was issued.
Confirmation of your mental health status and your need for an emotional support animal to help you participate in essential life activities.
A description of how your emotional support animal helps with your mental or emotional disability.
Details about your emotional support animal such as the breed, height, and name.
Numerous unscrupulous websites claim to provide ESA letters and fake documents that claim to pass your pet an ESA. However, only mental health practitioners can recommend ESAs. If a landlord cannot verify your ESA status, they may throw your pet out and enforce fines and evictions on you. Airlines may also deny your pet travel.
Asking a Mental Health Practitioner for an ESA Letter
As earlier discussed, the only way to get an ESA is to acquire a letter from a mental health professional. It's essential to note, however, that ESA letters are more of recommendations rather than prescriptions.
The first step, therefore, is to see a mental health professional and talk to them. If you're already undergoing treatment, you have an easier chance to seek an ESA. Talk to your licensed practitioner and ask them if an emotional support animal can help treat your condition.
You can also approach your physician, especially if they're helping your treat a mental disorder. However, a physician may be unwilling to make a recommendation because it's not their area of expertise. Seeing a mental health practitioner is the best way to get an ESA.
Finding a Mental Health Professional for an ESA
If you're not seeing a therapist or licensed mental health practitioner, it's wise to book an appointment. You can meet them physically or virtually, and have your letter issued online. An online letter is just as valid as a physical copy as long as the health practitioner is licensed.
Fortunately, there are plenty of public and private resources at your reach. Government websites and organizations provide free access to therapy as long as you register yourself online. Try your community mental health center and training clinics for low-cost or free counseling services. You can also check if your insurance covers mental health therapy. Lastly, you can also pay a private therapist or counselor for assistance.
ESA Letter Scams To Avoid
Remember that any website that promises to provide instant results is a scam. Look out also for emotional support animal registration certificates. You are not legally required to register your ESA. Airlines, building security, and landlords only accept a valid letter, which you cannot acquire immediately. Lastly, be cautious around websites that promise to provide recommendations at absurdly low prices, and are not backed by verifiable organizations or professionals.
Conclusion
Finding an ESA letter helps you take your pet everywhere. At ESA Care, we help you find a mental health professional who can advise you on getting an emotional support animal.
Get your Emotional Support Animal Letter today!