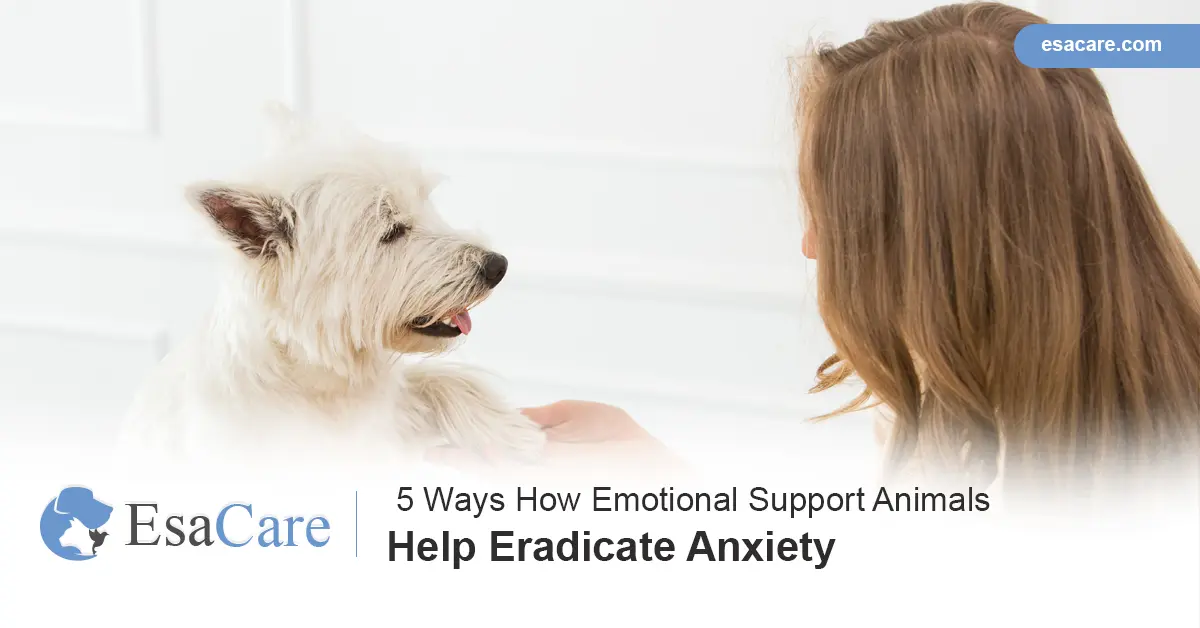 Everyone has some moments when your nerves are frayed. Yet, some people go through these experiences more often than others. It's also likely you're aware of people who struggle with perpetual depression or anxiety issues.
Several treatment plans are available for a range of anxiety disorders. These include prescription medicine, therapy, or a blend of the two.
But as an increasingly popular treatment option, many people, following the recommendations of their physicians' are using Emotional Support Animals (ESAs) to help them treat their anxiety condition.
Not only can ESA's help individuals overcome their anxiety concerns, but these furry friends also provide companionship, thereby enabling the subject to relax.
Click the button below to get your ESAcare letter today and keep your pet close!
In order to appreciate the role of an ESA in alleviating anxiety issues, let's first delve into outlining what's an ESA.
An Emotional Support Animal
Pets as companions to humans have a history going back many years, perhaps thousands of years, but the concept of ESAs is relatively new.
An ESA is a pet that's prescribed by a physician, psychologist/psychiatrist, or therapist to an individual with certain health conditions, including anxiety, depression, PTSD, and more.
Thereby, emotional support animals form part of these patient's treatment plans. Generally, the goal is to provide comfort to the subject while also giving the patient something positive to focus on.
Overall, ESA's will support the patient in times of need, especially when there's no family member or friend nearby.
How an Emotional Animal Transforms Your Life
Subject to your emotional or health condition needs, a well-versed mental health expert may recommend an ESA letter which will subsequently allow you to take your emotional support animal to public places, or on a flight.
So, how do these furry friends support your efforts or change the quality of your life? Let's find out.
1. Travel Anxiety
For a considerable number of people, the thought of getting into a flight is enough to send them into a panic. For this reason, they may avoid air travel by all means.  On realizing this concern, the American's with Disabilities Act (ADA) provides for such individuals to bring along their ESA's on flights to ease their anxiety.
2. Neurotransmitters
ESA's are known to trigger the release of dopamine in your body, and an increase in levels of these chemicals elicits a feeling of bonding and love. These thrills come from specific transmitters and can help an individual to relax, or else reduce the intensity of depression.
Keep your ESA pet legally – click the button below!
3. Loneliness
Other than the ability to decrease your overarching stress levels, emotional support animals can also act as companions to minimize feelings of loneliness. A considerable number of pet owners form a bond with ESA's, and the unreserved love between the owners and pets is extremely beneficial in promoting a significantly stronger and healthier connection with others as well.
4. Social Support
Emotional support animals offer social support to individuals struggling to adapt and become part of an outside world, especially after a period of detachment. Because such people often grapple with social anxiety, ESA's can help them overcome interaction issues, hence transforming their lives.
5. Safety
Having an ESA as a companion wherever you go provides a sense of security. Because of their playful nature and unequivocal affection, ESA's can help individuals relax as well as do away with paranoid feelings.
Conclusion
ESA's are incredibly beneficial in the treatment of various emotional and mental conditions, but, you must also appreciate the significant role other treatment methods play.
A physician may recommend you use the support of an ESA in conjunction with other recognized cognitive-behavioral treatment approaches.
As such, you'll benefit from the life-changing benefits of this holistic approach and lead a healthier, happier, and considerably less-stressful life.
More and more, mental health professionals are recommending the use of ESA's to alleviate anxiety concerns and accelerate the recovery process. Primarily, the most highly regarded ESA's include dogs, cats, among others.
It is easy to get your hands on an ESA letter. Get yours now by clicking the button below.
A Word From EsaCare
In today's world, stress and anxiety are part of many people's daily lives. Considering the fast-paced and ever-changing professional and personal ecosystems, it's no surprise millions of Americans have an anxiety-related diagnosis each year.
But with the considerable progress in treatment and management methods available today, you can overcome or minimize the undesirable effects of the condition and live your life to the fullest.
Do you experience anxiety issues and are ready to explore the transformative benefits of an emotional support animal? While it may be confounding, to begin with, acquiring an ESA to assist you with your anxiety concern isn't necessarily difficult.
After consulting your physician, the next phase involves considering the type of support animal suited to your needs. At EsaCare, we can help you connect to a licensed therapist to evaluate your condition as well as write you an ESA letter. Call (833) 976-0637 and get your ESA Letter Now!
Apply for your ESA letter now!