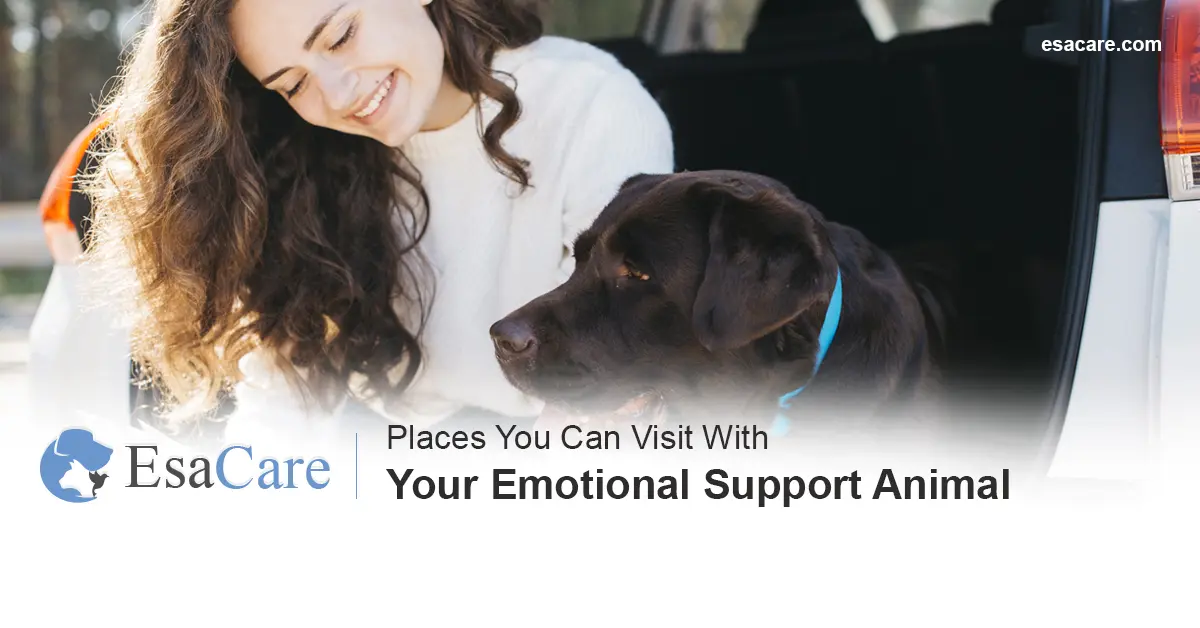 The use of emotional support animals has become common for people with mental or emotional disabilities. The animals give these patients a renewed strength helping them take on the challenges of their medical conditions. However, not many people understand how ESAs are important to mentally ill patients, and this is why they restrict animals in certain places. Here is a breakdown of what the law says about ESAs and places you can visit with your ESA.
What is an Emotional Support Animal?
An ESA is an animal that promotes comfort and emotional stability to a mentally ill patient. For you to apply for an ESA, you need to undergo an evaluation by a mental health professional. The mental health practitioner must recommend an ESA to help you with your life.
The American's with Disabilities Act (ADA) sets the rules regarding emotional support animals. These animals should be distinguished from service dogs that have a whole set of different rights. Under the ADA, only people who have certain mental conditions are allowed to have emotional support animals. This includes people suffering from mood swings, social phobia, bipolar disorder, post-traumatic stress disorder, and autism. Additionally, you need to have an emotional support animal letter.
An ESA, unlike a service animal, only needs to have basic training and to be disciplined. As the owner of an ESA, you are required to train your animal about basic commands and ensure it listens to your directions. Additionally, your animals should not be a threat to people or cause disturbance to other people, primarily if you are residing in a rented property or apartment.
Where Can You Take an ESA?
The Fair Housing Act protects people with mental and emotional disabilities and ESAs with regards to no-pets housing rules. When an animal assists in coping with your mental or emotional condition, they are allowed in rented housing and apartments. However, it is your responsibility to ensure the animal is well behaved.
College dorms are supposed to permit emotional support animals to reside with their owners. Many colleges have been penalized financially for not allowing students to move in with emotional support animals. The Housing and Urban Development ensures that colleges observe the Fair Housing Act law by allowing emotional support animals.
Emotional support animals are also permitted in airlines. According to the Air Carrier Access Act, people are allowed to travel with their ESAs at no extra cost. The Act also prevents airlines from restricting ESAs in the cargo hold. It is advisable to contact the airline in advance to make the necessary arrangements. However, make sure you have the appropriate documentation from a mental health practitioner.
But you should contact the airline in advance to make the arrangements. Note that you'll have to present an ESA letter from your therapist to get permission to travel with your ESA for free.
Where The Law Does Not Protect Your ESA
Emotional support animals are not permitted in areas that are accessible to the public. These places include supermarkets, universities, schools, beauty salons, and grocery stores. The Fair Housing Act lists the following types of houses as not suitable for emotional support animals:
Single-family house units sold or rented without a real estate broker
Buildings with four or fewer units where the landlord lives in one of the units
Motels and hotels
Private clubs
According to the Americans with Disabilities Act, ESAs do not have the specialized training to undertake specific tasks that help with a person's disability or impairment like service animals. This is the reason they are not permitted in public areas like hotels, offices, and stores. However, in some states, emotional support animals are allowed. Therefore, make sure you check with the rules that apply to your state.
Endnote
If you are a patient with a mental or emotional condition, you have the right to visit certain places with your emotional support animal. The Fair Housing Act, The American with Disabilities Act, and the Air Carrier Access Act are the laws that cover people with ESAs. These laws have provisions that protect the rights of people to rent homes, visit certain public places, and travel on airplanes with their emotional support animals.
We know the essence of having a support animal by your side everywhere you go. This is why we offer you an easy and hassle-free process to apply for an ESA letter at a fair price. It is often difficult to go to places with your ESA without a letter showing that your condition requires it. To help you overcome this hurdle, come to us for a legitimate ESA letter from our licensed mental health expert. At ESA Care, you can get an ESA letter from our medical professional, you will be free to visit and even reside in certain places with your emotional support pet.
Why wait? Get Your ESA Letter Now!