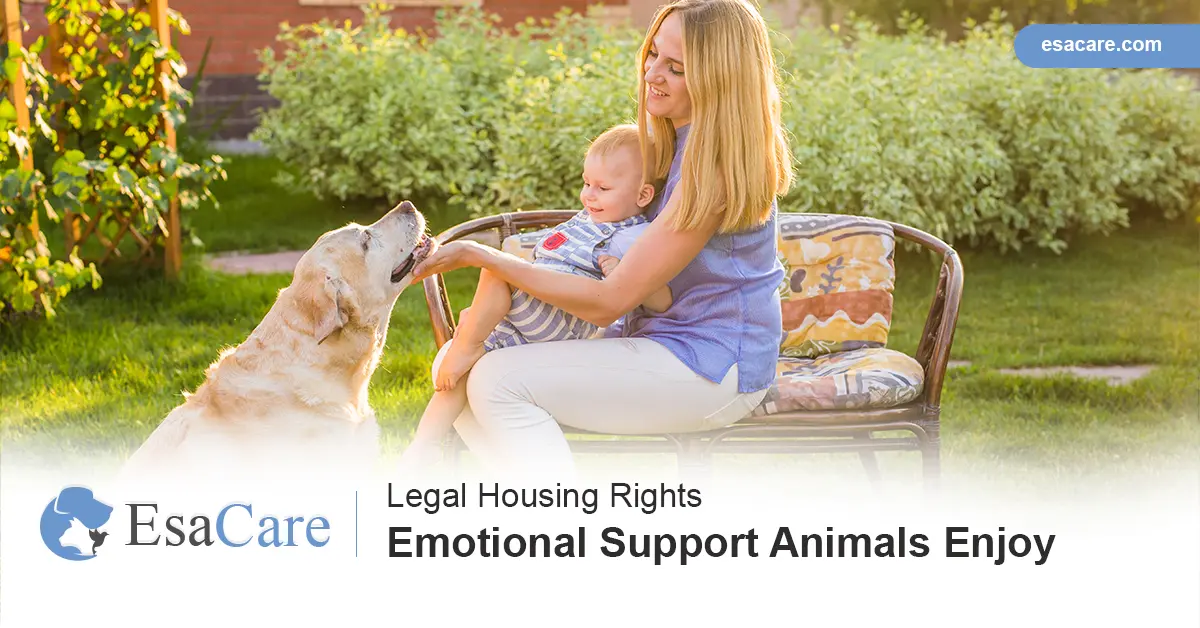 Nowadays, mental health professionals recommend emotional support animals for individuals with mental conditions such as anxiety, depression, PTSD, and chronic stress. Living with your emotional support pet gives you solace and joy when dealing with a mental illness. Even so, landlords with pet restriction policies might be reluctant to allow you to live with your furry companion. Fortunately, the Fair Housing Act (FHA) allows you to live with your ESA, even in pet prohibited homes.
When Can An animal Qualify As An Emotional Support Animal?
Generally, animals are a source of companionship for humans, whether well or unwell. For a pet to qualify as a comfort animal, a licensed mental health doctor must diagnose you with a mental illness. When the therapeutic needs of an emotional support animal are established, the physician will provide you with an ESA recommendation letter. The endorsement letter will enable you to live anywhere with your emotional support companion.
Specialized Training is Not Necessary for Emotional Support Animals
Unlike service animals, which require specialized training to assist their physically challenged owners, emotional support animals don't require any training. Their presence is enough to provide you with emotional support when dealing with PTSD, depression, anxiety, or other psychiatric disorders. Spending time with your ESA not only provides comfort but also brings you happiness and a sense of belonging.
Legal Housing Rights for Your ESA
When your mental health is on the line and living with an emotional support animal is your best option, pet-friendly housing options become essential. However, not all landlords can allow pets in their housing premises. Luckily, enjoying the therapeutic effects of ESAs has been made possible by the Fair Housing Act in different house settings. The FHA recognizes the importance of ESAs in managing mental diseases and has established legal rights for you and your emotional buddy.
According to the Fair Housing Act, property managers should not deny housing to emotionally disabled tenants regardless of their pet restriction policies. The law values ESAs as essential tools in enhancing the health and well-being of mentally ill individuals. When assessing your ESA request, the landlords must establish TWO things:
Whether you have been diagnosed with a mental disability
If the diagnosis is established, then, there should be proof that an emotional support animal is vital for treatment.
Once your ESA request is approved, you can spend time with your therapy animal in your home. The Americans with Disabilities Act permits your ESA to accompany you to public accommodation places such as hotels, motels, camps, and college dorms. Nevertheless, the Fair Housing Act does not cover ESAs in places such as:
Private clubs
Buildings with four units or less where the property manager resides in either of the units
Single-family housing rented or sold without the help of a real estate dealer.
Circumstances Where ESA Legal Housing Rights Might Be Revoked
Despite having therapeutic benefits, unruly emotional support animals may cause you problems with the house manager. Where a therapy pet destroys property, the law requires that you pay the damage cost. In worse scenarios, you might be evicted from the residential facility if your animal is always damaging things and disrupting other neighbors' peace. To avoid such problems, teach your therapy companion some basic behaviors.
Documents Required When Seeking ESA Approval
Before making an ESA housing request, ensure you have a supporting document from a licensed mental health doctor. In this case, the ESA endorsement letter will provide the landlord with the proof they need to consider your request. Typically, the ESA letter contains all the necessary details regarding the importance of an ESA in improving your diagnosis.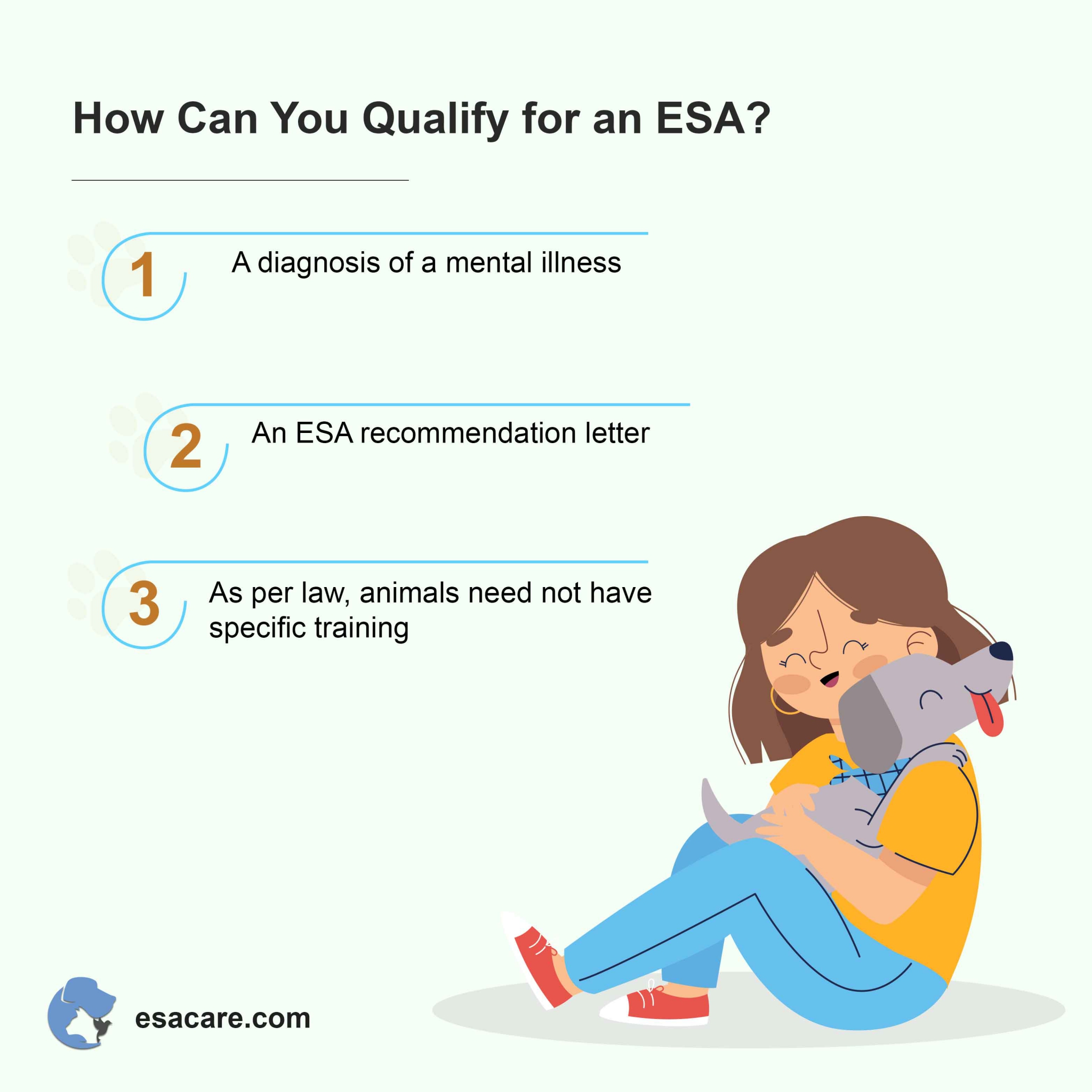 How can you qualify for an ESA?
As they gather information about a disabled tenant, landlords might ask sensitive questions or demands. Besides an ESA recommendation letter from a competent doctor, the FHA restricts property managers from making other demands such as:
Inquiring details about your mental illness
Demanding that you pay pet deposits or fees
Request that you enroll your ESA for training
Asking for ESA registration
Make grooming demands for your ESA
Refute your ESA request because they allow certain species only. E.g. 'Dogs-only policies'
What to do if your landlord rejects Your ESA?
When a property manager denies you housing despite proof of ESA letter, the manager should be sued for failing to comply. It's important to note that some landlords may not be aware of the FHA requirements or the repercussions of non-compliance. Ensure they understand the FHA law and that housing denial without concrete reasons can cause hefty penalties. Most housing providers who initially didn't know about the law requirements will reconsider and provide you with reasonable accommodation.
If your effort to convince the landlord fails, check with your doctor to confirm that all medical documents are in order. Ensure that the details of your mental diagnosis and the importance of ESA are seamless before filing a discrimination complaint. You can send your complaint to the Housing and Urban Development or consult a licensed attorney to help you with the process. However, most property providers understand the FHA rules, and you only have to obtain a letter from a Licensed Mental Health Practitioner (LHMP).
Ultimately, acquiring an ESA recommendation letter will help you and your ESA to enjoy legal housing rights. Are you in need of a doctor-endorsed ESA letter? Contact us today at ESA Care, and we will assist you in getting an ESA letter from a Licensed Mental Health Physician.