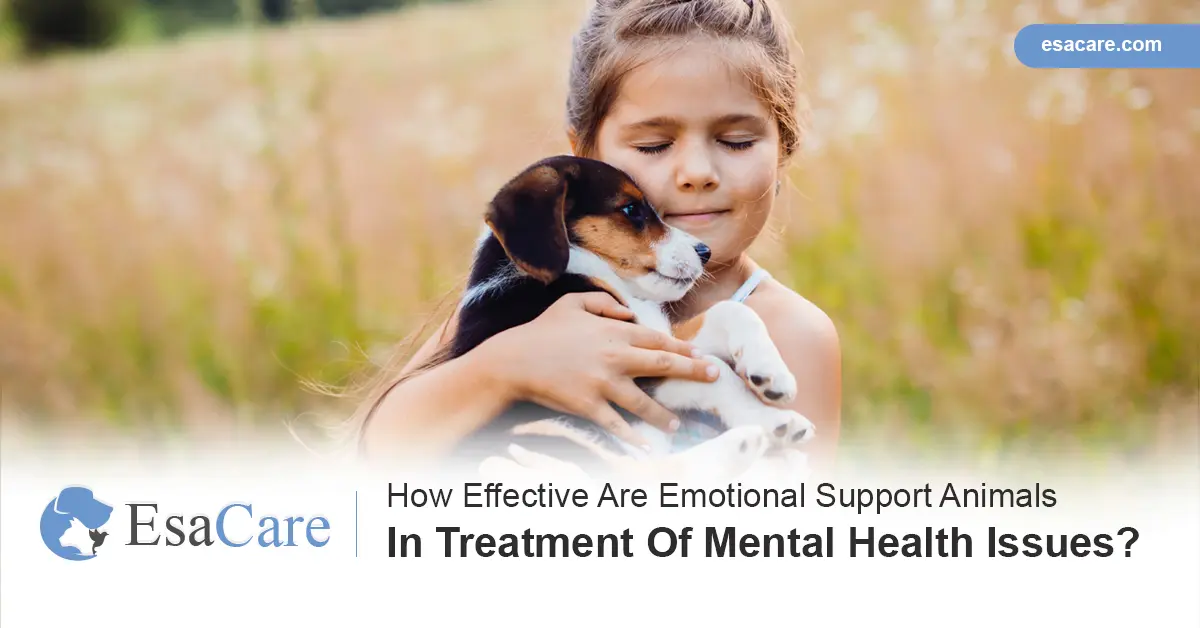 If you or a loved one are suffering from a mental health ailment, you may wonder if an ESA (Emotional Support Animal) could really help you. The answer, according to many mental health experts and doctors in general is—yes. Mental health challenges are traditionally treated with talk therapy through trained counselors, psychologists, and psychiatrists. In addition, medication may be prescribed to help support or restore mental health. 
In recent years, society has begun to formally realize how animals can help ease trauma, anxiety, PTSD, depression, and other mental health issues. Let's look at how, and how well, special pets, like emotional support animals (ESAs), help people cope with mental illness. 
ESAs Can Help Other Mental Health Treatments Work Better 
Sometimes, standard treatments like counseling and/or medication are not completely effective for people with mental health challenges. After all, a counselor cannot be with you 24/7, and consulting with medical professionals daily would be too costly for most people. 
Medications are typically not a perfect solution for many mental health problems due to side effects, and medications may not work at all for some patients. Scientific research has discovered that emotional support animals may increase oxytocin, the feel-good chemical in the human brain. As research studies like this show, animals can be part of a mental health treatment plan, because one form of mental health help alone may not be enough. 
Animals Are Intelligent, Intuitive and Trainable 
A support animal can be around to help people cope with mental health issues 24/7, unlike a mental health counselor. In addition, animals can be trained to provide proper support for each person's unique needs. Animals often naturally sense when people need help. Animals can be alert to changes in mental and physical conditions that their owners are going through. In fact, some animals can be trained to remind people to take medication or go to a counseling appointment as needed. 
Even with no special training, animals may help people simply by spending time with them. For instance, support animals are often taken to hospitals, allowing both children and adult patients to benefit from the contact. Many hospital officials recognize that animals (such as a purring cat or friendly dog) can help reduce the stress of illness, improve patients' mood, and may help with physical healing. 
The Value of Mutual Support 
The relationship between a human and an emotional support animal is helpful to both, which can be very satisfying for the person and their emotional support dog, cat, or another animal. People going through mental health difficulties often find that being useful, by supporting their ESA with food and loving attention, distracts them from their human suffering and symptoms of mental illness. 
Caring for the animal can provide the necessary structure and purpose to the life of a mentally ill, depressed, or anxious person. In fact, the person and the animal can both feel helpful, useful, and happier when acting as a team. 
The Long History of Animals and People as Teams Continues 
Animals and people have been supporting one another for at least 6000 years. Horses were domesticated to help humans travel long distances, farm, and grow food. Horses helped human society advance and thrive, and became central to human life. Horses are still highly valued today. In fact, some stables and horse trainers offer horse therapy for disabled or depressed people.
In a similar way, dogs were domesticated and bred over time, to help people in multiple ways, from pulling sleds to herding sheep. Dogs now have official "jobs" now on police forces, etc. Cats were revered and respected in ancient Egypt, becoming important parts of society and people's lives. 
The fact is that living beings, both humans and animals, have been helping and caring for each other since ancient times. Now, these relationships are developing in new ways with ESAs. 
The ESA Concept is Accepted by Government Agencies 
HUD (the US Department of Housing and Urban Development) and the US Department of Veterans Affairs now accept the value and advantages of ESAs. The agency has created rules allowing emotional support animals to live with their owners, without a pet fee or deposit, even in many "no pets allowed" housing options. These facts, along with research findings and testimony from mental health experts, have made it easier for people to get emotional support animals in their lives. But the permission is not automatic. You will need an ESA letter. 
Where to Get Your ESA Letter ASAP 
At ESA Care, we can help you get an authentic ESA letter – quickly and easily. If you or a loved one is in need of the companionship and support of an emotional support animal, let us assist you. It takes just 3 simple steps, all done online. 
Get your letter from ESA Care. Start here today!