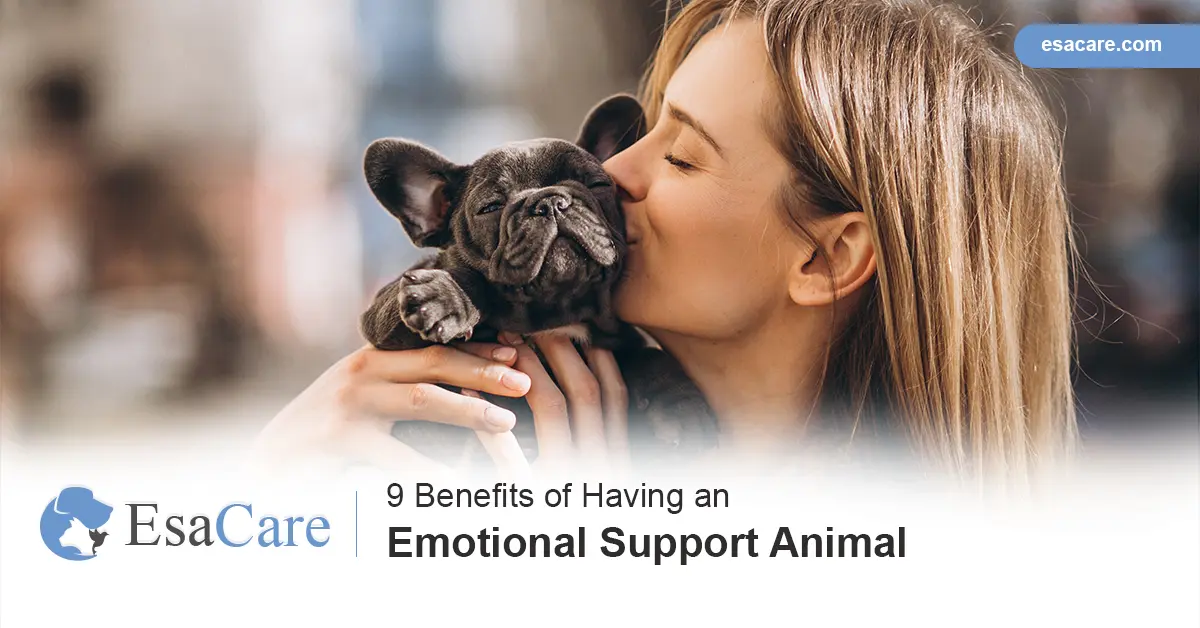 There's a lot of misinformation about Emotional Support Animals (ESAs) and their role in the owner's life. The thing is, Emotional Support Animals are therapeutic to people with mental health issues. These animals aren't mere pets. Research has shown that having a furry friend by your side has a calming effect. Before we explore the benefits of an Emotional Support Animal, let's clarify the difference between them and service animals.
ESAs can improve your overall mental health. Click the button below to get your ESA letter.
Difference Between Emotional Support Animals and Service Animals
While the two are taken to mean the same thing, there's a difference. According to the Americans with Disabilities Acts, a service animal is one that's trained to help someone with disabilities with various tasks. For example, a service animal such as a dog can be trained to lead a blind person or alert a person with diabetes when their sugar levels drop. On the other hand, an emotional support animal isn't trained, and its therapeutic effect arises from just staying close to the owner.
Ways in Which an Emotional Support Animal Helps the Owner
1. Increase Production of Neurotransmitters – When one is depressed, it usually signifies that their serotonin and dopamine levels are low. Neurotransmitters act as communication channels between the brain and the body. With an animal around, the production of dopamine and other neurochemicals increases. The surge helps fight gloominess and also increases your capacity to love another being.
2. Calm Anxiety – Feeling extremely anxious is a mental health disorder and can prevent you from living to your fullest potential. One source of anxiety for people is flying. However, when one has an ESA with them, they can overcome anxiety. During the flight, the person can focus on their ESA, which diverts their mind from the fear and anxiety of the flight. ESAs provide people with mental health problems with the ability to travel.
ESAs can help you to deal with anxiety. Click the button below to get your ESA letter.
3. Companionship – One of the leading causes of depression and other mental health disorders is loneliness. When one is stressed, they feel the need to isolate themselves and detach from society. However, with an ESA around, a person always has company. The animals can sense the owner's loneliness and reach out for a cuddle. Having these furry friends around the house brings life and happiness to the owner.
4. Unconditional Love and Care – When one has mental health issues, they usually feel that they don't deserve to be loved and often struggle to receive love from other people. However, ESAs such as dogs and cats love the owner unconditionally. They are often protective of the owner and hate to see the person sad or angry. With such an animal around, a person's mood will improve significantly and may even be a stepping stone to find love.
5. Help Reinforce Other Treatment Methods – While having an ESA is a form of treatment, it needs to be combined with other options such as cognitive-behavioral therapy. Incorporating an ESA into your mental health treatment plan will bring progress and help achieve significant milestones in your journey to recovery.
6. Help Regulate Daily Emotions – When you have a mental health disorder, you may experience specific occurrences of intense instability. However, most people don't forget how some of these occurrences are a build-up of daily events. With an ESA around, you will be alert of what is happening around you, which helps prevent one major meltdown.
7. Improved Social Skills – When struggling with mental issues such as depression or anxiety, a person tends to withdraw from social events. They refuse to socialize and mingle with people. However, with an ESA, such a person will find the courage to step out and even participate in social events. The animal motivates them and helps calm their nerves when in such circumstances.
8. Stability in Life – Often, people with mental disorders will feel highly agitated, extremely anxious, or overly fearful. During such moments, the ESAs are usually calm, and focusing on them may help bring down these intense emotions. For example, during such moments, having a nonchalant cat can help bring healing.
9. Improved Immune System – Did you know having an animal around can lead to increased production of antibodies to fight diseases?  ESAs not only help improve your mental health, but they also boost your physical health.
ESA dog can boost your overall physical health. Click the button below to get your ESA letter.
How Do I Get an ESA?
To get an ESA, you need to have an Emotional Support Animal Letter that lets you move freely with the furry animal. To obtain this letter, you need an assessment by a qualified physician or mental health practitioner.
At EsaCare, we have qualified mental health practitioners who will take you through the process and recommend an emotional support animal for your therapy. Our process is simple, fast, and reliable.
Contact Us today at EsaCare and start your remarkable journey to mental stability and fulfillment or click the banner below to book your appointment.