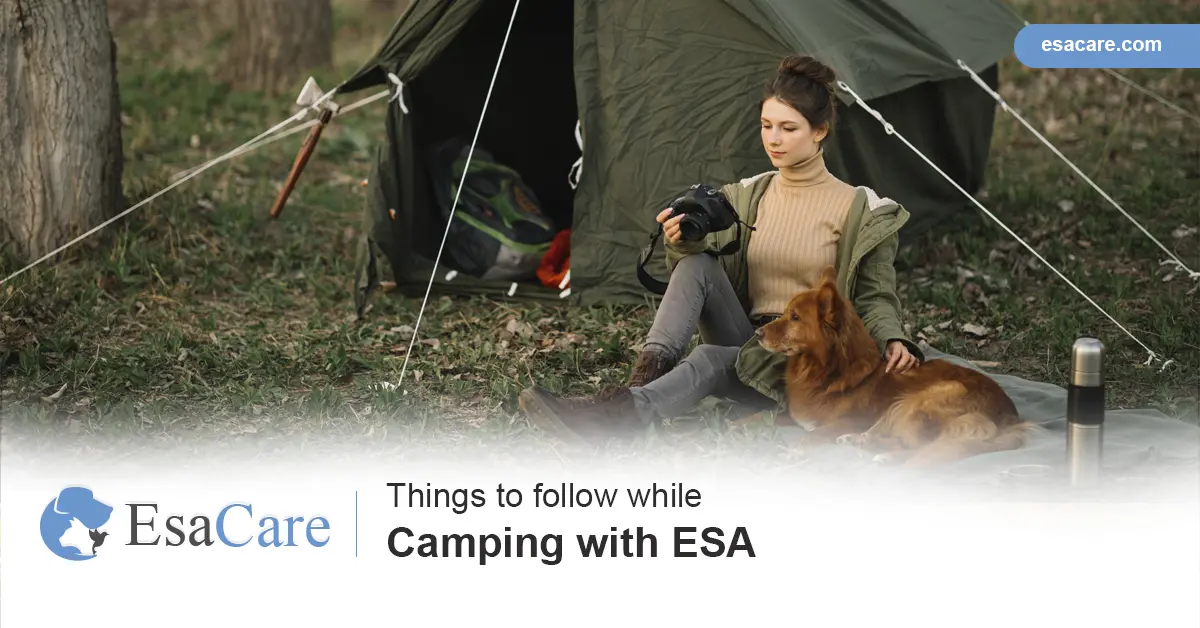 Emotional Support Animals offer therapy that may not be found elsewhere. As you consider taking your furry friend on a camping escapade, there's a great need to follow tips that will make your camping experience unforgettable. Even though camping with your pet is great fun, you ought to be prepared for any eventuality. While camping, your dog's comfort and security should be a top priority. To have an exhilarating moment, the following guidelines will help you camp amazingly.
Don't wait any longer to get an ESA. Click on the link below and get an ESA today!
Ensure your Pet's Documents are in Order
While camping, it's important for your dog to get recognition in a new locale. To achieve this, visit a vet to get the green light for camping. Before camping with ESA, get your dog's documents ready. Most importantly, ensure your furry friend has up-to-date identifications and licenses. Furthermore, you're supposed to carry any papers that may point to recent vaccinations. In the event of anything unexpected happening, these documents will prove to be quite important. Get these documents immediately you begin thinking of camping!
Ensure your Dog is in Good Health 
As you may be aware, your canine friend needs constant vaccinations and frequent checkups. Make sure your dog's health is perfect. If your furry friend has bruises or any recent injuries, it may not be such a good idea to go camping with them. Any form of ill health should be addressed before making camping suggestions. Once your pet gets well, you may take them out camping. This way, you'll always be assured of great fun for both of you.
Consider a Pet-Friendly Campsite
Not every camp is suitable for your ESA. Some may not be pet friendly, and this may impact negatively on your dog. Ensure the environment is friendly and one that will guarantee your pet great fun. Hostile locations may make your dog nervous, and this may not go down well with you. If you find it hard to locate a real pet-friendly campsite, you should probably consider camping in the countryside. This way, you'd be guaranteed a great camping venture. It's prudent to postpone camping with ESA than camping in an environment that isn't right.
Don't forget that First Aid Kit!
Camping may not be necessarily smooth. The woods are usually full of hidden wires, cacti, and even animals such as porcupines that may not be friendly to your canine. Packing your first aid kit is mandatory to deal with such eventualities. There are dog-specific kits that have all that's required for emergencies. If you're headed for camping in the wilderness, you should probably consider having a harness that may carry your friend out of the woods if they fall sick or get injured. It would be best to have a medical book that gives instructions on dealing with emergencies like choking. This way, you'll deal with whatever situation that may come your way without straining so much. Some of the important items to consider include bandages, tweezers, and dog booties.
Don't have a camping buddy? Click on the button below and get an ESA today!
Keep your Furry Friend Leashed in a Better Way
Without any doubt, you'll have to keep your dog leashed throughout the venture. However, this does not imply that your pet cannot explore the surroundings and have a great time. As a result, you'd need a long leash, preferably 36 feet long, that allows for perfect tethering. With this leash, you can still catch up with friends or fellow campers as your dog gets acquainted with the new environment. 
Pack those Poop Bags alongside Extra Food and Water!
A poop bag is an item that many fail to pack as they consider outdoor camping. To keep the environment clean and conducive for you and other campers, bring along a poop bag. Camping with your dog does not necessarily mean your pet can poop everywhere. Just like at home, you'd have to ensure cleanliness is followed to the latter. You can have a container or even an extra bag to place the poop throughout the camping session. Food and water will help to energize your friend along the way and during camping.
How will your ESA Sleep?
Just as your dog sleeps at home, so should be at the camping site. Since the tent may be a new environment, you should consider packing an extra blanket to make your pup feel comfortable enough. Depending on the weather patterns, make sure your pet is safe and comfortable enough during camping. 
Acquire a legitimate ESA letter from ESAcare.
Conclusion
It's time to enjoy camping with your furry friend. Make sure your camping is worth every dime! Get an ESA letter that will enable you to travel without trouble. Certified physicians at ESAcare will help you secure a valid letter. 
Contact us today to book an appointment!