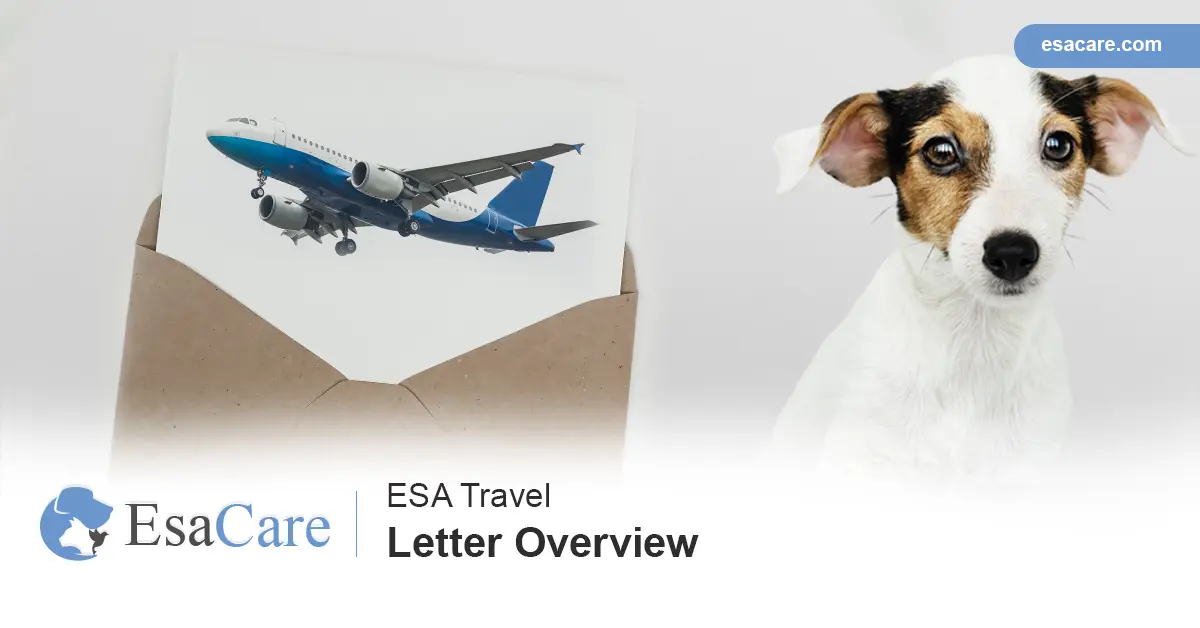 Many items come with an expiry date-medicine, foodstuffs, trade licenses, product subscriptions, driver's licenses, and, among others. Undoubtedly, no one wants to present their documents confidently, only to be rejected because they are outdated.
Not only is it embarrassing, but also inconvenient and frustrating. So, does the ESA travel letter expire? Well, yes…but there is much more to it.
Traveling with your ESA has never been easier – Experience it through our services.
Suppose you are a qualified ESA letter holder or are looking to obtain one owing to your mental illness. In that case, you must ensure you have a valid ESA letter and understand everything about an ESA letter. This detailed post will discuss emotional support letters, when they expire, and how you can keep them updated.
What is an ESA Travel Letter?
If you suffer a disability, your whole world changes, and not just mentally or physically for you, but on multiple other aspects of your daily life. Nonetheless, having a distinctive animal assistance animal can mean all the difference between leading a decent, peaceful life and leading a painful, tormenting lifestyle.
An emotional support animal letter affords you the right to fly with and live with your ESA. If you have an ESA dog travel letter, you can present it to your airline and confidently request your ESA accommodation.
Luckily, government agencies understand that persons coping with various challenges and conditions may need assistance. For this reason, the ADA (Americans with Disabilities Act) and the ACAA (Air Carrier Access Act) have been established.
The latter allows persons with mental challenges to fly with their emotional support animals, in-cabin and free! However, to distinguish between genuinely challenged individuals and ordinary persons, they provide the disabled persons with a certificate to facilitate an ESA Travel letter.
Do ESA Travel Letters Expire?
The simple answer is yes, they do!
ESA travel letters usually retain their validity one year (12 months) after obtaining them from your physician/therapist. You must be cautious of 'fraudulent' doctors or sites that claim to offer cheap ESA travel letters or 'lifetime' ESA letters since they can open you up to serious legal trouble. No doctor's prescription lasts a lifetime, ESA prescription included!
What Happens When the ESA Expires?
Like all other documents that feature an expiry, you need to renew it to enjoy the associated privileges once your ESA travel letter expires. When you resume your emotional support letter, you must ask the same physician who wrote your expired document to write you a new letter.
Usually, the healthcare professional who issued your original letter may need to perform a re-evaluation to determine if you still qualify for an emotional support animal letter. Once you have updated your ESA letter, you need to re-submit it to your housing or airline provider.
In most cases, if you received your ESA travel letter from a licensed healthcare provider, you will usually receive a notification on when your ESA letter is set to expire. Otherwise, it would be best to set a calendar reminder to ensure that you avoid running into any surprises due to an expired ESA letter.
After all, trying to locate your physician for an urgent last-minute appointment may sometimes be tricky. As such, it is always prudent to plan to ensure you are not left stranded due to a dead ESA letter.
Do Airlines Verify ESA Letters?
Yes! Like all other essential air travel documents, airlines also verify every air travel ESA letter to ensure they are not fake or expired. However, unlike before, there has been a slight change in air travel rules where ESA letters are involved.
The US Transportation Department, on 2nd December 2020, announced that airlines now have the freedom to no longer accept emotional support animals starting 2021. Luckily, several airlines will continue accommodating specifically disabled passengers even after the new legal provision.
For airlines that still recognize ESA letters, the ACAA emotional support animal provisions allow the airlines to request 'legal and current documentation' from passengers looking to bring along their ESAs.
Get your ESA certification by clicking the button below.
According to the ACAA, 'current documentation' represents a legal document from a licensed mental health expert, which is 'no older than a year from the passenger's scheduled date of the initial flight.' What's more, many airlines mandate passengers therapist complete a bonus form before their departure.
Several ESA holders believe that they can have their physicians fill in these letters every time they schedule a flight eradicating the need for a more recent assessment and ESA letter on file.
Nonetheless, the physician may not submit one of these documents-that mandate validation of the passengers' need for ESAs-unless they have a recent appraisal and ESA letter on file for the persons.
As such, whether you fly on airlines that permit standalone an ESA dog travel letter or mandate for unique ESA forms, you must renew your ESA document with your therapist at least once annually.
Otherwise, if you present an ESA travel letter dating over a year from your scheduled flight time, the airline is legally authorized to reject your ESA accommodation request. This could subject you to expensive boarding feed if you bring along your assistance animal, or worse, prevent your emotional support animal from traveling with you altogether.
Can You Apply for A Travel ESA Letter Online?
Yes, you can!
If you have an emotional disability that requires you to have an emotional support animal, the simplest way is to visit a certified ESA health professional for a legitimate ESA letter. Besides this, though you cannot, you can also obtain a legal ESA letter online.
Are Online ESA Letters Legitimate?
Yes, but there is more…
We have continually witnessed a surge in online platforms offering ESA letter services. While it may seem like a fantastic thing at first glance, considering the convenience it provides to the concerned persons, it does create a dilemma: how do you get a legitimate ESA letter? Can you trust that the online ESA letter will serve its purpose as intended?
The process of getting an ESA dog travel letter is quite a straightforward one. First, you need to fill out an online form with some background details, including information about your pet and answer several questions about your mental health. You can expect between 15 to 30 questions like:
Are you experiencing trouble sleeping?
Have you ever experienced a traumatic event during your lifetime?
Have you ever been prescribed depression medication?
On submitting the application form, the given institutions will review your answers and determine whether you qualify to get an ESA letter. This review process is automatic and happens immediately after you complete the form. If they deem you an acceptable candidate, you have the chance to schedule a call with one of their licensed health experts.
Do Fake ESA Letters Work?
The simple answer is No! Just like other legal documents, a fake ESA letter does not work and may even lead your legal issues. An ESA letter offers you legal protection, although this only works if you have a valid and legitimate letter.
Carry an authentic ESA letter to travel with your pet – Click the button below.
Need Assistance Getting Your ESA?
Emotional support animals can be life-changing for persons suffering from mental health problems. Your pet can only qualify as an ESA if you have a recommendation letter from a certified healthcare professional.
While you can get a recommendation letter from an online health professional, you must ensure you only go for a healthcare provider who can offer you a legitimate ESA letter.
Are you ready to get started on your qualification for an ESA dog travel letter online? Whether you want to travel with your ESA or looking to rent a place with your ESA alongside, ESA Care can help you obtain a legitimate ESA travel letter.
If your answers show that you qualify as an ESA, we will ensure to connect you with an accredited therapist in your locality.
Get your Emotional Support Animal Letter today by booking an appointment at ESACare.