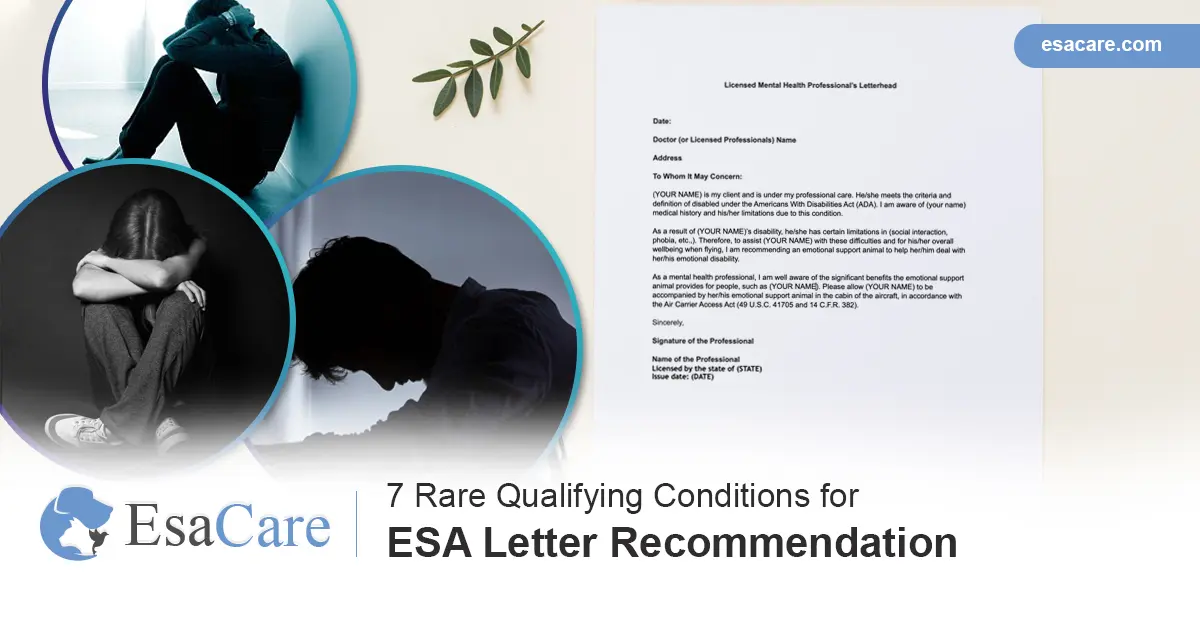 Medical and mental health experts have long recognized that animals can provide emotional support to individuals with emotional or mental disabilities. From providing a sense of purpose to companionship, Emotional Support Animals (ESA) can help lessen feelings of isolation and physical signs of stress.
Get an authentic ESA letter by clicking the button below!
ESA Letter and Mental Health Issues
An ESA letter is an official document approved by a licensed mental health professional after a complete assessment and medical tests of the individual suffering from a mental health disability. The demand for ESA letters has increased over the years. In the last one or two decades, many people were not aware of the benefits of Emotional Support Animals, but now there's a rapid increase in the numbers.
This can be attributed to the fact that many people have mental health issues in today's age. Some are suffering from temporary mental health issues, and others have chronic mental health disorders. What's more, mental health conditions are affecting people of all ages. Adults, elders, children, and adolescents can all develop mental health conditions. As such, individuals with an ESA letter enjoy the benefits of an ESA dog (animal). 
Emotional support animals aren't considered service animals or pets. They are legally accepted assistance animals with the right to accompany their owners in airplane cabins and housing (even in buildings and apartments with no-pet policies) under two federal laws: The Air Carrier Access Act and the Fair Housing Act. That means that an airline or landlord cannot restrict an ESA or charge fees in connection with an ESA.
Read on to Find Out 7 Rare Mental Health Disorders That Qualify for an ESA Letter
Number One:

Body Dysmorphic Disorder (BDD)

We all have flaws that make us imperfect in our little ways. But some individuals find it challenging to accept themselves as they are. Body Dysmorphic Disorder is a mental condition that makes people obsess about one or more perceived defects in their appearance.

Individuals who suffer from BDD consider themselves ugly, even if the flaw appears minor or cannot be seen by others. We're not talking about the lousy feeling one has if they get a pimple the day before a party. We're talking about severe feelings of embarrassment, resentment, and anxiety that consume a person's mind so much that it impacts their ability to function in daily life.

If an individual with BDD has a birthmark on their neck, they will always be intensely focused on that birthmark. They would try to hide it. For instance, they would wear turtlenecks or scarfs even on hot, sunny days. They would keep pulling up the turtleneck or ensuring the scarf is properly hiding the birthmark.

When you have BDD, you feel embarrassed that you may repeatedly check the mirror and avoid many social situations.

Excessive thoughts, repetitive behaviors, and preoccupation with your appearance can cause major problems with your school, work, or social life. If you're showing some of these symptoms, see a mental health professional or your primary care provider immediately. BDD is usually misdiagnosed and can result in other mental health conditions such as severe anxiety, depression, and suicidal thoughts.

It's not uncommon for people with BDD to choose cosmetic surgery to fix their body flaws. This is not always successful and could even worsen a person's physical appearance if the surgery goes wrong. But there's a better alternative to that, and it involves getting an ESA.

Emotional Support Animals are considered to be a form of therapy for individuals suffering from mental health conditions. When you have an ESA, you'll be able to get better. A furry companion will help you develop a feeling of being secure, mainly because animals don't judge. When you feel safe and confident, you'll be in a better position to see the impact that the minor flaw had on your mental health.

Further, your ESA will help you realize that you're perfect in your unique way. Your ESA will give you unconditional love without caring about your flaws, which can provide you with peace of mind. If you'd like to have an Emotional Support Animal that you can take with you everywhere you go, contact a healthcare professional who can assess your condition and determine if you qualify to have an ESA. If you're eligible, they can issue you an ESA letter.

Feeling Emotionally Unstable? Keep Your ESA Pet Close – Click the Button Below and avail the benefits of an ESA.
Number Two:

Psychological Trauma (PTSD)

Commonly referred to as Post-traumatic stress disorder (PTSD), psychological trauma is a type of mental health condition that you get due to some terrifying event that you witnessed or experienced in the past. We're talking about a traumatic event that gives you bad memories and uncontrollable reminders of the incident.

This usually happens when you encounter something that was directly or indirectly related to the incident. Whatever it may be, it will be a trigger factor that will give you flashbacks of the event.

For instance, you may see a report on the news about kidnapping and sexual abuse and feel overcome by memories of what you went through at the hands of kidnappers. Or if you were involved in a car accident that killed your loved ones, a bursting/crashing sound or blood can force you to relive the experience. This can render you powerless and trigger several issues such as panic attacks, a racing heart, or trouble staying focused. You might even faint in some cases.

As a result of bad memories imprinted in your brain, you'll want to avoid places, people, objects, or activities that trigger your panic attacks. For instance, you would prevent driving, getting near fireworks, or even being at a hospital.

Frequent and severe panic attacks will cause the deterioration of your mental health, but getting an ESA can provide a long-term and effective solution to manage your condition. An Emotional Support Animal will be there to console you when you're having flashbacks or severe emotional distress. What's more, they say that animals have a good sixth sense, which gives them the ability to sense threats for themselves and others.

If you have a panic attack, your furry buddy will sense it and jump to save you by kissing you or pawing at you. This will divert your thoughts and relax your anxious mind. With time, you'll gain control and overpower your symptoms.

If you have PTSD and would like to have an Emotional Support Animal, you'll be required to get an ESA letter from a licensed professional. The doctor will assess your mental conditions and decide whether you qualify for this form of treatment.
Number Three:

Separation Anxiety Disorder (SAD)

As the name suggests, separation anxiety disorder is a disorder in which a person experiences excessive anxiety and fear losing someone close to him/her. It is most common infants and small children below three years, but may pathologically manifest itself in older children, teens, and as adults.

Separation Anxiety Disorder usually starts as early as preschool age when a child joins the school. They begin having fears that they will leave their home and meet new people. The child can also develop anxiety about his/her parents or a close caregiver.

Most children outgrow separation anxiety when they grow up or by about 3 years of age. However, some cannot get over the condition to the extent that it interferes with school time schedules or other daily activities. They could also develop panic attacks or other similar problems. If the situation is intense and stays untreated for long, it can lead to anxiety and panic disorders that will affect them as teenagers and adults.

Separation Anxiety Disorder affects 4 to 5% of children and 1.3% of teens in the U.S., according to WebMD. With that in mind, this condition is caused by several factors, such as:

Attachment: The onset of SAD is caused by excessive emotional attachment to someone or something. It can happen after the loss of a loved one or a pet. It can also affect a person after parental divorce or any circumstance that causes separation from their attachment figures. The break can cause mental and emotional problems.

Overprotective Parents: When children have overprotective parents, they can develop SAD because such parents impose strict rules that their children must follow. In some cases, parents will make scary stories about how they can get into trouble or meet criminals when they go to a particular place alone.

Those stories can remain imprinted in a child's mind forever so much that they will be anxious when visiting some places without their parents. This can affect them even when they have grown up.

Sudden Change in Environment: Sometimes, life situations force us to move away from the house, neighborhood, state, town, or country that we're used to. Some people can have a hard time coming to terms with the changes, and they end up being stressed. Honestly, it can be quite stressful to start everything from scratch, like getting used to the neighborhood, new school, or making new friends.

Physiological: A person can develop SAD when their body functions abnormally. This occurs when the body releases a compromised amount of endorphins, causing a loss of the ability to handle and overcome stressful situations.

Heredity: Your heredity can cause you to develop SAD, even if there are no other reasons for it. Just like hypertension and diabetes, the traits of SAD could be inherited from blood relatives with anxiety or anxiety disorders.

When a person with SAD is put in a situation where they have to part with people or places they're emotionally attached to, they end up being stressed. It's worth noting that not all of the causes mentioned above of SAD will be to blame for a person's conditions. Causes of SAD vary from person to person.

If left untreated, symptoms of Separation Anxiety Disorder will get worse and cause major distress and problems functioning at work, school, or in social situations.

The constant worrying and fear will make you anxious and prevent you from staying focused or thinking straight. With proper treatment, it's possible to reduce symptoms, prevent relapses, and prevent SAD from worsening. One of the effective treatments recommended by a mental health practitioner is getting an Emotional Support Animal. An ESA will provide emotional support when you're feeling low because of a mental or emotional issue. What's more, an ESA can help calm your nerves down when you're having an anxiety attack. When you're anxious and tensed, your furry friend will stay by your side, snuggling and cuddling you.

Your brain will react to the affection you receive by releasing endorphins (happy hormones). And that's not all, because your Emotional Support Animal will be with you all the time, you will have a sense of companionship. Having your ESA will ease you into overcoming your separation anxiety.

To get access to this form of treatment, you'll need an ESA letter, which will be approved after your mental condition is assessed by a doctor and found to qualify for ESA.
Number Four:

Sleep Problems

Some people might be "sleeping like a child" or getting what they call "beauty sleep." Unfortunately, some people are not able to get proper sleep. And this does not mean sleeping 9 hours or more. It's all about getting good quality sleep.

In addition to the duration of sleep, the time that one sleeps is also essential. When we sleep, our bodies get to work by repairing damaged tissue and allowing the brain to rest. If you sleep less or more than required, your mental health will be affected by the relationship between sleep and mental health. Sleep problems can also affect your overall health, quality of life, and safety.

There are many types of sleep disorders grouped into categories based on their causes, effects, and behaviors.

Let's discuss how the two most common types of sleep disorders affect your mental health:
Insomnia
Insomnia is a sleep disorder in which you have difficulty falling or staying asleep throughout the night. This results in sleep deprivation that causes you to:
Feel tired all the time

Feel sleepy during the daytime

Stay up at night

Fall asleep at inappropriate times

Feel agitated

Have trouble concentrating
Hypersomnia
Hypersomnia is a sleep disorder that causes one to sleep longer than usual and is also characterized by extreme sleepiness during the day.
What we are talking about here are not those days where you stay up with friends or those bad days when you sleep for long and get late for work. If that's not something you experience on an everyday basis, it's not a disorder. Here, we're talking about abnormal cases where you sleep less or sleep too much, and it's beyond your control
If you experience this problem for more than 6 months, you likely have a chronic sleep problem that will lead to other mental health conditions such as:
Stress

Hallucinations

Anxiety

Paranoia
If you're experiencing chronic sleep problems, it's best to have the problem diagnosed by a mental healthcare provider who will also recommend the most appropriate treatment. One treatment can involve owning an Emotional Support Animal.
While many people prefer taking sleeping pills or any type of medication that will help them get the right amount of sleep, it's not always a great option because it can cause addiction. And that is not the outcome you'd want when trying to alleviate symptoms of another mental health issue.
An Emotional Support Animal, especially a dog, can help you deal with mental and emotional issues. It can also give you a sense of security and help you sleep right. When you stroke and pat your furry companion's head, your brain will be stimulated to release endorphins. These hormones will give you a feeling of relaxation and also trigger the release of melatonin, which is the sleep hormone. Melatonin is released when there's darkness, which explains why we sleep better with the lights off.
To get an emotional support animal that will help treat your sleep problem, consult with a healthcare provider, and have your mental state assessed. If your sleep disorder qualifies for an ESA letter, you will be approved to own a pet that you can bring with you almost everywhere you go.
Your ESA pet Can Be a Great Companion During Mental Breakdown – Click the Button Below
Number Five:

Loneliness

It may seem easy to meet new people and make friends in today's world. With advances in communication technology and social platforms like Facebook, it's easy to connect with people from different parts of the world who share an interest or hobby with you.

But even with this, loneliness is still a severe problem affecting millions of people. Loneliness is a feeling of inadequacy when it comes to meaningful connections with other people. It's possible to feel lonely even if you're around other people regularly.

Loneliness can be a severe health problem. When people are having issues in their lives, they usually distance themselves from others. Some people can get through tough times and turn back to normal. Sadly, some people are stuck with their problems and find themselves drowning in never-ending stress. When this happens, they distance themselves even further and do not get a chance to share their experience and struggles with another person. If you find yourself in such a situation, you'll become more depressed and focus on the negative things in your life.

Because humans are social beings, their overall health can be badly affected when they lose that socialization aspect. If you have feelings of loneliness, do not let that worry you anymore. You can still socialize and let your thoughts without being judged.

Emotional Support Animals can provide the emotional companionship that people with mental health conditions need. They're also great listeners who will try to process your words and act accordingly. If you're going through a tough time, you can talk to your ESA and let your feelings be known. You will have less negative feelings harbored inside you and feel light-hearted when you pour your heart out to your ESA.

What's more, your furry buddy will show you unconditional love and provide the emotional support you need to find the courage to connect with people again. To keep an ESA with you all the time, you'll need to get an ESA letter from a doctor. The letter will be issued based on an assessment of your mental condition.
Number Six:

Obsessive-Compulsive Disorder

Obsessive-compulsive disorder (OCD) is a mental health disorder that features a pattern of unwanted thoughts and obsessions that make you develop compulsions to do something repeatedly. When you have these compulsions and obsessions, your mind thinks that if you fail to do a certain thing, you or your family will be harmed.

We're not talking about the simple need to maintain a tidy, hygienic home. It's all about a condition that causes significant distress and makes people ill. Obsessions are the ideas or thoughts that occur over and over. They also come with the feeling of fear that interferes with a person's daily activities. Someone will want to do something in a certain way just to feel safe.

We're not trying to say that Obsessive-compulsive disorder is rare, many people are suffering from the condition, but it's not as severe as it is for some individuals. Something you need to understand is that a person can develop obsessions related to just about anything. There's a difference between being a perfectionist and having OCD. OCD brings excessive thoughts and worries about real problems in life or having things done in a certain way.

OCD usually centers on certain themes. For instance, an individual with an excessive fear of germs will compulsively wash their hands until their skin becomes raw. Another person with OCD might write every tiny detail of the things that happened throughout the day. Such a person will have an obsession with providing all the details in writing. That's crazy if you think about all the things you do on a typical day. And someone with OCD will believe that if they missed out on any detail, something terrible will happen. That's not all. If a person says or thinks about a word or sentence several times, then they will write it more than once.

Despite efforts to ignore or stop the obsessions, they keep coming back and creating the vicious cycle of OCD. Another good example of OCD is hoarding. This is a condition where a person will keep collecting things but has difficulty discarding worn out or useless possessions. An individual with OCD will acquire an excessive number of items and store them, thinking that those things will be useful in the future, even if there will be no reasonable need for those things. Items are usually stored in a chaotic manner that creates unmanageable clutter.

Storing plastic bags, old clothes, or bottle caps may not seem like a problem to some people, but it does affect their wellbeing. And it also affects the daily life of people they live with and neighbors as well.

If you have compulsions and obsessions affecting your quality of life, don't worry about it anymore. You can get an Emotional Support Animal to help you overcome that problem. An Emotional Support Animal is a pet that provides emotional support for individuals with mental health issues that cause mental and emotional exhaustion. An ESA will provide companionship and become your therapy.

They can help keep your compulsions and obsession in check by diverting your mind. Because your Emotional Support Animal will keep you busy, you'll be able to focus on positive things and avoid compulsive thoughts. This way, you'll be able to keep negative thoughts off your mind and stay positive with what matters. What's more, your ESA will give you a sense of security and confidence because it will be there by your side without passing judgment.

Take a step toward overcoming your OCD by contacting a mental healthcare expert. They will assess your condition and determine your eligibility for an ESA letter. If you qualify, you can get yourself a pet that you can keep with you all the time.

An ESA Pet Can Improve Your Lifestyle – Click the Button Below
Number Seven:

Self-Harm

Self-harm, also known as self-injury or self-mutilation, is the act of intentionally inflicting pain and harm to one's own body. This is typically done without the intent to commit suicide. Instead, this type of self-harm is done to cope with intense anger, emotional pain, and frustration.

People who hurt themselves are usually trying to get over a situation that's causing emotional exhaustion. When they get overwhelmed, they look for ways to release tension, get over their feelings, and gain a sense of calm. The problem is that an individual dealing with anxiety, sadness, or anger will always have their minds filled with negative thoughts.

While self-harm may bring a momentary release of mental and emotional stress, it's usually followed by guilt and shame. And that's not all; people in such situations might also seek other ways to release pent-up feelings like alcohol and substance abuse. This only worsens their mental condition and can also lead to other mental health disorders.

For example, if you saw a student from your school being bullied by the guy/girl who once bullied you, you could end up feeling distressed if you can do nothing about it, or maybe no one takes you seriously when you report the bullying. You'll end up feeling guilty because you did not help the other student. As a result, you will feel stuck and resort to hurting yourself to divert your thoughts, release painful emotions, and regain control.

You see, self-harm can be dangerous in itself, even if you are not planning to cause significant or long-lasting damage. And it will not help you get over those overwhelming and unbearable feelings. But there's something that can help reduce the urge to self-injure. That involves getting an Emotional Support Animal.

How can an Emotional Support Animal help my teen or me to stop self-injuring? Well, your ESA will be your partner in rough times. They will help you relieve emotional stress by giving you something to do and allowing you to channel your negative thoughts. What's more, your ESA will provide love and devotion without judgment and or asking questions. Their calmness and affection give a mindfulness experience that helps their human partners get calmed and relaxed.

When you have a furry buddy, you'll be too busy to channel your energy to harmful and damaging things. For instance, you'll be responsible for feeding your furry companion, taking them for a walk, playing with them, or bathing them. With such activities, you'll have no time to ponder things that cause pain, anger, and sadness. The mere presence of a pet can make you feel confident, comfortable, and even embarrassed to hurt yourself.

To own an Emotional Support Animal that will help you get over your mental health issues, you'll need to reach a mental healthcare provider. When you get an appointment, necessary tests will be performed to assess your mental state. If you qualify to have an animal that helps alleviate the symptoms of your mental condition, you will receive an ESA letter.

If you're suffering from a mental or emotional disorder that qualifies for an Emotional Support Animal, you will need an ESA letter to help you live or fly with your ESA.

Enjoy Traveling with your ESA Pet – Click the Button Below
The Simple Steps to Getting an ESA Letter
Step #1: Complete the ESA Questionnaire
As provided by federal law, an ESA letter must be approved and issued by a licensed healthcare provider. But looking for signs of a mental disorder and determining if you would benefit from an ESA's support is the first and most important step of addressing your condition.
You'll then need to reach out to an online ESA letter provider for help. You'll be required to fill an online contact form, and that will involve providing necessary personal information as well as a description of your pet if you already have one. You'll also need to provide your medical history.
Step #2: Schedule an Appointment with a Licensed Health Care Provider
The next thing you'll have to do is make an appointment with a licensed healthcare professional. This can be a:
General Physician

Primary Care Physician

Licensed Therapist

Psychiatrist

Psychologist
You can choose to have an online or in-person meeting on a date and time you're comfortable with.
Step #3: Consult with a Licensed Healthcare Provider
The Licensed Mental Health Provider you booked an appointment with will contact you to know more about your condition and medical history. It's essential to provide all the details to help the LMHP understand what you're going through and determine your eligibility for an ESA letter.
Your LMHP will ask you specific questions and recommend some tests to decide. If, after the assessment, your LMHP deems you fit for a signed ESA letter, you'll receive the soft copy right away and the hard copy within a couple of days of your appointment.
You can choose between an ESA letter for housing and an ESA letter for traveling. These two letters do not overlap, but if you'd like both, it's possible to get a single letter that covers both travel and housing.
Bottom Line
In this post, we've discussed 7 less common disorders that qualify for an ESA letter, how you can find relief from a debilitating mental health disorder with the help of an ESA, and the steps you should take if interested in getting an ESA. If you are still reading, you may have got the answer to one of the most asked questions, which is :Do I qualify for an ESA?
An Emotional Support Animal can help you overcome severe mental and emotional disability by giving you a reason to improve your overall health and lead a quality life.