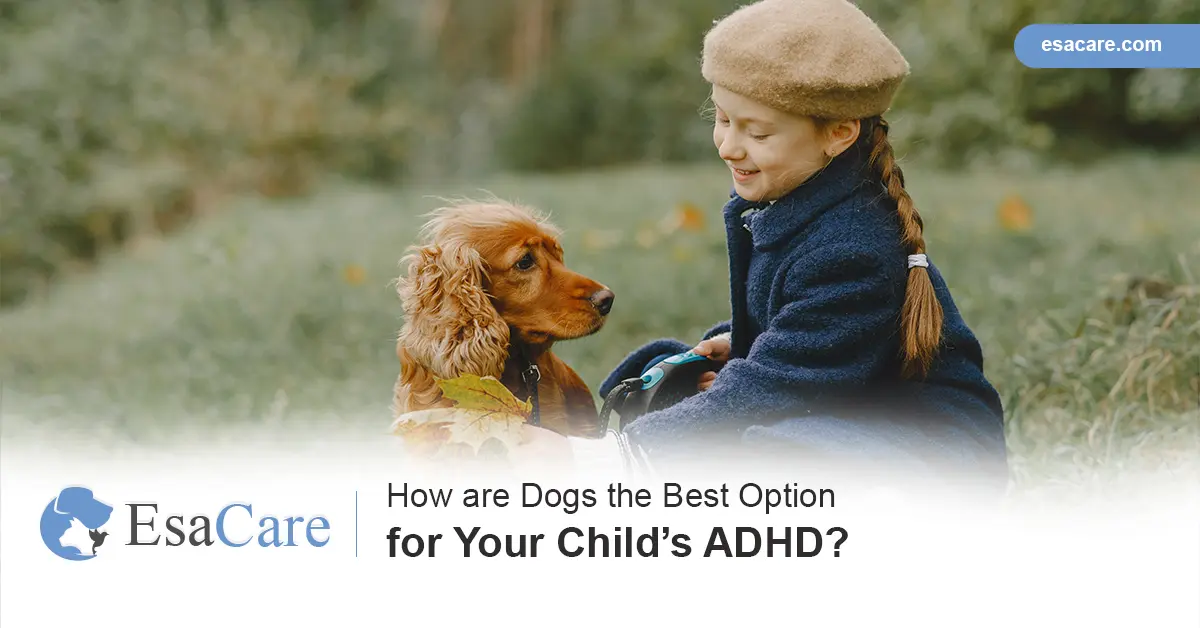 If your child has Attention-Deficit/Hyperactivity Disorder (ADHD) and you're thinking of getting an ADHD therapy dog, you might wonder whether that's a good idea. According to research conducted for kids with ADHD, it was found that therapy dogs can reduce ADHD symptoms in children.
Your ESA dog can be your best companion – Click the button below!
And generally speaking, pets offer companionship and unconditional love. Besides, they can teach your child so much about empathy and responsibility. That means a lot to children with ADHD, who may have a disinterest in social interactions. 
Here's all you need to know about therapy dogs and their role in helping subjects deal with mental and emotional disorders. 
How to Get a Therapy Dog
From a therapeutic perspective, most people prefer the companionship of a dog to that of another human. Let's face it; people are emotionally demanding and complicated. They come and go. But when dogs develop a close bond with you, they can provide unwavering support. 
Aside from offering more stability, the human-dog relationship is also considerably less complicated than relationships between humans. That's why many people turn to their pets for stress-free companionship. 
But for your pet to be recognized as a therapy dog, it must receive training and certification. Do you wish to own a therapy dog? The process is relatively simple:
Adopt

Train

Register your dog
According to the American Kennel Club (AKC), your dog should excel in the Canine Good Citizen (CGC) test before registration. If your dog passes the test, it's more likely to be approved. 
Can You Get a Service Dog for ADHD and Anxiety?
Service dogs act as aides and companions to people with disabilities. For you to qualify to have a service dog, you must meet several criteria:
Have a debilitating illness or physical disorder

Participate in the dog's training process

Have a stable home environment

Be able to independently care for the dog
These dogs undergo training to qualify as service dogs. This allows them to perform major life tasks. Both anxiety and ADHD disorder are examples of psychiatric disabilities that deserve the help of a service dog. However, the dog might need to receive more training since it will perform twice the usual task for one disability. 
Can A Child with ADHD Get a Service Dog?
As earlier mentioned, there are specific guidelines in place that help determine whether one can have a service dog or not. That said, things are a bit different when it comes to getting a service dog for a child with ADHD.
For starters, ADHD is a neurological disorder, not an anxiety disorder! Furthermore,  it isn't a physical disability, so it doesn't affect the limbs or any other body part essential for movement. 
The potential status of ADHD as a debilitating chronic illness is what can make your child get a service dog. Mostly, ADHD isn't debilitating, but that can happen for some individuals. 
If your kid doesn't meet the requirements of getting a service dog, he/she can still benefit from an emotional support animal or an ADHD therapy dog. And if you need the best dog for special needs child, it's wise to go for one that's gentle, tolerant, and trainable.
In short, if your child has mild to moderate ADHD, it can be challenging to get a service dog.  Therapy dogs and emotional support animals are the best alternatives for these situations. 
Are Dogs Good for Children's Mental Health?
Childhood mental illness is a significant health concern in the US. Because it starts in childhood, early intervention and preventive approaches are needed. 
So, how can dogs help with mental health issues?
Dogs can alleviate social anxiety by stimulating conversations. Plus, they're capable of following human cues, and this could be helpful in emotional development.
This improves your kid's mental health and reduces developmental disorders. If exposure to ADHD adults and pets in childhood can help achieve such goals, then positive child-dog interactions can prevent mental problems from developing later in life. 
How Do I Desensitize My Dog to Children?
Dogs and kids often form lifelong bonds and a perfect combination under the right circumstances. But when your dog is afraid of kids, it's not safe to bring them together. How can you address this to help prevent confrontations?
Desensitizing your dog is the solution. This is the process of gradually increasing the dog's interactions with your children to make them feel more comfortable. Since a dog can become aggressive when afraid, it's best to handle desensitization carefully.
For instance, you can begin handing out praises and treats to your dog whenever it sees children from far and remains relaxed. You can then gradually decrease the distance between the dog and your children so long as no signs of fear appear.
Do this while still tossing treats to your dog. You can also seek assistance from a veterinary behaviorist to help you get results safely and more quickly. 
What Animal Represents ADHD?
The DAT-knockout (DAT-KO) mouse lacks the gene that encodes DAT. It's viewed as a model for ADHD since it's hyperactive in novel situations. Besides operant food reinforcement tasks, it's also impaired in memory tasks.
Does the ADA Recognize ADHD?
To improve access and create more room for people with various disabilities, congress passed the Americans with Disabilities Act in 1990. The act recognizes ADHD as a disability. If you have ADHD, your employer would have to provide reasonable accommodations.
An Emotional Support Animal is more than a pet –  Click the button below.
Final Thoughts
As you can see, ADHD therapy dogs are beneficial in so many ways. If you're not sure whether or not your children are ready for an ADHD therapy dog, there are things you can do to help them gain self-control and prep them for the responsibilities of having a pet.
Having an emotional support animal (ESA) can be the best therapy ever that you can give your child. If you want to rent property or travel with your ESA, we can help you get a legitimate solution. Contact ESACare today to receive your ESA letter.
Get your Emotional Support Animal Letter today by booking an appointment at ESACare.