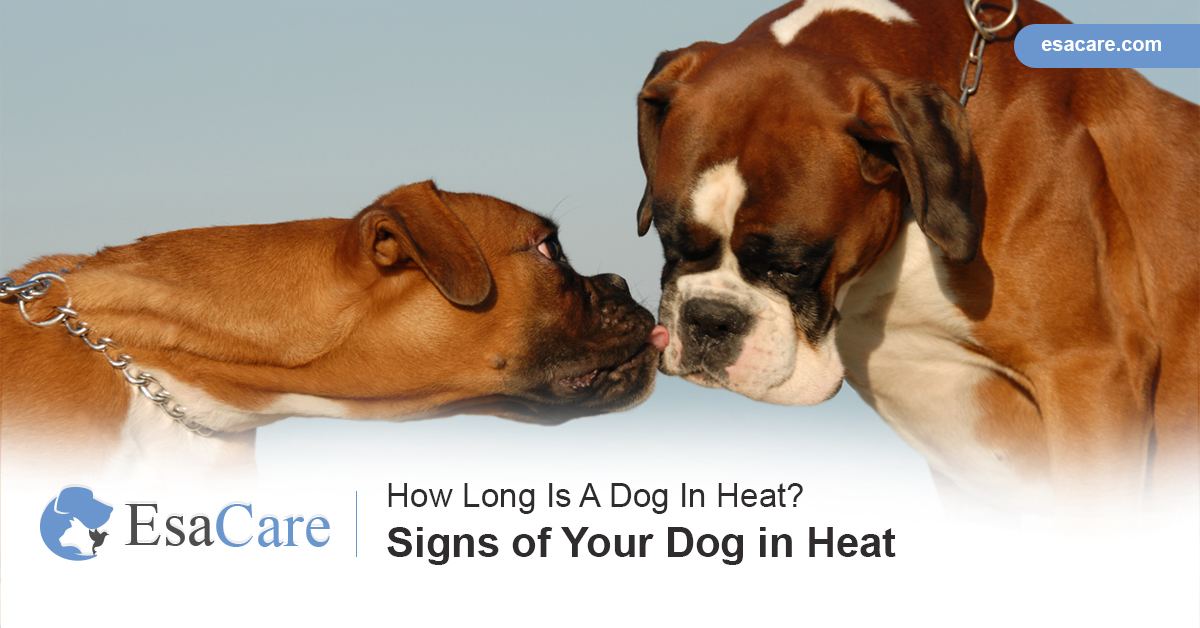 Emotional support animals (ESAs) are quite popular nowadays as more people appreciate their effect on mental health. Dogs remain the leading options for ESAs because they are easy to care for, easy to train, and quite loyal to their owners. Though you might not grapple with much during your dog's lifetime, there is an issue that might trouble you. This is the time when your dog is in heat.
Stay mentally fit with your ESA pet! – Click the button below.
Starting when a female dog turns six months, a female dog will go through heat or estrus approximately every six months for its lifetime. Smaller breeds can, however, go into heat when they are four months old, while giant breeds can delay until they are 18-24 months. Going into heat means that your dog is ready to mate. Even if you want to get puppies, it is best not to breed the dog during its first or second cycle. Its eggs are still immature at this point.
Your dog will be in heat for about 2-4 weeks though this is longer or shorter in different animals. During the cycle, the dog goes through different stages.  Below are tidbits on these stages and the signs you can expect at each of them.
Proestrus Stage
This is the first phase a dog in heat will go through. It lasts for 3-17 days though most dogs spend only nine days in the proestrus stage.
Below are some of the signs you will notice in your dog during this phase:
Improve your mental health by keeping your ESA pet close by – Get your ESA letter today!
Estrus Stage
This phase lasts for 3-21 days and an average of nine days. At this point, your dog is fertile, and its ovaries start releasing eggs for fertilization. As such, the dog is quite receptive to male company. It will start switching its tail to the side and try to go outdoors frequently since it has a breeding instinct.
Some of the signs you might notice include:
Light vulva discharge: The initially bright red discharge will now become somewhat pink.
Vulva softening: The initially swollen vulva will start softening in the estrus stage ready for male penetration.
Flirting: While previously pushing away male company, your female dog will start flirting during the estrus stage. This might be evidenced by holding its tail out of the way or turning its rear toward the male.
Diestrus Stage
At this point, the fertile stage of your dog is coming to an end. The diestrus stage lasts for 60-90 days. If your ESA is pregnant, this stage will last until it gives birth.
Some of the signs of diestrus include:
A gradual decrease of vulva enlargement: Most of your dog's vulval swelling will reduce within a week though it remains slightly enlarged in some animals.
Minimal flirting: Since your dog now lacks the mating conditions, it will no longer be as flirtatious as in the estrus phase.
Your ESA Dog can be your best companion – Click the button below!
Conclusion
Unless you want your ESA to breed, the best choice is to have it spayed. This keeps it from going into heat, and you thus will not notice the above signs. While some vets will recommend spaying a dog when it turns six months old, others will advise you to wait until your dog undergoes one heat cycle.
Since the dog is an ESA, it is best to talk to a mental health specialist on whether spaying or breeding is the better option for you. The specialist will also prove useful in giving you an ESA letter. With this, you can access places where pets are restricted with your dog and travel with it in airplanes. If you are looking for a hassle-free way to access a mental health specialist, consider ESACare. Here, the consultation takes place online, and your letter is sent in the mail after a few days.
Get your Emotional Support Animal Letter today by booking an appointment at ESACare.