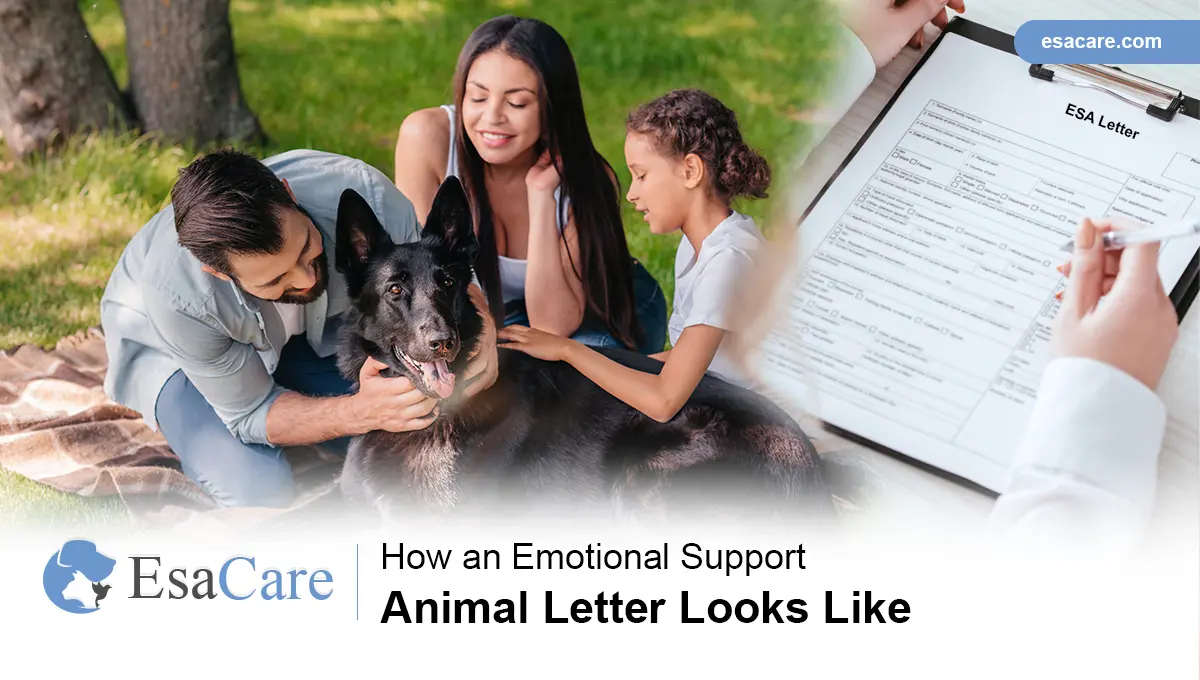 Emotional Support Animals (ESAs) are domesticated animals such as dogs that can offer therapeutic comfort for people suffering from various emotional and mental issues like depression, PTSD, anxiety, and more.
To qualify for an emotional support animal, you need to obtain an emotional support animal letter from a licensed therapist. This letter confirms your need for an emotional support animal, legally qualifying you to bring your pet along wherever you go.
If you're having mental health issues, get yourself an ESA Letter today!
There are strict penalties for presenting a non-legitimate emotional support animal letter to landlords, public facilities, or transportation providers. To avoid jail terms or even heavy penalties, it's crucial to know how an emotional support animal form letter looks to make sure you're offering legitimate documentation.
If you're wondering how an ESA letter looks like? Here is a sample.
Who Writes An ESA Letter?
Any licensed mental health practitioner can write an ESA letter for you. Some professionals who can write a letter for you include a registered nurse, psychologist, psychiatrist, therapist, clinical social worker, or other licensed mental health practitioner aware of your emotional and mental health.
The mental health professional needs to have a valid license to work in your state and practice. Otherwise, your ESA letter would be invalid. But, can a physician write an ESA letter? Yes, a physician can issue an ESA letter as long as they're licensed.
Elements of an Emotional Support Animal Letter Sample
An ESA letter should be written on the physician's professional letterhead and must contain specific details to make it legitimate. Before applying for an ESA letter with any provider, be sure to ask for a copy of an emotional support animal letter sample that you would get upon purchase.
Here are some of the key things your sample ESA letter must include, whether it's an emotional support animal letter for flying or landlord.
Date of Issue and Expiration.

Your full name.

The name, contact information, and signature of the mental health practitioner.

Prove your physician is licensed to practice in your home state with issuance and expiration dates of their license.

Doctor's confirmation of your mental or emotional disorder.

Role of an emotional support animal in your treatment.

Details of the animal you'll be assigned as your emotional support animal, including what kind of animal, name, breed, and ESA certificate ID number.
An ESA letter should also recommend using an emotional support animal to treat your mental disorder to feel comfortable and live a full lifestyle. Analyze the provided emotional support animal letter sample to ensure it contains all the above-listed details. This will give you peace of mind knowing you'll receive a genuine ESA letter that will be upheld in the eyes of the law.
ESAs can help you to deal with PTSD. Click the button below to get your ESA letter.
What Documentation Is Needed for an ESA?
To successfully apply for an ESA letter, you need to provide a recommendation letter from a licensed therapist. The letter should confirm that you suffer from a mental or emotional condition that could be improved by having an emotional support animal. Your mental health practitioner should be able to write you a recommendation letter if they find your condition legitimate.
If you decide to obtain an ESA letter online, then you need to provide the ESA physician with the necessary medical reports for evaluation. This will help confirm your condition and need for an ESA. You can request the medical records from your family doctor because the licensed therapist cannot issue an ESA letter without them.
Is It Hard to Obtain An Emotional Support Animal Letter?
Obtaining an ESA letter isn't difficult, especially if you have any emotional or mental issue that's negatively impacting your everyday life. Mental and emotional conditions like anxiety, depression, stress, bipolar disorder, and post-traumatic stress syndrome qualify you for an ESA letter.
If you're currently receiving therapy, talk to your therapist about your need for an emotional support animal to help improve your condition or alleviate your symptoms. If your licensed therapist agrees that your condition could improve by having an ESA or your pet qualifies as an ESA, they will gladly write you an ESA letter. 
On the other hand, if you're not receiving any therapy, you can still get an ESA letter by scheduling an online session with a therapist in your area. You can find many reputable online platforms to connect you with a licensed therapist who can issue you with an emotional support animal letter. The therapist will interview you and go through your medical records to examine your condition. If they find your need legitimate, they will issue you a valid ESA letter.
If your physician is unfamiliar with writing ESA letters, you can find a sample ESA letter online and show it to them. This will help them understand what details to include while writing their own to ensure it's valid. You can also download and print an emotional support animal letter template and request your primary care physician fill it out with your specific details.
How Much Does an ESA Letter Cost?
The cost of an ESA letter can vary significantly based on your chosen provider or the licensed therapist you're working with. However, you can expect to pay anything between 100 and 200 dollars, whether you want an emotional support animal letter for flying or accommodation.
Keep in mind that you'll also need to renew your emotional support animal letter for flying each year, which adds to the total cost. So any provider that claims your ESA letter will be valid for over a year isn't legit. Also, if you're planning to price shop, be sure to only compare providers in your home state.
ESAs can improve your overall mental health. Click the button below to get your ESA letter.
Conclusion
While taking medication can help keep you calm and relaxed, one of the most effective and sustainable treatments for mental or emotional issues is having an emotional support animal. Not only can an ESA pet help alleviate your symptoms and improve your overall health, but it can also enhance the quality of your life.
And the only way to keep your pet close wherever you go is by obtaining an ESA letter. This will allow you to legally bring your ESA pet along on planes while traveling or in a rented apartment that prohibits pets without any discrimination.
If you're looking to get your ESA letter online, ensure your chosen online platform ESA provider is HIPAA compliant. The ESA should be willing to provide you with proof of their medical license and certification to practice in your state. Always ask your provider to give you a copy of an emotional support animal letter sample to confirm their legitimacy and ensure you'll receive a valid ESA letter. 
Get your Emotional Support Animal Letter today by booking an appointment at ESACare.