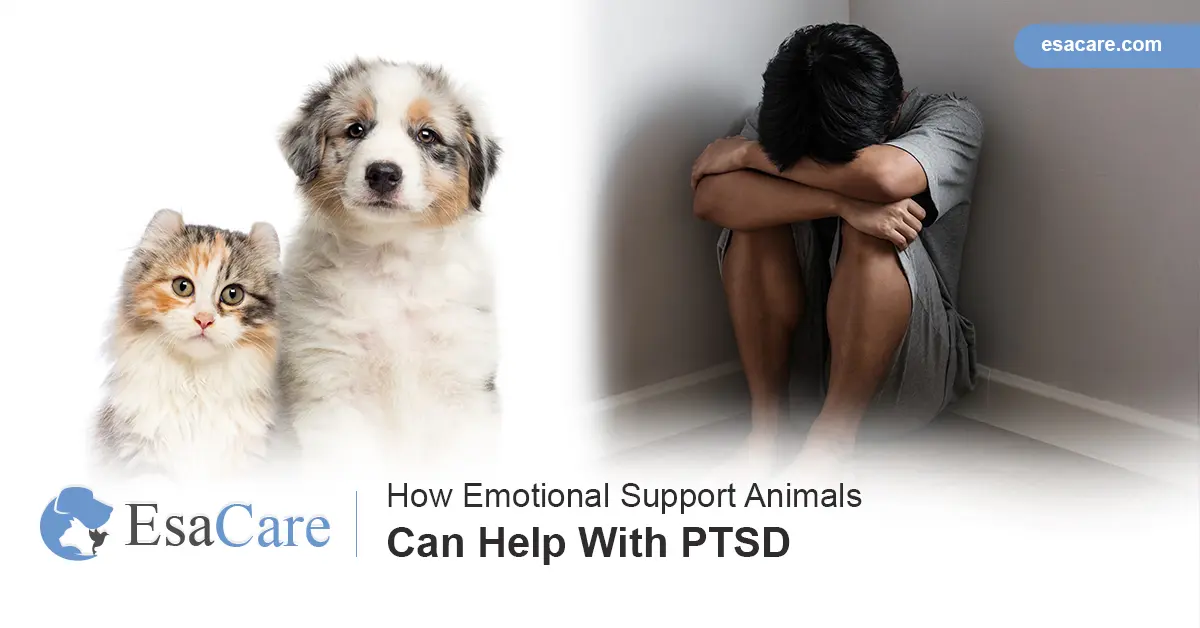 Post Traumatic Stress Disorder (PTSD) is a mental health problem brought about by experiencing or witnessing a potentially fatal event. This may be being in a serious accident, combat, natural disasters, physical assault, and other such incidents where the threat of suffering a serious injury or even losing your life is very real. PTSD manifests differently in different people but there are common symptoms such as anxiety, being unable to sleep or experiencing nightmares, developing certain fears related to the event such as being afraid to travel in a car after being involved in an accident.
Your ESA pet can improve your lifestyle – Click the button below.
One group of people who typically develop PTSD are soldiers returning from combat. Having seen fellow soldiers die all around and have been in very real danger of losing their own lives or getting seriously injured, it is not uncommon that they develop PTSD. Statistics from the US Department of Veteran Affairs, indicate the number of veterans who suffered PTSD after returning from their missions is significant.
PTSD & ESAs – How Pets Are Helping Our Nation's Heroes
In this regard, Emotional Support Animals (ESAs) have been found to be a tremendous help. The first animal that comes to mind is the dogs because they are the most popular domestic pet. However,  ESA's can also be cats, horses, and birds to name just a few of the options.
ESAs are not necessarily trained to perform specific tasks although some like PTSD service dogs are trained. As a whole, ESAs are prescribed by doctors and psychiatrists to those with PTSD and other emotional problems and challenges. The goal is to provide these people with animals that can offer them emotional support by being their companions.
PTSD Service Dogs or ESA?
It is important to understand the distinction between PTSD service dogs and other ESAs. Service dogs are trained to carry out tasks that their owner cannot. This includes showing them the way if they are visually impaired, picking things up for them, or giving a warning when their own suffers a stroke, seizure, or other forms of a medical emergency. Additionally, there are psychiatric service dogs that are trained to help people with emotional or psychological problems.
Click the button below to keep your ESA pet legally!
It is because of these differences that PTSD service dogs are not considered ESAs. There may therefore be restrictions on allowing them access where ESAs are allowed. Generally speaking, ESAs are allowed by law to access many locations in various situations such as when grocery shops and aboard buses, planes and other public service locations and utilities. Also, the Fair Housing Act protects tenants with ESAs from being discriminated against. 
Do service dogs really help with PTSD?
The use of ESAs is a decade old practice. The use to help PTSD is a more recent development. More and more doctors and psychiatrists are using it in addition to medication, counseling and group sessions, and support groups. So far, the research on the effectiveness of ESAs. According to a 2018 report published by the US National Library of Medicine on The Power of Support from Companion Animals for People Living with Mental Health Problems, pets do provide benefits to those with mental health conditions.
The results showed that ESAs reduce stress and anxiety levels, lower blood pressure, and strengthen the immune system. They also promote exercise whose benefits are known. IN PTSD sufferers, they reduce the intensity and frequency of the occurrence of PTSD symptoms. Cats have also been found to be effective ESAs with their soft, cuddly bodies and soothing purrs. 
Keep your ESA pet close – Click the button below!
How a Veteran Can Get an ESA
There are charity organizations that are set up to help veterans to get an ESA of their choice. One such organization is Pets for Patriots. It was set up to help veterans to find ESAs by subsidizing the cost of pet guardianship so that veterans don't return their furry companions to their shelter because of short-term financial difficulty. The organization also provides ongoing financial, moral, and educational support informing of a healing bond between veterans and their pets.
Another option is to get assistance from the US Department of Veterans Affairs. The website has resources such as locations so that you can find the office nearest to you as well as the assistance available for PTSD and other mental health conditions such as anxiety, depression, sexual trauma, and other conditions. On the site, you will also find help for yourself or for a friend, family member, or other person dealing with mental health conditions. On this site, you can also find numbers that you can call, text, or chat to get the help you need including how to qualify for an ESA or if what you need is a PTSD service dog.
Book your appointment with ESACare to get your ESA letter today!