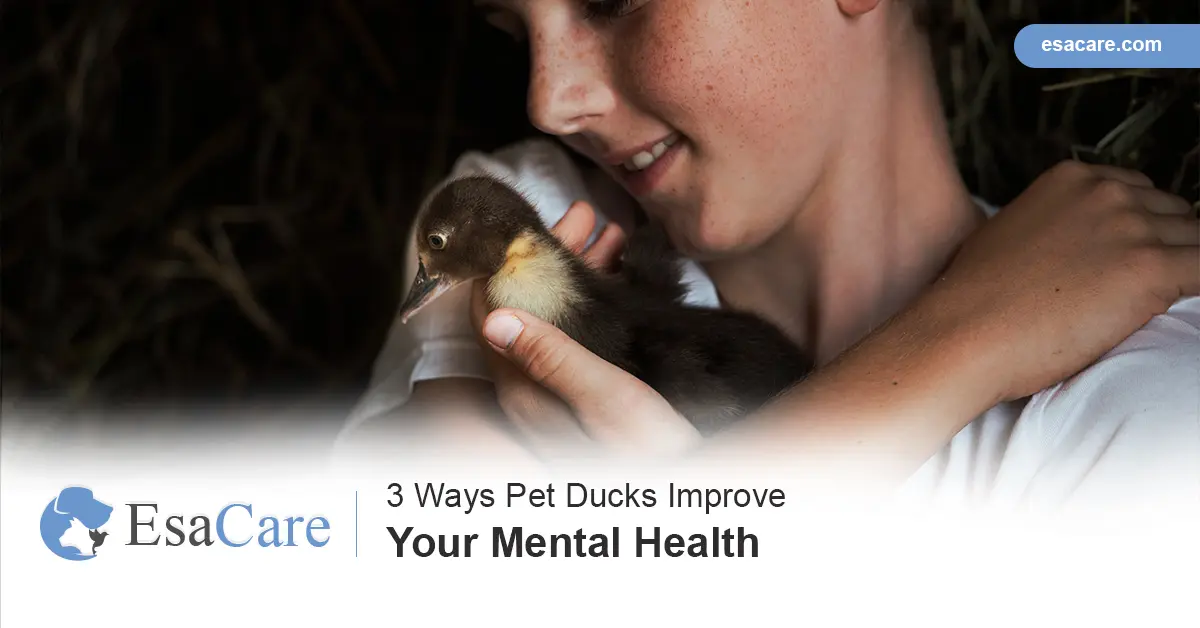 As far as emotional support animals go, ducks don't often pass as emotional support pets. While they are the least favored candidates for the job compared to dogs and cats, they do a wonderful job at improving one's mental health.
Ducks can be a great support system in times of need – Click the button below.
They make excellent companions and are amusing to look at. However, if you can't look after a pet adequately and are looking to get a pet duck, you might want to consult with your doctor before taking on such responsibilities. 
Ways Pet Ducks Improve Mental Health
Having an emotional support animal requires a lot of work. You have to take it out for walks, look after it, and clean after it. For a duck, however, you only need to do so much. Ducks don't require a huge amount of work like other support animals.
You don't need to take them out for a walk and don't require a lot of cleaning, you give them a pond, and they are set. Taking the hard work out of the emotional support animal equation helps a great deal in improving your mental health since it helps you focus on the more important things.
Ducks are highly intelligent and social animals. They understand commands, play games, give tiny kisses, and play with toys. To get your pet duck to do all this requires that you take the time to work with them and form a close bond with them.
If you get a duck at an early age, you have the chance to train it to your liking and to become more sociable to humans. Although it takes some time and effort, once your duck learns how to be around people, things get better and easier for you. 
Ducks also don't like being alone. They do tend to get lonely and experience grief just like humans. If you can, ensure that you acquire two or more ducks so that they can keep each other company. If you want to thrive mentally, you should get at least two ducks so that their depression or loneliness doesn't rub off on you.
If you're looking for something amusing through mother nature, you can get yourself a couple of ducks. Ducks have their secret language, and when they play in the water, it is both quite amusing and entertaining to watch as you try to figure out whatever they may be saying.
Having a pet duck can help you get through any sadness just by watching them dance and play in the water. If you have one duck, you can always take them out to play with others in the park pond or pools.
Can my Bird qualify as an Emotional Support Animal?
Whenever people hear emotional support animals, they immediately think of dogs. Understandably so, dogs are trained to handle specific tasks and are perfect companions for anyone with a disability as they can guide them on the way.
Stay mentally fit with your ESA pet! – Click the button below.
Emotional support animals aren't required to have any form of specialized training. Their only job is to provide their handler with the best therapeutic care possible. If you are looking to get your bird an emotional support animal qualification, you will need t-o talk to a licensed mental health professional.
Why You Should Pick Birds Over Four-legged Friends
There are plenty of reasons why a bird is preferable to a four-legged animal. For starters, birds can speak. So far, birds are the only animals that can replicate human speech. If you're looking for an animal to converse with, getting a bird is the right choice for you.
Secondly, birds are easy to live with. Most landlords don't view birds the same way as cats and dogs. Therefore, you need not have any special recommendations or letters mandating your landlord to provide you with housing.
Are Birds Good for Anxiety?
People with anxiety, stress, and Post-Traumatic Stress Disorder can find great comfort with birds. Their intelligence and ability to mimic human speech make them good for conversing with. They provide a sense of calmness that is really helpful for anyone going through any stress-related issues.
Do Birds Help With Depression?
Research conducted on the impact of nature and birds on mental health backs up the theory that birds help people feel sane and less depressed. Birds are colorful animals and can be spotted almost anywhere.
They also help you stand out from other people with other types of pets. Having a bird as an emotional support animal helps you make conversation naturally. If you're walking or cuddling with your duck in the park, a stranger will feel inclined to come up to you to find out more about the duck. This kind of interaction helps people suffering from depression feel more relaxed and blend seamlessly into the world.
ESA Bird List
The Endangered Species Act lists several birds under its catalog of endangered birds. Below are some of the birds which make it to this list:
Sage grouse

Bald Eagle 

Brown pelican

Wood stroke

Interior least tern etc.
Don't wait anymore – Get your ESA letter in a few easy steps!
Get in Touch with Us
If you're looking to get a duck or any other bird as an emotional support animal and would like to get an ESA letter quickly, give us a call via 833 976 0637 or schedule an appointment with us for a consultation. At ESA Care, we are dedicated to providing you with a seamless and fast step-by-step process to get an emotional companion.
Book your appointment with ESACare to get your ESA letter today!