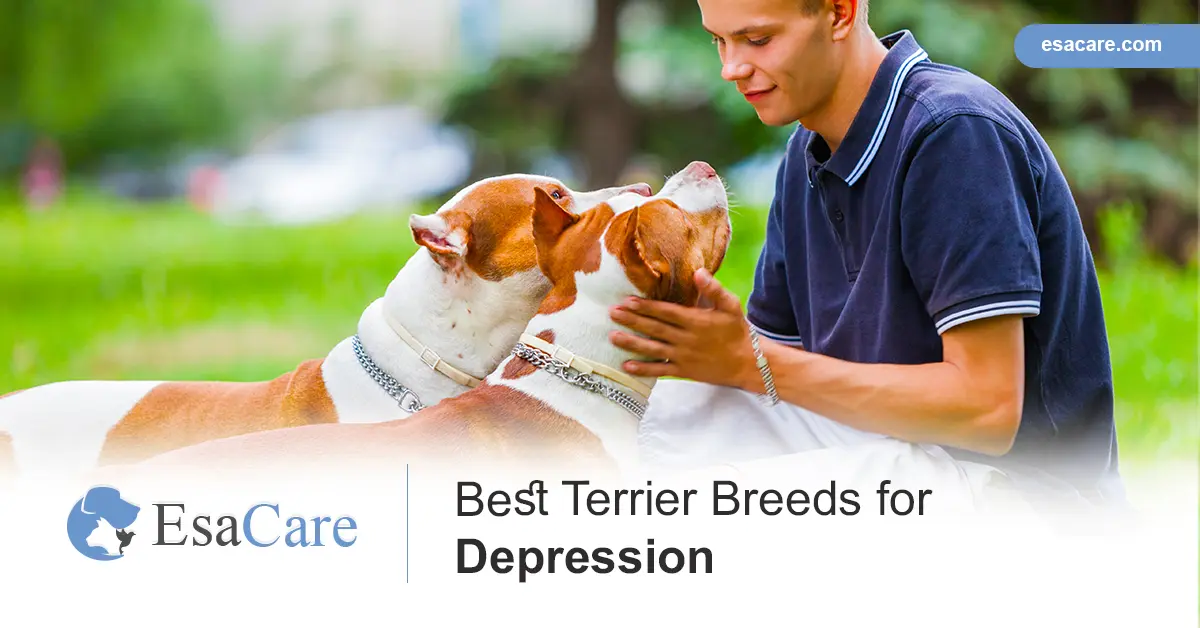 Depression is a hard-to-spot condition that can mask itself as anger, anxiety, stress, or a feeling of sickness. According to the National Alliance for Mental Illness (NAMI), approximately 17.7 million Americans (7.2% of the population) will have a major depressive episode in their lifetime. 
Stay mentally fit with your ESA pet! – Click the button below.
Treating depression can be even more challenging than spotting it. But fortunately, depression can be treated by therapy, medication, or a combination of both. Because depression often causes feelings of loneliness and isolation, an emotional support animal (ESA) is ideal for alleviating symptoms. 
Terriers are a special breed of dogs traditionally bred to dig and hunt for prey like moles, foxes, badgers, and rats. But over the years, they have been transformed into loveable and loyal human companions. Their mischievous personality and energetic nature make them perfect pets for people with depression. Terriers are also highly intelligent and trainable.
So, here is a list of some of the best terrier breeds for depression: 
1: American Hairless Terrier
With a height of between 12 to 16 inches, the American Hairless Terrier is a large breed available in both hairless and coated varieties. You will find hairless varieties with eyebrows and whiskers, but the coated variety comes with a short, glittering coat. The skin of hairless terriers is smooth and warm to the touch, but the wide, wedge-shaped head is a standard for both varieties. American Hairless Terriers also have erect, V-shaped ears and round, expressive eyes that beam with curiosity.
American Hairless Terriers move with jaunty peps in their steps to announce the real terrier attitude. The hairless variety is extremely hypoallergenic, making them great for people with allergies. This breed is very protective of their humans and makes perfect alert watchdogs and emotional support animals.
2: Australian Terrier
Australian Terriers are relatively small but sturdy, self-confident dogs. They are widely known for a protracted torso and unique coat coverings around the forequarters and neck. Australian Terriers also feature soft, silky hair with a contrasting texture with their otherwise harsh coat. 
A long neck lends some elegance to this rough-and-ready terrier, and their dark eyes always sparkle with keen intelligence. Common coat colors are blue-and-tan and solid red or sandy. Aussies often move with the free and easy gait of a working dog. 
Overall, Australian Terriers are excellent alert watchdogs and are very quick students during training. True terriers, Aussies love their owners and will want you all to themselves, a perfect trait for ESAs.
3: Bedlington Terrier
Bedlingtons are lithe and energetic Englishmen with crisp, curly coats. They feature an arched back, a fleecy, pear-shaped head, tasseled ears, and a scimitar-shaped tail. This friendly dog breed moves with a light, springy step and can run like the wind when roused to pursuit.
Improve your mental health by keeping your ESA pet close by – Get your ESA letter today!
Charming, rollicking, and full of fun, Bedlingtons will want to be your family's center of attention and are known to be extremely protective of their loved ones. If you're looking for a no-shedding, lively, and loyal ESA, then your search might end here.
4: Border Terrier
Border Terriers have heights of 11 to 16 inches at the shoulder, making them easy to recognize among other small terriers. The unique head shape (the "otter head") is another distinguishing trait of this adorable breed. They have relatively longer legs than other small terrier breeds, and the wire coat can be grizzle and tan, wheaten, blue and tan, or red.
Borders are hardworking dogs in the field, but they're affectionate, good-tempered, and trainable at home. Borders also love exploring outdoors and make great emotional support dogs and childhood playmates. 
Bred to be country dogs, Borders also adapt well to city life as long as you give them plenty of exercises. They tend to get along with other dogs, but their natural hunting instincts can be aroused when squirrels or cats cross their path.
5: Bull Terrier
Bull Terriers are big-boned, robust terriers who move with a jaunty stride to suggest agility and power. The breed's hallmark is an elongated, egg-shaped head with tiny, triangular eyes that glitter with good humor and erect and pointed ears. Coats can be either white or any other color, solid or sprinkled with white markings. 
A well-made Bull Terrier is a true picture of balance and muscular determination. To ensure the ultimate happiness, early socialization with dogs and people is paramount. You need to provide ample exercise, firm but loving training, and plenty of time with the adored human companion. Overall, Bull Terrier is your ultimate personality breed; no wonder they make great emotional support pets.
Get Your ESA Letter for Added Convenience!
At ESA Care, we know how important your emotional support animal is to you. Our simple and quick process is designed to help you acquire the ESA Letter you need to spend quality time with your emotional support pet wherever you go.
When traveling or looking for a place to live with your Emotional Support Animal, you'll need a quick and hassle-free process for getting your ESA Letter.  Contact us today to get your legitimate ESA Letter from our licensed mental health professional.
Book an Appointment with ESACare, do not hesitate to contact us.