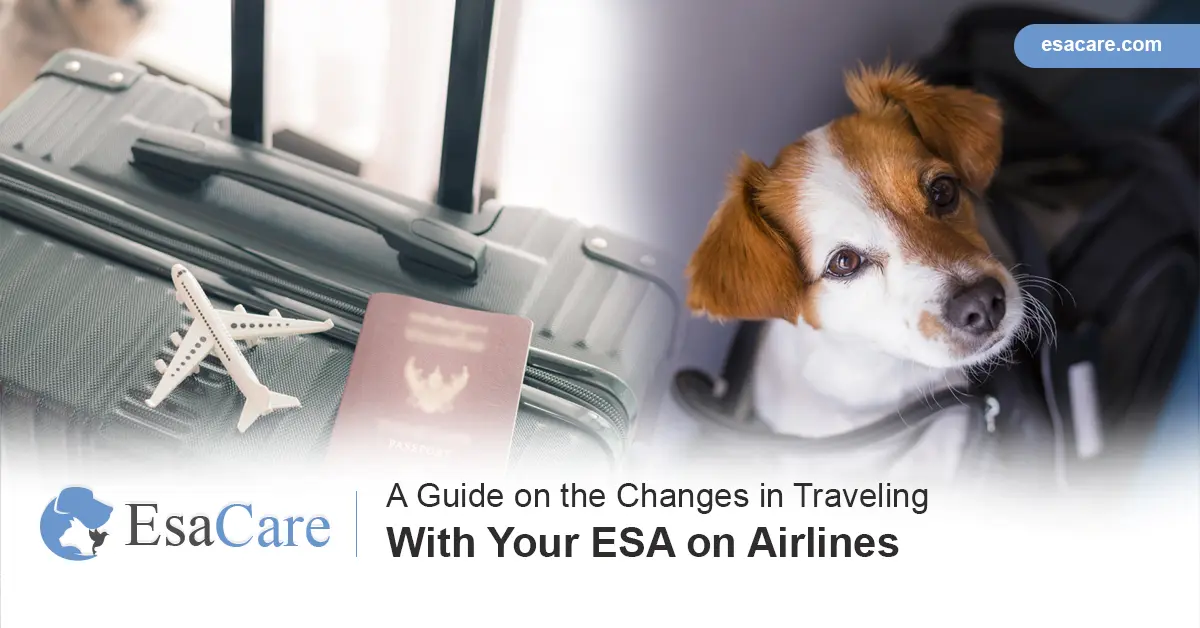 There is no doubt that ESAs (emotional support animals) significantly help people suffering from various mental health issues by keeping them grounded. Some airlines recognized this and allowed people to travel with ESAs. The Department Of Transportation (DOT) also required airlines to allow patients to travel with their ESAs. For your ESA to be allowed in the cabin, you had to present a letter from a qualified mental health professional a few hours before your flight certifying your need for the animal.  
Traveling with your ESA has never been easier – Experience it through our services.
Even so, the rules surrounding ESAs continually change. In December 2020, the DoT modified the airline travel rules with ESAs. The department announced that airlines were no longer obligated to allow people that needed an ESA to travel with their animals. This was primarily because of the increased reported incidents involving ESAs on flights, such as vicious attacks on other passengers and soiling cabins. The change of law did not affect service animals because they, unlike ESAs, have undergone special training.
With the change of law allowing airlines to accept or refuse ESAs, most airlines have established new rules on travel with ESAs. Most have outrightly banned ESAs, while others will allow them in their cabins but with no special considerations.
Below is a guide on different airlines' rule changes on traveling with ESAs.
Alaska Airlines
As of 1st March 2021, Alaska Airlines will no longer allow ESAs on flights. However, you can travel with an ESA if you booked your flight before 11th January 2021 and will travel before the ban takes effect. According to its website, Alaska Airlines will not need documentation if you plan to travel with a service animal. Still, its employees might ask a few questions to determine the animal's classification. However, you can travel with your pet in the cabin or the cargo hold, if it is too large for the cabin, on specific flights. You will pay $100 for your pet's carriage in the cabin and the cargo hold. Brachycephalic cats or dogs, also called short-nosed breeds, are not allowed in Alaska Airlines' cargo.
American Airlines
Beginning 1st February 2021, American Airlines will no longer allow ESAs on board. If you travel with your ESA before the date of the ban, you should submit specific forms as detailed on the airline's website not less than 48 hours before your flight. American Airlines will still allow you to travel with animals that were previously considered ESAs, but these will be subjected to the same terms as other pets. Pets are allowed as carry-ons in the cabin at the cost of $125. They should remain in their cages for boarding and during the flight. You can also opt for the pet to travel in the cargo hold for $200.
Get Your ESA certification by clicking the button below.
Delta Airlines
The new DoT rules on ESAs affect Delta Airlines beginning 1st March 2021. While the airline has not banned the travel of ESAs altogether, it has introduced stringent measures for their travel. To travel with an ESA on the airline, you should download and fill in the relevant documentation that allows you to do so from its website. A vet, mental health professional sign these forms, and you then submitted not less than 48 hours before your flight. The forms should be accompanied by a current immunization record for the animal, a signed confirmation of the animal's training, and an ESA letter. Delta Airlines only accepts specific animals in the cabin, so check this beforehand.
Frontier Airlines
This company will no longer allow ESAs on its flights starting 31st January 2021. It is also no longer accepting flight reservations for people with ESAs. However, if you had already booked a flight and plan to travel with your ESA before the ban is effected, you should fill out the relevant forms and comply with other regulations on Frontier Airline's website before your flight. Pets are still welcome on flights at a fee of $75. The airline only permits guinea pigs, hamsters, small household bids, cats, rabbits, and dogs on its flights as pets.
Allegiant Airlines
From 1st May 2021, Allegiant Airlines will not accept ESAs on its flights. Nonetheless, if you want to travel with your ESA before then, you can do so provided you fill the relevant forms and present them not less than 45 minutes before the flight. The airline only accepts miniature horses, cats, and dogs on its flights.
Carry an authentic ESA letter to travel with your pet – Click the button below.
Irrespective of ESA travel regulations' changes, you cannot board any flight from the airlines above without an ESA letter. To save on the hassle of going from one clinic to the next looking for the letter, handle the process online. At ESACare, our licensed doctors can vet your application for the letter and issue you with a certified one online before mailing a physical copy.
Get your Emotional Support Animal Letter today by booking an appointment at ESACare.