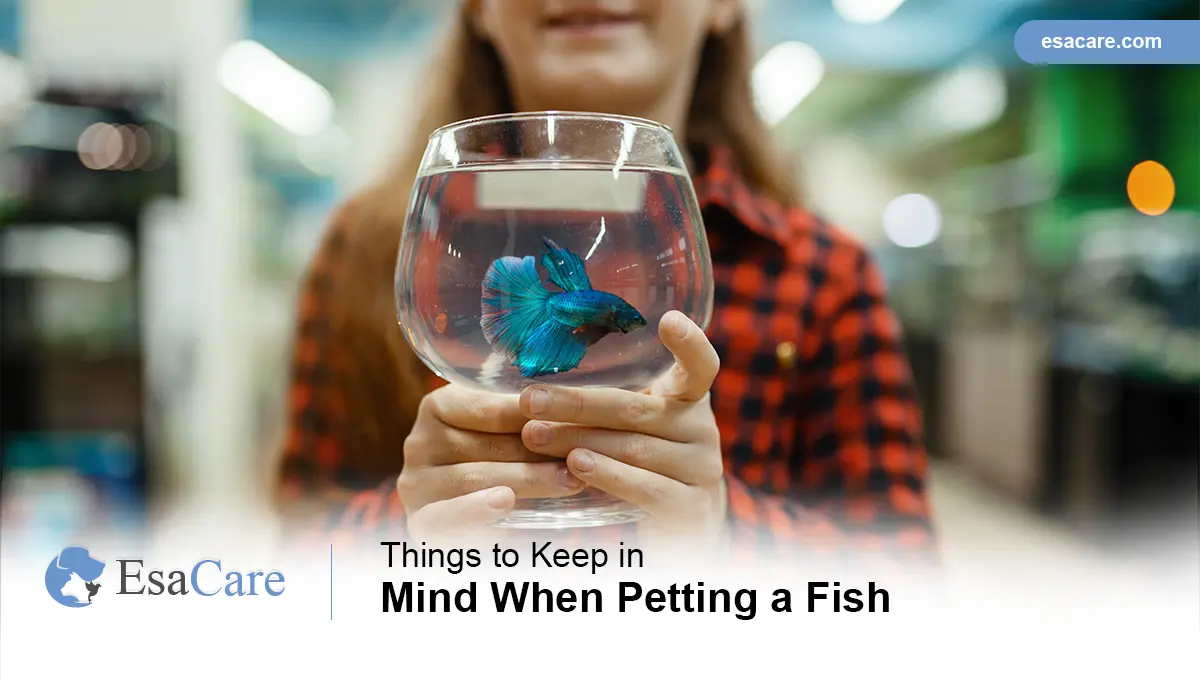 Does pet allergy make it difficult for you to own a pet? Why not keep a fish? A pet fish is a better choice for people with less time to care for other types of pets. Not only do they help in stress-relieving, but they also add a glamorous look to your living room.
Avoid fake ESA letters – Click below to get an authentic ESA letter now!
So what things should you keep in mind before getting a pet fish? Here's everything you need to know.
Getting a Pet Fish Aquarium
Aquariums come in different sizes. So you can always find a perfect size for you, depending on the size of your space and the number of fish you intend to keep. For example, a five-gallon fish tank can fit in small spaces, such as the kitchen, dormitory, and office.
A complete aquarium should have LED lights for growing plants, a filter for water cleaning, and a heater. In addition, you'll need an air pump to supply oxygen to the fish and carbon dioxide to the plants. Finally, to ensure the water temperature is ideal for the fish, you'll need a thermometer.
Of course, you'll need decorations for the aquarium. These include bogwood, caves, rocks, sunken ships, statues, ornaments, bubble makers, and many more. Keep in mind that your fish will need enough space to move around. So don't let decorations take up all the space.    
Where to Locate the Aquarium
If you have a large fish tank, then the location you select ought to be permanent. Therefore, it's essential to give it proper consideration. Most people put the aquarium in the living room. It should be in an open place where you and your guest can see it easily. Besides, an exposed location makes it easier to spot a problem with the fish.
Make sure you don't set the aquarium near the entry, television, or any other source of destruction. That's to say, the fireplace and windows may not be the best places either. The heat from the fireplace and the sun may warm up the water beyond the ideal temperature. Direct sun can also make algae grow faster, forcing you to clean the tank more frequently. Finally, ensure the location is easy to access to facilitate daily feeding and maintenance.   
Types of Pet Fish
If you're a beginner, you should start with hardy fish requiring less maintenance. You can keep different types of pet fish in one aquarium. But for aggressive fish, such as the blue Grammy, you can only keep one or two. Other types of fish prefer to live in schools or a community. These include the black Tetris, Neon Tetra, Corey catfish, and angelfish.
If you're looking for large pet fish, you can get the Angelfish, Bala shark, Goldfish, among others. For a small aquarium, go for smaller fish, such as Guppy, Betta, and Harlequin. Betta is one of the best pet fish you can have. They have large fins and come in many colors. Due to the large fins, you may want to ensure a gentle water flow in the tank.
Keep yourself engaged with your ESA Pet!
How to Tell If Your Fish Is Happy 
A happy pet is usually playful and full of energy. That's the case with a happy fish. Well, some fish are calm by their nature. But when it comes to feeding time, you'll see them rushing for food. If a fish is usually active but suddenly becomes less active, that's a sign something is wrong. So be keen to observe changes in behavior. 
If your fish is not happy, try to find out the reason. If you can't identify the cause, try changing the water and the type of food you give the fish. If you have a fish community, make sure no fish bullies the other. You should also provide ample space for roaming around.
Do Fish Like Petting
Some types of fish can bond with humans. Some even like being petted. You might see them following you around the tank. And when you put your finger in the water, they might come and run through it. It's just like a cat running through your legs. The best way to tell if your fish likes petting is to try it out.  
But you have to take extra precautions not to harm the fish. Unlike cats and dogs, fish have fragile bodies. So be gentle when petting them. And be sure to clean your hands thoroughly before touching the water. Your hands could be carrying chemicals and germs harmful to the fish.
Throw some pellets in the water to attract the fish for petting. But if the fish shows some resistance, don't force it. Not all types of fish would accept petting.
Benefits of Having a Pet Fish
People build aquariums for various reasons; some do it for their love of fish, while others want to decorate their living spaces. One more reason for keeping a pet fish is to help with stress issues.
As you observe the fish moving, your mind stops thinking about stressful situations. As you focus on the decorations, your mood improves. But, unfortunately, your heart rate slows down, and so does your blood pressure.
People with mental disabilities such as autism, ADHD, and anxiety may experience alleviation of the symptoms from pet fish.  
Apart from health benefits, a pet fish doesn't make a noise like other pets. It takes less space and requires less maintenance. So, getting a pet fish may be a good idea due to the many benefits you stand to gain.  
It is easy to get your hands on an ESA letter. Get yours now by clicking the button below.
Conclusion
In addition to pet fish, you may want to keep an emotional support animal (ESA). An ESA has the same health benefits as a pet fish, but you get to move with the animal in public areas. At ESA Care, we can help you get the required ESA letter to help you move freely with your animal.
Reach out to us through our contacts for booking an appointment with our licensed therapists.