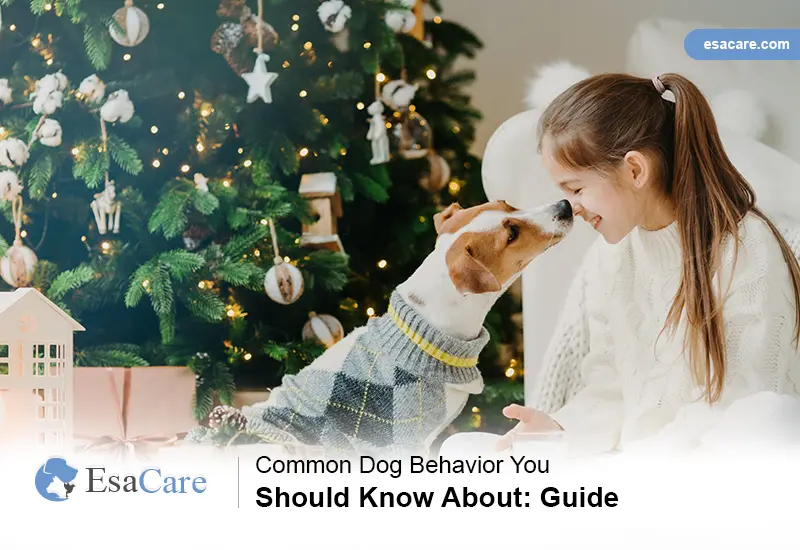 Behavior is a way one acts or carries themselves out. Also, dogs have different behavior, some of which will be innate while others will be learned.
They will act or conduct themselves in a particular way towards people, other dogs, or themselves. You will find some common dog behavior that will be problematic at times.
The behavior could sometimes be evolutionary as certain dogs are bred to behave in a particular way.
Some behaviors that might be unpleasant to you could be genetically and common to your dog, and hence it is very important to understand your dog.
It's hence important to be aware of such to help you in understanding dog behavior to easily understand common dog behavior.
Your ESA pet can help you change the quality of your life – Click the button below.
Typical Dog Behaviors
I know you could now be wondering which behavior is typical for any dog. You might often see some of these behaviors as problematic, yet that is in the dog's genetics.
Hence, you need to spend time understanding your dog's behavior and knowing their history so you do not be mistaken.
There are some unneutered male dog behaviors that will be common for male dogs.
Here is a list of some of the typical dog behavior you should not worry about: 
Barking

Chewing

Digging

Chasing

Biting

sniffing

licking

Sniffing

Curling

Whining

Tail wagging

Scent marking by urinating

Nesting
Perhaps some of the common dog behavior will not be pleasant for you.
You, however, need not worry as some of them can be managed in different ways. Behaviors like urinating on objects are very common for dogs in marking their territory, while it could be very disturbing to you.
As disturbing as it is, it is a normal thing for dogs. You could help this by minimizing your dogs to your things and also walking them outdoors to get more areas to mark their territories.
Common Dog Behavior Problems 
There is different undesirable behavior your dog might have that should worry you. The behavior disorders could result from psychological issues or medical problems that will require your immediate attention.
Correcting bad dog behavior will be important in helping the dogs out. Many people will consider seeing a dog behavior specialist help them out.
An ESA helps you relieve the symptoms of your mental illness– Click below to get your ESA letter.
There is also some dog behavior change after vaccination that you should be aware of as well.
Some behavioral problems like fear, aggression, or territoriality can be more emotional problems that can be addressed by visiting a dog behavior specialist.
Other behavior problems in dogs are:
Dogs do build a very mutual relationship with people. They tend to get attached to their owner and feel anxious when they are not around.
Separation anxiety is mostly experienced by dogs that take some time before seeing their owners. Separation anxiety always leads to unpleasant behaviors that you need to be conscious of.
The dog will be barking when you're leaving, crying or whining, urinating, destructive behaviors, or even running away.
Separation anxiety is an issue that will need you to start controlling the dog's tolerance. You need to come up with ways to make your dog more comfortable when you're leaving and help you correct bad dog behavior.
Train your dog to see it normal spending time alone. If they don't bark when you're leaving, try to reward them by offering a treat to them.
This way, they will know that you will be treating them if they don't bark when you come back. They will get used to this and get over the separation anxiety.  
Abnormal behavior in dogs could result from a medical issue and will need immediate medical attention.
Having a dysfunctional mental capacity, losing balance, walking into walls, or being continent can be due to medical issues and will need a veterinarian for evaluation.
Many dogs feel the need to protect themselves in their environment. Some can have this behavior due to stressful environments or those filed with aggressive dogs.
It is good to avoid being overreactive to your dog but instead calms them down. You need to give them a sense of security and assure them they are safe in that environment.
Four Learned Behaviors a Dog Might Have
Dogs can learn different behaviors from the environment and practices they get the time and again.
The four key learned behaviors include:
This is a learned behavior where a dog stops responding to a stimulus. The dog is exposed to particular stimuli, and they gradually get used to it with time. This normally occurs when they realize the stimuli have no effect, benefit, or reward.
This is when the dog changes their behavior because of repeated stimuli. Repeated action will be causing a reaction of the dogs, and hence they will react anytime the action is done.
Classical Conditional Dog Behavior
This was a theory brought by Psychologists Ivan Pavlov to investigate the behavior of dogs. Pavlov realized that dogs would react when they see or smell food.
Pavlov introduced neutral stimuli, which were a bell that he rang before feeding the dogs. The dogs have been conditioned the dogs to respond to the bell when they want to be fed.
The dogs learned to associate the bell with the food.
Operant Conditioning Dog Behavior
This is where animals learn to respond to stimuli that are appreciated and stop behaviors that are punished.
Rewarding dogs for their good behavior can make them continue with the behavior while punishing them for unpleasant behavior can make them avoid them.
The Behaviors Dogs Need
Dogs, like normal human beings, will need attention, care, and concern. Many people will never pay attention to some of the positive things their dogs' do and mostly punish the negative ones.
This can sometimes make the dogs believe that it's only through misbehavior that their owner can get their attention.
Dogs are social and very interactive with humans hence will need interaction, communication, and appreciation when they behave well.
It is good to focus on reinforcing the positive behavior of dogs, and they will maintain them.
The continuous reward of good conduct will make the dog feel happy and comfortable with you.
Always visit a dog behavior specialist and take the dog for vaccination as there is certain dog behavior change after vaccination that can be realized.
Finally, for you to have an easy time knowing common dog behavior, understanding dog behavior, and getting an ESA letter,  you can engage a certified dog behavior specialist.
Don't wait anymore – Get your ESA letter in quick and easy steps!
Reach out to some of the best specialists that can help offer quality mental health services from 
Get your Emotional Support Animal Letter today by booking an appointment at ESACare.