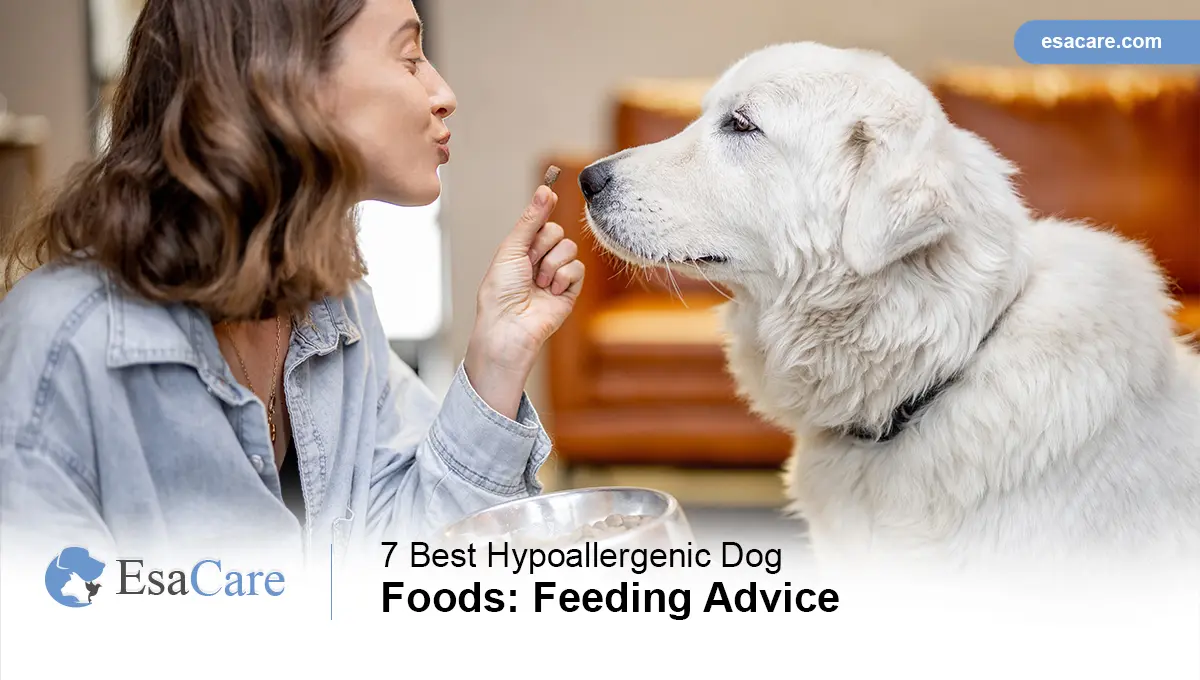 When your dog becomes allergic to certain foods, the solution is often a diet change. You can choose to make dog food at home or buy packaged food. Homemade food is great if you have the ingredients and time to prepare. Besides that, it might be a cheaper option for some. Such an approach also allows you to monitor what your dog is eating.
But not everyone can make dog food at home. Some may prefer buying processed dog food. Either way, food allergies for dogs require you to be more concerned about what you're buying.
ESA dog can boost your overall physical health. Click the button below to get your ESA letter.
So, how do you know which food is right for dogs with allergies?
We've prepared a list of the best hypoallergenic dog food for allergies. But first, let's see how you can tell if your dog has food allergies.
How Do You Know If Your Dog Has Food Allergies
When it comes to dogs, it's not easy to diagnose food allergies. Sometimes, food allergies and food intolerance give the same symptoms. If you're not sure, you may want to start by visiting a vet.
Food allergy occurs when particular food triggers an immune response. Most allergens come from proteins and wheat. On the other hand, food intolerance occurs when a dog has difficulties digesting specific food, such as lactose. If the dog experiences stomach problems, it can be a food allergy or an intolerance concern.
Supposing you suspect your dog has a food allergy, you can use a diet elimination diagnosis. Here's what you should do. Give your dog a different meal for a while. Try something the dog hasn't eaten before. If you don't see allergy symptoms, start reintroducing ingredients from the old meal one by one. Observe how each meal affects the dog.
How to Deal with Dog Food Allergies
After discovering that your dog has a food allergy, you have two feeding options; limited ingredient diets and hypoallergenic dog foods. Limited ingredients diets contain one protein and one source of carbohydrates.
Limiting the proteins helps to avoid the chances of an allergic reaction. They also help with an allergy diagnosis. If allergic reactions persist after using limited ingredient diets, you can use a different type of protein and carbohydrate. That way, you can tell which food affects your dog.
Hypoallergenic Dog Foods
Hypoallergenic dog foods usually consist of hydrolyzed proteins. The hydrolyzing process reduces these proteins into amino acids and peptides. Once broken down, the dog's immune system does not recognize the allergen.
Another alternative to making hypoallergenic dog food is to use novel proteins. These are new proteins to the dog, such as salmon, kangaroo, duck, venison, and veal. If the dog has never had these proteins before, the chances of having allergies are low.
Unfortunately, it's hard to know which protein your dog has never had if you rely on processed food. Some food makers may not disclose all the proteins they use. That makes hypoallergenic dog foods the better option. So let's consider the top hypoallergenic dog foods you can buy.
ESAs can improve your overall mental health. Click the button below to get your ESA letter.
7 Best Hypoallergenic Dog Foods
Here's the list of hypoallergenic dog foods.
1. Wellness Simple Limited Ingredient Diet
This diet consists of a single source of protein. But it also contains carbohydrates. It's among the top-rated hypoallergenic dog foods because it has no gluten or preservatives. Meat comes from turkey, duck, salmon, or lamb. About 49% of the content is carbohydrates, 29% protein, and 14% fat. The diet is suitable for adult dogs with allergies and food intolerance.
2. Canidae Pure Limited Ingredient Dry Dog Food
Canidae Pure is grain-free hypoallergenic dog food. It comes in various types of pure meat, such as lamb, chicken, salmon, bison, duck, and wild boar. In addition to the protein, it has carbohydrates such as lentils, pea, sweet potatoes, carrots, among other carbohydrates.  36% of this diet is protein, 36% carbohydrates, and 20% fat.
3. Purina Pro Plan Veterinary Diet HA
Purina pro provides three diet options. These are chicken, salmon, and vegetarian. If you choose the vegetarian flavor, the diet will have corn starch, plant oils, vitamin K, and sodium selenite. The diet has 11% fat, 61% carbohydrates, and 20% protein. It's ideal for both adult dogs and puppies.
4. Royal Canine Veterinary Diet Hydrolyzed Protein Adult HP
Royal canine is a hydrolyzed protein dog food that also helps to improve the dog's coat. You can choose from four diets, including the adult HP, adult PS, small dog, and moderate calorie. If you select the adult HP diet, ingredients will be hydrolyzed soy protein, dried plain beet pulp, brewers rice, and sodium selenite. The dry matter food contains 19% fat, 21% protein, and 52% carbohydrates. It's suitable for all dogs with allergies.
5. Nom Nom Dog Food
Nom Nom is a nutritional powder that you can sprinkle on homemade dog food. It gives homemade food additional nutrients. Choose from four different flavors, including beef mush, chicken cuisine, turkey fare, and pork potluck. If you choose the turkey fare, you'll get whole eggs, brown rice, carrot, fish oil, and spinach. 32% of the diet is protein, 40% carbohydrates, and 20% fat.
6. Taste of The Wild Prey Angus Beef Limited Ingredients Dog Food
Taste of the wild dog food comes in three different formulas; trout, turkey, and Angus beef. Angus beef includes lentils, tomato pomace, sunflower oil, salmon oil, and dicalcium phosphate. It has 30% protein, 45% carbohydrates, and 17% fat. This diet is grain-free and suitable for adult dogs and puppies.
7. Merrick Limited Ingredient Diet Canned Dog Food
The Merrick dog food can either be grain or grain-free. It uses a single source of protein, which can be a duck, lamb, turkey, chicken, or beef. Furthermore, it has carbohydrates such as brown rice, potato, or grain. Each diet has 36% protein, 28% carbohydrates, and 27% fat. It's ideal for adult dogs with food sensitivities.
ESAs can help you to deal with anxiety. Click the button below to get your ESA letter.
Conclusion
Giving your dog the right food is essential to the dog's life span. Assuming you have an ESA or a service dog, your interaction with the dog is usually closer. And your dog makes public appearances quite often. So you can't afford to have an ill-looking dog in public. That's why a proper diet is crucial for your dog.
At ESA Care, we provide letters for emotional support animals and psychiatric service dogs. Feel free to contact us if you need any of these letters. Our licensed therapists will conduct an online assessment with you. If qualified, you'll get the letter immediately.
Contact Us today at EsaCare and start your remarkable journey to mental stability and fulfillment or click the banner below to book your appointment.