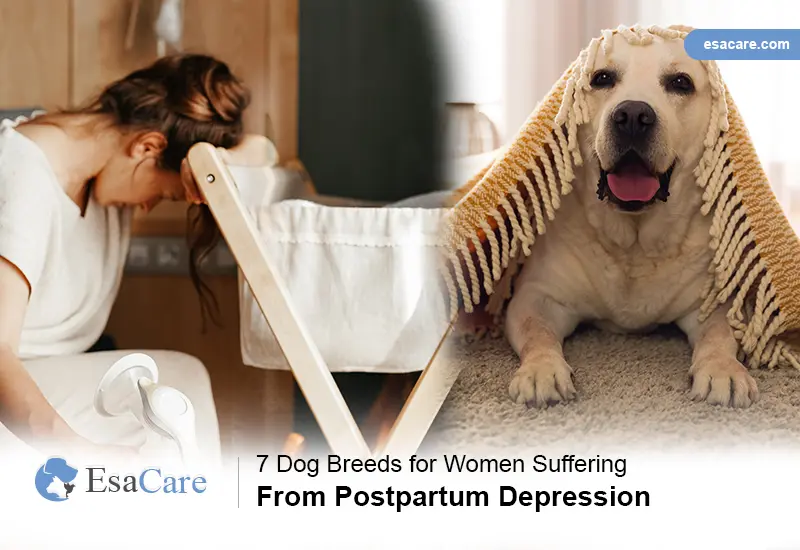 More than 80% of new moms get baby blues, but that's a different condition from postpartum depression.
According to research on postpartum depression and relationships published on WebMD, between 10% and 20% of women who have babies for the first time experience postpartum depression.
An ESA Dog can best help with postpartum depression symptoms – Click the button below!
More than half of these women go undiagnosed and realize later on when they get terrified of their newborn babies.
Among the several treatments used in the management of postpartum depression, living with a pet has had its favorable impacts.
Certain dog breeds are suitable for women with depression. But first, it is crucial to understand postpartum depression and some of its symptoms.
What is Postpartum Depression?
Postpartum depression, Postpartum Depression, is a complex behavioral, physical, and emotional change for new moms after delivery. It is a significant form of depression that manifests within a month after having a baby. The diagnosis depends on the severity and the time it takes to show.
Symptoms of Postpartum Depression
Most of the symptoms related to Postpartum Depression can be hard to detect.
Some of them include:
Appetite changes
Sleeping troubles
Poor concentration
Unexplained aches and pain
Anxiety, irritation, and outbursts of anger
Feeling disconnected from your baby
Treatment for postpartum depression involves using medication and having counseling sessions.
However, research on motherhood and pet-keeping attitudes shows that having a pet can help reduce physical and psychological problems through animal-assisted intervention for signs of depression.
Some pets work better than others, and certain dog breeds top the list of animals that can help treat depression.
Because of the continuous dependence on their owner, they help improve the mental state of new mothers and prepare expectant women for motherhood.
Top 7 Dog Breeds for Postpartum Depression
When looking for the best emotional support dog breeds for anxiety and depression, you can find the answer in knowing what you require of the dog.
Dogs play an important role in defining the scope of postpartum stress in the following ways:
They recognize the likelihood of a young mom developing Postpartum Depression
Among mothers with Postpartum Depressions, the dog distinguishes the kind of symptoms
People with pets and those without pets have different attitudes towards motherhood
Attitude towards these dog breeds creates different attitudes towards motherhood
Now, which are these top dog breeds for depression?
The best emotional support dog breeds for anxiety and depression have certain traits.
These include:
Confidence
Sociability
Trainability
The best dog breeds for depression include:
1. English Labrador Retriever
Different types of Labradors exist. Some trained to work, and others trained to perform.
The show-line Labradors are calm and low-key even in new situations.
They are intelligent and loving and make wonderful emotional support animals.
Unlike, the working Labradors (trained to hunt), the English Labradors tend to be less anxious, making them a suitable dog breed for people with anxiety and depression.
English Labrador retrievers are energetic, friendly, encouraging, and gentle, making them ideal for helping a new mom cope with the stress of having a newborn.
Having strong mental health even postpartum depression is essential- Click below to get your ESA letter today!
2. Golden Retriever
There's a reason why the golden retriever is among the top family-friendly dog breeds in the US.
These canines, which are outgoing and eager to please, are show-line dogs. Thanks to these traits, these dogs quickly interact with new objects and people.
Their temperament makes them a suitable alternative for people with postpartum depression.
They are athletic, funny, and bring that ray of sunshine that a young mom battling depression would need to get by without causing the extra hassle of disciplining them.
3. Doodles
These dogs, also known as standard poodles, are strong and intelligent.
They're easy to train plus adapt to new situations quickly. Doodles tend to be great with families and make the best companions.
So, if you are looking for a dog breed to help deal with postpartum depression, then a doodle ought to be one of the dog breeds you can choose from.
The only downside to them is that they get a little anxious when they first go out in public.
4. Cavalier Kinf Charles Spaniel
Now, what's the greatest attraction to this dog breed? Maybe it's the large, dark brown eyes or the fluffy ears that shake as they run around the house. But these small-sized dog breeds are among the best to help new moms with depression and anxiety.
Besides their cuteness, these small puppies tend to be very attached to their owners and love cuddling. They also learn quickly and are always eager to please their owners. They don't mind sharing their space and thereby get along well with other animals.
These traits make them the perfect emotional support dog breed for patients with postpartum depression.
5. Vizsla
Unlike the Cavalier King Charles Spaniels that require a lot of grooming, the Vizsla is feline in its grooming. It keeps clean, so you would need little time grooming it. These dogs don't like being alone, which means they find a lot of comfort in their owner's presence.
Vizslas are easy to train, are quick thinking, and rarely require disciplining. These dogs need constant companionship, making them ideal candidates for expectant mothers and new moms fighting postpartum depression.
6. Shiba Inu
If you are not up to offering constant affection and attention to your dog, then the Shiba Inu is the dog breed to help you deal with postpartum depression. They have a streak of independence, which means they can entertain themselves once in a while.
These dogs are hilarious and amusing, making them the family clown you would need to get through the stress of having a newborn baby. The Shiba Inu is silly and easy-going. They are loyal and highly obedient too. Shida Inu is the perfect choice if you want a break from taking care of the dog and your kid.
7. Pugs
If you want a charming little companion to help you get by the gloomy days, then a pug would be your best option. They are playful (but not excessively), and well-mannered.
They have an even temper and are equally easy-going. The only problem is their risk of developing breathing problems.
However, this is no reason to forego them if you are not an outdoor person or live in an apartment. And if you have a newborn, then pugs will be ideal dog breeds for depression.
Animals can help subjects recover from depression. Dogs are among the few natural postpartum depression treatment methods out there that promise great results.
Dog breeds that offer constant love and feelings of worthiness make the perfect companions when dealing with depression.
As a new mom battling postpartum depression, having a dog to brighten your days could be what you need.
ESA can improve your overall mental health. Click the button below to get your ESA letter.
At ESACare, you can get the proper documentation that will allow you to travel anywhere with your emotional support animal if you're struggling with depression or anxiety issues.
Need help?
Reach out to ESA Care today. We will link you with a licensed mental health professional, and also help you get the ESA letter after an evaluation.
Contact Us at ESACare and book an appointment with us.