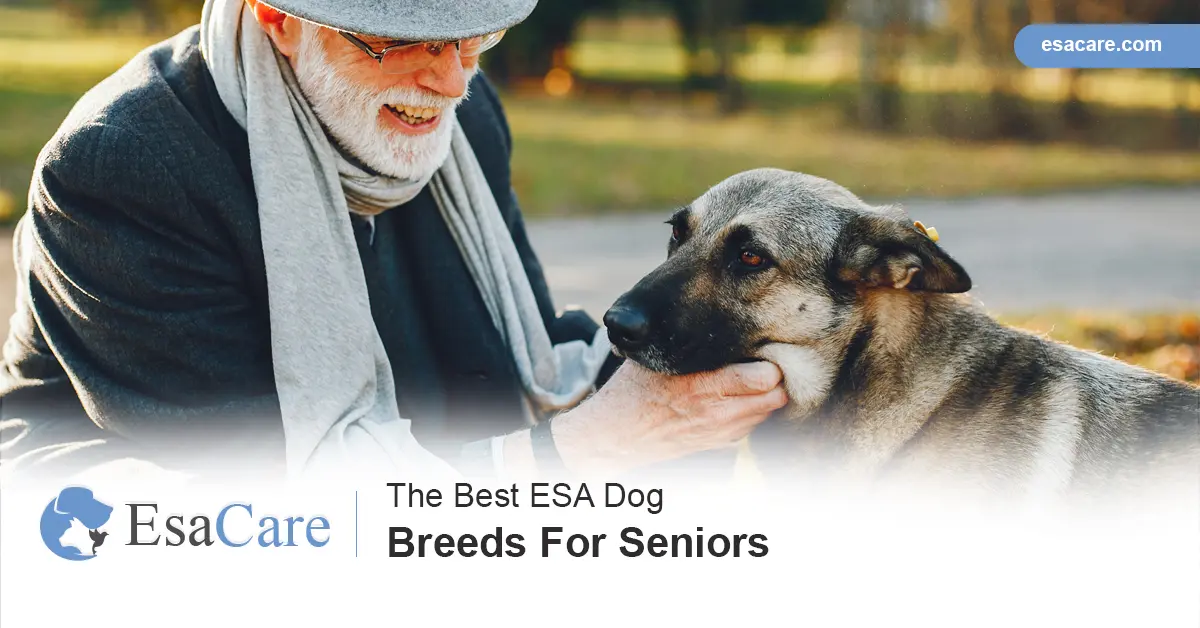 An ESA (Emotional Support Animal) can significantly improve the quality of life for seniors. These dogs are trained to know you and identify specific disorders, such as PTSD, anxiety, or other mental disabilities. An ESA is similar to a service dog used by the visually impaired to be their eyes, or psychiatric dogs, which prevent their owners from suffering psychotic episodes. An ESA will help you live a better life.
Keep your ESA pet close – click the button below!
Best ESA Dog For Seniors
If you feel your life would improve with an emotional support animal, you should contact EsaCare to achieve this benefit. Where you live will not restrict you from having this support, as ESA's are welcome by housing managements for the positive benefits they provide for their owners.
These are some of the best dogs for seniors:
Poodles are brilliant dogs, and you will be able to train one for several things, including how to be your ESA. Poodles are a gentle and very calm dog breed. A poodle is one of the best dogs for seniors as they adapt well to new environments and will live agreeably with you under any living condition. 
The Yorkshire Terrier or Yorkie is one of the most common dog breeds chosen by seniors. These dogs are small and have wonderful character traits. While most small dog breeds are needy and ask for a lot of attention, the Yorkshire Terrier will be happy just sitting on your lap. These are another of the best dog for seniors as they are known for developing strong bonds with their owners. 
The Labrador Retriever or Lab is a larger dog breed than the Poodle or Yorkie. These dogs make wonderful ESAs due to their affectionate nature and energy. The Lab is one of the best dogs for seniors as it can help you deal with emotional or mental issues by improving your mood. The Labrador Retriever breed is also highly known for its intelligence and gentle nature. 
Click the button below to keep your ESA pet legally!
A Golden Retriever is much like the Labrador Retriever in size and is known for its intelligence and affectionate nature. There is perhaps, one negative trait for owning a Golden Retriever, and that is the hair they shed. Other than the shedding, the Golden Retriever is another best dog for seniors as they will help you with the emotional issues of living alone. 
Cavalier King Charles Spaniel
The Cavalier King Charles Spaniel dog breed was actually bred to be companions to humans. It is an instinct of this breed to be a great emotional support animal. The Cavalier King Charles Spaniel makes an excellent best dog for seniors as they have a docile nature and enjoy hours of attention. This breed works well for those suffering from emotional issues, such as depression, loneliness, or anxiety. 
A Pembroke Welsh Corgi will make an excellent ESA for an active senior. Their size is compact and is classified in the herding breeds of dogs, so they have a fair amount of energy. The Corgi is one of the best dogs for seniors as it is an incredibly loving breed, small, and extremely trainable. 
The Maltese have been bred to be companions, and these little dogs do it well. This small dog will stay by your side no matter what, and with its tiny size, it is easy to accommodate. The Maltese is the best dog for seniors because of their size and how easy it can travel with you. 
The Beagle is celebrated for its fantastic personality. This dog breed is charming and gentle and makes a perfect dog for the elderly. The Beagle has been chosen as one of the best dog for seniors because they are healthy, have incredible stamina, and do not require a lot of exercise. 
Most people associate the Greyhound with racing dogs, but this breed is also ultra-gentle and very loving. The Greyhound is typically thirty inches high and weighs less than a hundred pounds. This breed can run fast but also love lounging around on the couch with their owner. The Greyhound has been chosen as one of the best dogs for seniors as these are the least likely of dog breeds to bite. 
West Highland White Terrier
West Highland White Terrier or Westie is a popular dog breed among seniors. Typically this breed weighs less than fifteen pounds and is less than a foot high. The Westie packs a lot of personality into its small size and is said to be hyper-intelligent. This breed is chosen as one of the best dog for seniors as they are used for therapeutic purposes, are petite in size, and extremely affectionate. 
All dogs have different energy levels, come in different sizes, and have their own unique personality. Before choosing your ESA breed, perform some research as some dog breeds will meet your expectations better than others.
Your ESA Dog can be your best companion – Click the button below!
Who to Contact About ESA
EsaCare is an online process to ensure you can take your pet with you when traveling, are not forced to pay high pet deposits, and are not restricted due to your pet's size. Speak with one of our licensed mental health professionals today and let us find you a solution to living and traveling with your pet.
Book an Appointment with ESACare, do not hesitate to contact us.