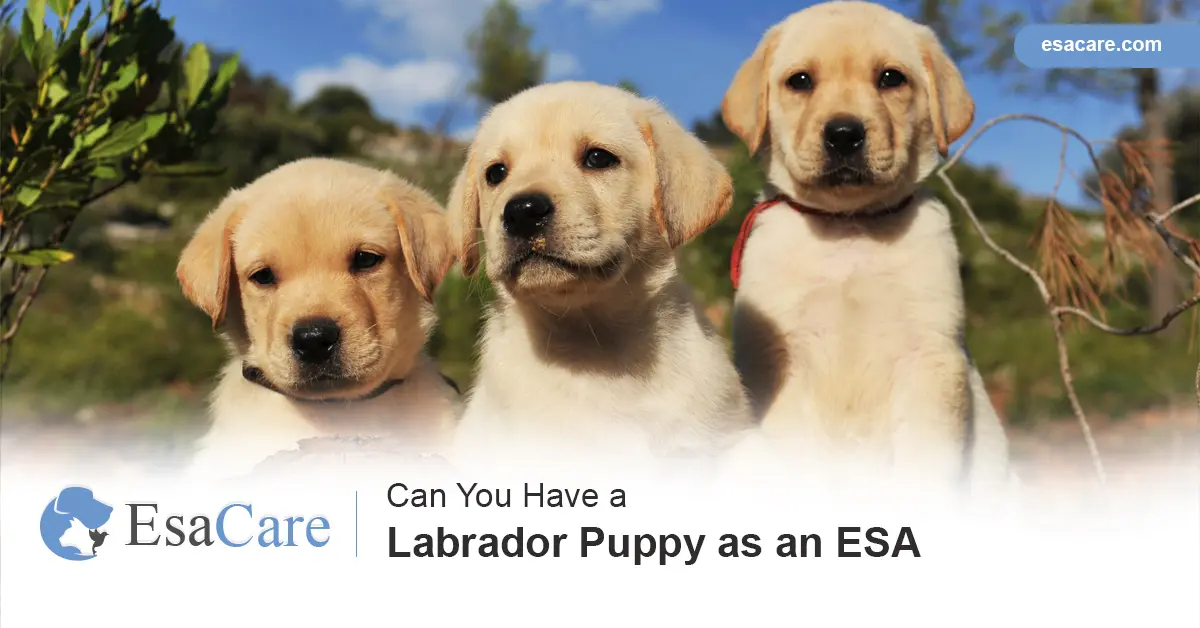 Emotional support animals offer a kind of companionship and love unparalleled to any other. Not only are they with you most of the time to help you heal from the impact of a traumatic experience, but they also support you when you're recovering from some physical conditions.
Don't let stress get to you – Apply for an ESA letter now!
Even so, when choosing an emotional support animal, you must get a breed that balances behavior and temperament. At the top of the list of these animals are cats and dogs. And from the dog family, the Labrador puppy is a favorite to many.
A Labrador puppy is one of the retriever-gun dog breeds originating from the United Kingdom. They come in black, chocolate, and yellow color, weighing 25kgs to 35kgs at full maturity.
Now, coming to the question, do Labrador puppies make for good emotional support animals?
To answer this, we need to consider the ideal ESA and compare it to a Labrador puppy's qualities.
What Is the Ideal ESA?
An ideal ESA is an animal of any kind that provides comfort and companionship. Along with helping you recover from a wide range of mental and physical health conditions, these animals should also be well behaved and easy to train.
Other qualities a pet should have include:
Good manners– The animal should behave well in public and at home.
Hygiene – The best option of an ESA is one that is easy to maintain and keep clean.
Patience – An ideal ESA should respond well to strangers.
Health – A good ESA should have minimal or no health issues.
Obedience – Since the ESA's purpose is to offer comfort and not stress, it should be easy to train and demonstrate obedience.
Now, do Labrador puppies tick these boxes?
Let's start by understanding Labradors first.
A Few Facts About the Labrador Puppy
The Labrador puppy is one of the biggest dog breeds in the US. They are larger than some dogs—with the male dogs weighing up to 80 pounds while the females can weigh up to 70 pounds. You can get a pup with complexions of yellow, black, or chocolate color. These dogs have a life expectancy of 10 to12 years.
Never feel alone! Live with your ESA pet!
Qualities of Labrador Puppies
Labradors, America's most popular dog, have many good qualities and a few bad ones. Keep reading to find out more:
If you have ever visited websites that talk about dogs, then you must have heard of the excellent appraisal given to Labrador puppies. They are rated to be among the best puppies to own, being that they are super friendly, outgoing, eager to please, intelligent, and sweet-natured.
Since they are good-natured, they become effortless to train. The Labrador puppies are exuberant and highly active.
Caring for your Labrador puppy
The Labrador puppy thrives in family settings. They are social dogs, which makes the idea of keeping them as backyard dogs relatively unpleasant to these pups. When left alone for long periods, you might find them chewing, digging, or destroying your stuff.
Due to their energy, they need to be involved in many daily activities as an outlet means. These activities could range from daily walks, playing catch, or running around. And since they are mouthy, buying a sturdy toy for your pup will make them very happy.
Labrador puppies have gotten so much praise to the point where some owners think that training them is a choice. However, if you intend to have a Labrador puppy as an emotional support animal, training is recommended. 
However, do not panic. These dog breeds are the easiest to train due to their intelligence, energy, and eagerness to please. The training involves familiarizing them with other dogs and teaching them how to act around strangers.
To reinforce your training, reward your dog for the right behavior, rather than punishing it for the wrong deeds.
Labrador puppies are generally healthy dog breeds. However, like any other dog breed, they could suffer from certain health conditions that are important to note. These include:
Elbow dysplasia– It is a considerably painful lameness disease caused by different bone growth rates in a dog's elbow.
Hip dysplasia– The thighbone fails to fit into the hip joint, which results in discomfort and sometimes lameness in both limbs.
Cataracts– Cloudy spots form in the eye lens, which results in severe vision loss.
Epilepsy– These are mild seizures exhibited through unusual behavior by the dog. They may stagger, hide, or run away as though they are being chased.
Progressive retinal atrophy PRA– This is a health condition where the retina continuously deteriorates until the dog loses sight.
Spend more time with your ESA Pet – Click the Button Below.
Other conditions include gastric dilation-volvulus, or bloat, myopathy, and tricuspid valve dysplasia.
All factors considered, Labradors are some of the best dog breeds to have as emotional support animals. And even after almost going extinct, they serve the purpose well.
They are comforting and will definitely improve your life. They encourage you to go out and exercise, socialize, and most importantly, you get their attention as they are eager to please. So to answer the question at hand:
YES! Labrador puppies can make for excellent emotional support animals.
Contact us to Book an Appointment Today!