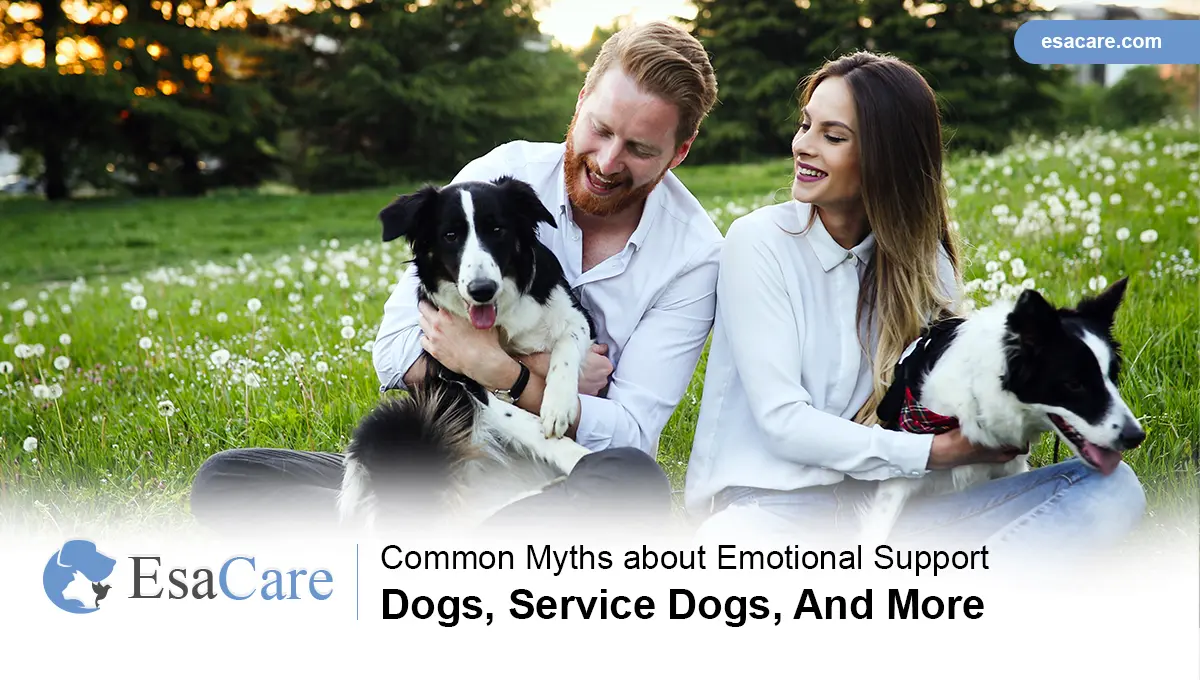 There are no differences between service dogs, ESAs and therapy dogs:
This is entirely incorrect. Service dogs are trained to perform tasks that help their owners with disabilities and are protected by the Americans with Disabilities Act (ADA) because they allow people with disabilities to live a more independent life. ESAs may be any animal that provides comfort and mental stability to its owners. They have no specialized training, which means that the ADA does not protect their entrance into public areas such as grocery stores and restaurants. Therapy dogs often help provide assistance in establishments such as elderly care homes, physical rehab centers, or even some hospitals. They help everyone in the establishment, not just their handlers but typically don't have any specialized training.
Keep your ESA pet close – Click the button below!
A doctor can write a note to qualify my dog as a service dog:
The process for training a service dog is rigorous and highly specialized. The dogs are usually chosen as puppies to be put through a training program tailored to help people with a specific disability. Only after they have passed the training course may the dog be certified as an ADA-protected service dog. Agencies who train them then will help assign them to a person who has needs that fit the service dog's skill set. Though your dog may qualify as an ESA if you have a mental health disorder, chances are it cannot be a true service animal because they lack the training.
If my landlord doesn't believe I need an emotional support dog, they can deny it:
Properly obtained emotional support dogs are protected by the anime Fair Housing Act, whianimch means that landlords cannot deny them due to a "no pets" policy. This legislation helps protect individuals who need an emotional support dog from being discriminated against or forced to pay additional fees to live with their animal. Some of this anti-discrimination legislation also applies to public transportation and some public facilities for ESAs but does not include all public access granted to service dogs.  
Laws about ESAs and service dogs vary by state:
The laws concerning emotional support and service dogs are set at the federal level, so there should be no large deviations between the states. The ADA, Fair Housing Act, and Air Carriers Access Act are some of the pieces of federal legislation that pertain to the protection of emotional support and service dogs. Though some states may offer more freedom and accessibility to those with service or emotional support dogs than others, the fundamental rights set by federal law may not be minimized by any state.  
Emotional support and service dogs must wear marked vests:
Though it is common for owners or handlers to clad their emotional support or service dogs in official vests, it is not a requirement. Outfitting a service dog may be more common because it alerts the public to the dog's purpose and helps prevent them from making contact. Additionally, people may choose to outfit their emotional support or service dog in order to avoid confrontation or questions that may be asked about the dog's credentials. 
Your ESA dog can be your best companion – Click the button below!
You have to provide proof of a service dog or ESA's documentation
If your dog is an ESA, it may be helpful to carry the documentation of your dog's credentials with you at all times and to have a thorough knowledge of the public access your dog has in your state. You will be required to show the note from your mental health professional to landlords, property managers, and airlines. People with a service dog are not required to provide documentation of their dog's training, as the ADA only permits two questions to be asked about the authenticity of a service dog: "Is the dog a service animal required because of a disability? And "What work or task has the dog been trained to perform?" 
Get your Emotional Support Animal Letter today by booking an appointment at ESACare.