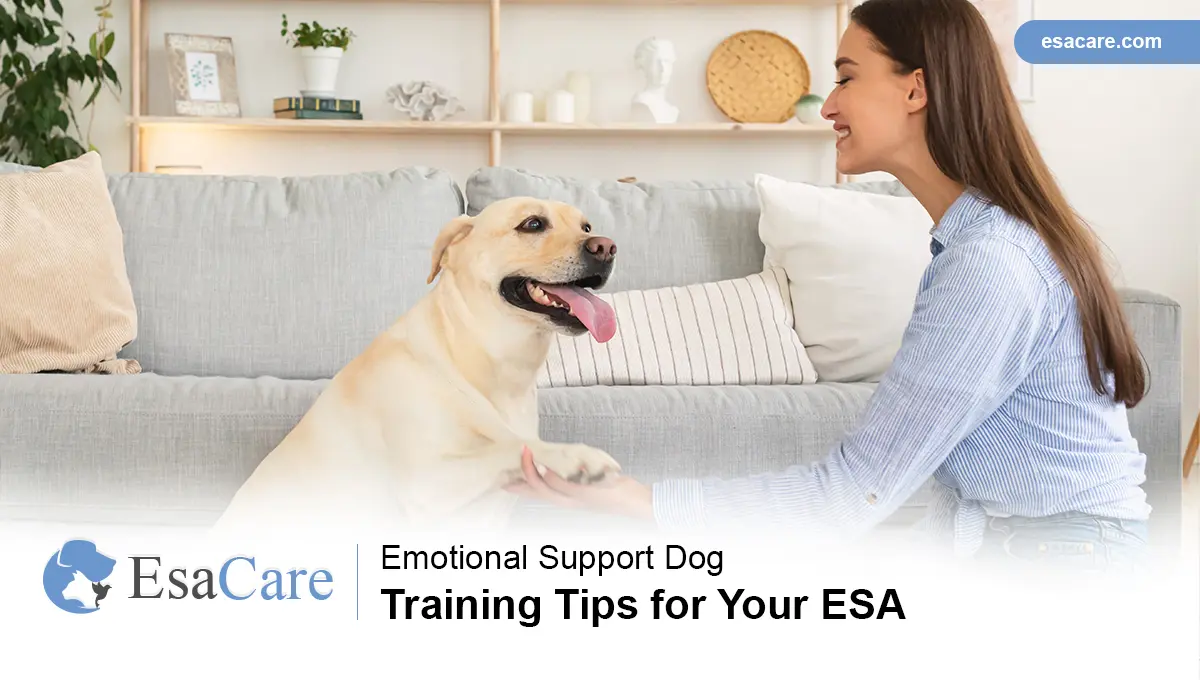 Where and How to Get an Emotional Support Dog: Any Dog Can Be an ESA!
Everyone loves the love and companionship that comes with having a dog, but for some people, it goes further. For people who suffer from mental health disorders, the companionship of a dog may actually be essential for their mental well-being or alleviate the symptoms of their condition. If you have been diagnosed with a mental health disorder and feel that a pet may help you cope with your symptoms, you may be a candidate for an ESA! You'll need a prescription letter written by a Licensed Mental Health Practitioner (LMHP), but since ESAs do not need any specific training, any dog can be an ESA. As long as your dog is friendly, well-behaved, and helps you live with fewer symptoms, it may make a perfect ESA. If you don't already have a dog, you can find one that meets your needs to be your ESA.
Don't wait anymore – Get your ESA letter in a few easy steps!
How to Get an Emotional Support Animal Letter: ESACare 's Simple Process!
ESACare is a reputable, genuine ESA service that can help you get your pet the proper ESA letter. You will start by taking a health questionnaire that will determine your need for an ESA. If you do qualify for an ESA, you can pick from two different packages for your ESA letter. The basic package covers all of the essentials you will need for a legitimate ESA letter and the plus package will provide follow-on service and discounted renewals. Once you pick and pay for your package, you will meet with a doctor over video chat to consult face-to-face. Once the doctor approves your qualification for an ESA, your letter will be provided for you. This service provides LMHPs that are licensed in your state, so the letter will always be legitimate.
ESA Training vs Service Dog Training: What's the Difference?
There are many differences between the training for ESAs and service dogs. The Americans with Disabilities Act defines service dogs as a dog that has individual training for tasks that directly help a disabled individual live a more independent life. The training is intensive, targeted and usually starts at puppyhood. Service dogs learn specific tasks that help their handler address their specific disability, like pressing buttons for people with limited movement.
ESAs do not need any formal training. Their job does not require specific tasks to be performed, so the most important qualities for a service dog are its companionship, love, and loyalty. ESAs help their owners by giving them confidence and support, so dogs without formal training in "helping" tasks can be ESAs.  
ESA Dogs Don't Need Special Training, but if Fido Misbehaves, He'll Lose His ESA Privileges!
Generally speaking, any dog can be an ESA. Though this is true, it is important that your dog is well-behaved and friendly if it is going to be your ESA. Because ESAs are granted more rights than standard pets, they are also held to a higher standard. If your ESA is a nuisance or is dangerous, their support status may be revoked. 
Why Emotional Dog Training is Important for Those with Anxiety, Depression, and PTSD
Though dogs do not need special training to be an ESA, there are some skills that they should know to help their owners cope with their symptoms. With some training, your dog can learn how to perform deep pressure therapy (DPT) which can help calm anxiety symptoms or help control unhealthy impulses. DPT usually involves your dog using its body weight to apply pressure to the chest or other parts of the body. They may use their paws or entire body depending on the size of the dog. You can also train your dog to recognize your symptoms and tend to you when you experience them. To do this, mimic your symptoms and reward your dog when they follow your commands, this will make them more likely to respond when the real thing happens. It can be very important for ESAs to learn these emotional training skills so that they can help their owners through difficult situations. 
Don't let stress get to you – apply for an ESA letter now!
Get Your ESA Dog Letter Today
 If you feel that you may qualify for an ESA, getting a genuine letter can be easy! If you are under the care of an LMHP, you may ask them to write you a letter if they believe you qualify. Additionally, you may find legitimate online services that will survey your mental health and determine your eligibility. They will also have you speak (usually over video chat) with a real LHMP that is licensed in your state who can write you a letter recommending an ESA. Services such as ESACare have a simple process for determining your needs and prescribing ESA letters that you can use to live with or travel with your pet.
Get your Emotional Support Animal Letter today by booking an appointment at ESACare.