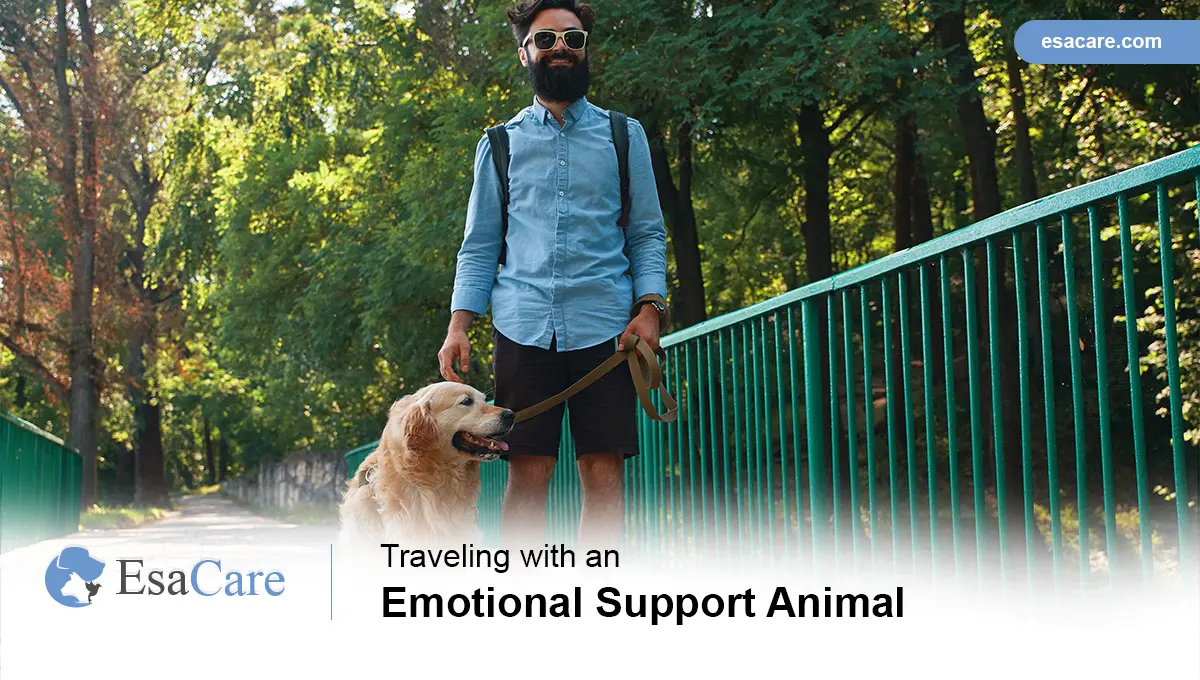 Emotional support animals (ESAs) can be any domesticated animal such as dogs, cats, rabbits, or guinea pigs that help individuals who have mental or emotional conditions live a healthy life. Unlike Service or Psychiatric Dogs, ESAs are not trained to perform any specific task or job and therefore are not protected under the ADA (Americans with Disabilities Act) for admission into public places like movie theatres, stores, and restaurants. ESAs are used solely for the emotional benefit of the patient by providing love and acceptance in a nonjudgmental, unconditional way. 
Improve your mental health by keeping your ESA pet close by – Get your ESA certification today!
Who can benefit from an Emotional Support Animal?
Although it may have taken scientists a long time to discover it, any pet-loving person can attest that animals bring joy and love to our lives daily. Thanks in part to dedicated advocates, science has begun to catch up to the benefits associated with animal companionship. Recent studies show that ESAs provide comfort to their handlers who have a variety of mental health issues such as:
Anxiety

Agoraphobia

Aerophobia

Generalized anxiety disorder

Stress-induced situations

Social shyness
Most often, patients see notable changes in socialization, self-esteem, motivation, and an increased sense of purpose and safety.
How to Get an Emotional Support Animal Letter?
Patients may be surprised at how easy it is to get an ESA certificate. Since these animals are not formally trained to complete a task, many choose to use their own pet. Unfortunately, having a pet at home is not enough for some conditions, so being able to take them along as they go about their daily lives is essential to treatment.
The first step in getting an Emotional Support Animal Letter is to consult with a qualified mental health professional. During your consultation, be prepared to discuss how your illness affects your life and how you believe an animal will help alleviate the symptoms. Often the practitioner will recommend other treatments as well as the use of an ESA. These treatments can include therapy and medications if necessary. Once approved, an ESA letter will be provided to aid the patient in obtaining housing and flying (if needed). Read more about ESACare and why to choose us.
Obtaining an animal is relatively simple. Because dogs and cats are most often chosen, a trip to your local shelter may be in order. For those who are unable to use either due to allergies, other domesticated animals can be used, but they must be housebroken, well-behaved, and not pose a danger to anyone else. Although it is not required, obedience classes are recommended to teach patients how to control their animals in public.
Feeling emotionally unstable? Keep your ESA pet close – Click the button below.
Traveling with your Emotional Support Animal
Because ESAs are not protected under the ADA, other federal and state laws were enacted to help patients live and travel with an emotional support animal. On a federal level, these animals only have protections that allow them to live with their owners in no-pet housing (Fair Housing Act) and traveling on commercial airlines (Air Carrier Access Act).
Under the Air Carrier Access Act (ACAA) travelers who have a valid emotional support animal letter can have their ESA fly inside the cabin with no additional fees. To ensure safety, airlines can exclude some animals despite the ACAA. Exclusions include:
Animals that are too large or heavy to be accommodated in the cabin.

Pose a direct threat to the health or safety of others.

Cause a significant disruption of cabin service.

Are prohibited from entering a foreign country.

Airlines are never required to accept snakes, reptiles, ferrets, rodents, sugar gliders, or spiders.
To assert your rights under the ACAA, airlines will ask for an ESA Letter less than one year old from a licensed mental health practitioner (LMHP) that includes:
Attestation of a mental or emotional disability that is recognized in the Diagnostic and Statistical Manual of Mental Disorders (DSM)

Affirmation that the emotional support animal is needed as an accommodation for air travel and/or for the activity at your destination.

Must include the LMHP's date and type of professional license and jurisdiction where the license was issued
Travelers should be aware that if the ESA does not meet the guidelines, airlines will consider the animal as a pet and can remove the animal from the plane or impose fees or charges for transporting the animal.
In addition to the documentation requirements, ESA owners will need to provide proof that the animal can travel without needing to relieve themselves or that they can do so in a sanitary way on trips that are more than eight hours long.
Carry an authentic ESA letter to travel with your pet – Click the button below.
ESA Letter for Travel
Traveling by air with an ESA is protected under the ACAA if the required documentation is provided. Unfortunately, other modes of public transportation are not. Those traveling by train, bus, or taxi must contact those providers to see what the qualifications are, as they can treat ESAs as pets.
Speak to a licensed MD and get a legitimate Emotional Support Animal Letter in less than 5 hours. Start your application right now. A licensed doctor is available to speak with you 7 days a week from 11 am to 7 pm Pacific Time.
Get your Emotional Support Animal Letter today by booking an appointment at ESACare.