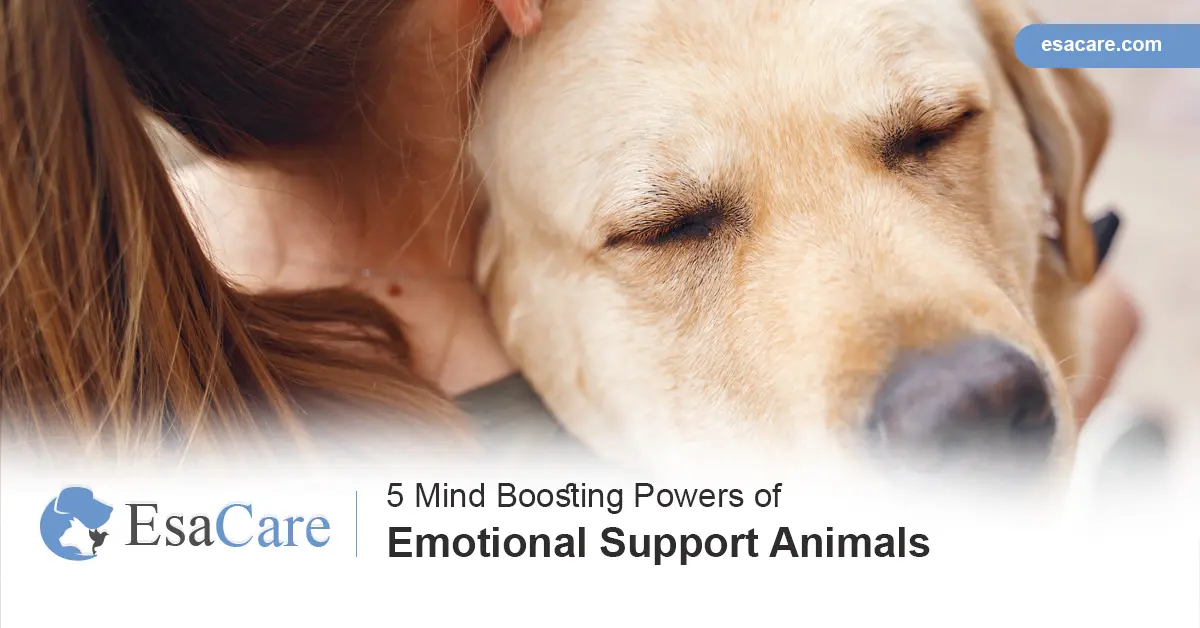 An emotional support animal is defined as any animal that helps its owner in dealing with or overcoming a specific disability. A study by Healthy Pets established that a psychologist known as Boris Levinson was the first to use an emotional support animal with his patient.
Levinson observed how his dog bonded with an autistic child like no other person could. This technique has proceeded to be a drug-free method of helping those suffering from severe mental disabilities. Emotional support animals are now widespread in the U.S. Many Americans with mental conditions own pets to provide emotional support by easing stress and reducing anxiety and depression.
To get your emotional support animal, you will need an ESA letter.
Here's a look at five mind boosting powers of emotional support animals.
Production Of Neurotransmitters
One of the significant benefits of emotional support animals is that they increase a patient's neurotransmitters. While drugs may raise your serotonin levels, dogs increase dopamine and neurochemicals that promote love and bonding. Research shows that dopamine, a neurotransmitter that promotes a feel-good sensation, is increased when you look into your dog's eyes.
Dopamine is a neurotransmitter synthesized by your body. Your nervous system uses dopamine to send messages between your nerve cells. This is the reason it is known as a chemical messenger. Dopamine affects how we feel pleasure and your ability to plan and think. It helps you focus, strive, and gain an interest in things. Therefore, for a person who is prone to loneliness, having an animal can help boost their dopamine levels. This, in return, helps them regain their interest in life and activities they once enjoyed.
Provide Unconditional Love
Having an emotional support animal can help people who are diagnosed with a severe condition feel love. People with mental conditions can derive a feeling of unconditional love and connectedness from an emotional animal. This love helps them regain their confidence and self-esteem.
The unconditional love of an animal can improve a person's mental health and decrease the nature of their debilitating symptoms. For example, one study observed an 82% reduction of symptoms of PTSD in patients who spent one week with an emotional support animal. Having a relationship with an emotional support animal can also act as a stepping stone to a serious human relationship.
To get your emotional support animal, you will need an ESA letter.
Help Regulate Emotions
After a mental illness diagnosis, dealing with day to day activities can take a toll on your emotions. An emotional support animal helps a person regulate their emotions. Research shows that the presence of a pet can help reduce daily anxiety, improve mood, and also regulates physiological arousal.
An emotional support animal offers attention on demand and unconditional connection no matter the time of day. The animal is a steady presence that stabilizes your emotions. If the doctor prescribes an ESA, you will have someone with you no matter your living conditions.
Calms Anxiety on Airplanes
Anxiety affects around 40 million American adults. If you suffer from anxiety, there is a chance you will experience it when you onboard a plane. People with a diagnosis can benefit from having an ESA accompany them in their flights. An ESA makes travel possible.
In flights, an ESA offers support that is different from medicine or other methods. Someone who is anxious about flying will stay focused on their pet instead of being occupied by their fear of planes. While there may be restrictions for animals on flights, a person with a mental health condition can greatly benefit from flying with an ESA.
Emotional Support Animals Work With Other Treatments
Some forms of treatment integrate ESAs to help relieve the symptoms of mental conditions. Experts argue that emotional support animals are not a treatment on their own. Instead, ESAs should be used with other forms of treatment for the best results. It does not matter what therapy you are going through; incorporating an emotional support animal can make a significant difference in terms of mental conditioning.
ESAs can be used in mindful techniques that ground you to the present. The Trauma Resiliency Model is an excellent example of how ESA can be incorporated into your therapy session. This model allows you to use your ESA to get down from emotional lows or highs.
Endnote
An emotional support animal has great mind boosting powers that can be handy for someone with a mental condition. ESAs help stimulate the production of neurotransmitters like dopamine, provides unconditional love, helps regulate emotions, and calm anxiety. ESAs can also be used alongside other treatments to promote relief and healing.
We know your animal is essential to you for emotional support and mental wellbeing. This is the reason we have a straightforward method that helps you get an ESA letter fast and at a reasonable price. It can be quite challenging to move into a new home with your emotional support animal.
At ESA Care, you can get a legitimate ESA letter from our licensed mental health professional for the freedom to move around with your emotional support animal.
Schedule Your Appointment Now!

Get Your ESA Letter